Elizabeth Olsen ist derzeit in aller Munde, schließlich spielt sie die Hauptrolle im ersten Disney+ Original im Marvel Cinematic Universe. Wanda Maximoff aka Scarlet Witch kannten Marvel-Fans natürlich auch schon vor der Serie "WandaVision", schließlich verkörpert Elizabeth Olsen seit 2015 diese Figur. Doch auch abseits des MCU hat sie einige spannende Rollen übernommen, auf die wir heute einmal schauen wollen. Los ging's mit der Karriere im alter von fünf Jahren: Sie bekam eine kleine Nebenrolle im Fernsehfilm "How the West was fun" an der Seite von Mary-Kate und Ashley Olsen. Ja, genau der gleiche Nachname der Drei ist kein Zufall, denn Elizabeth ist die jüngere Schwester der Olsen-Zwillinge, die mit der Serie "Full House" Karriere gemacht haben. Und apropos "Full House": Hier hat sie laut IMDb auch mitgewirkt – bei beidem dürfte ein gewisser Schwestern-Bonus dabeigewesen sein. Auch in der Videoserie "The Sdventures of Mary-Kate und Ashley" war sie zu sehen – was sie bekannter machte und interessant für weitere Rollen. Das war's dann aber auch schon mit den gemeinsamen Produktionen: Danach machte Elizabeth Olsen alleine Karriere.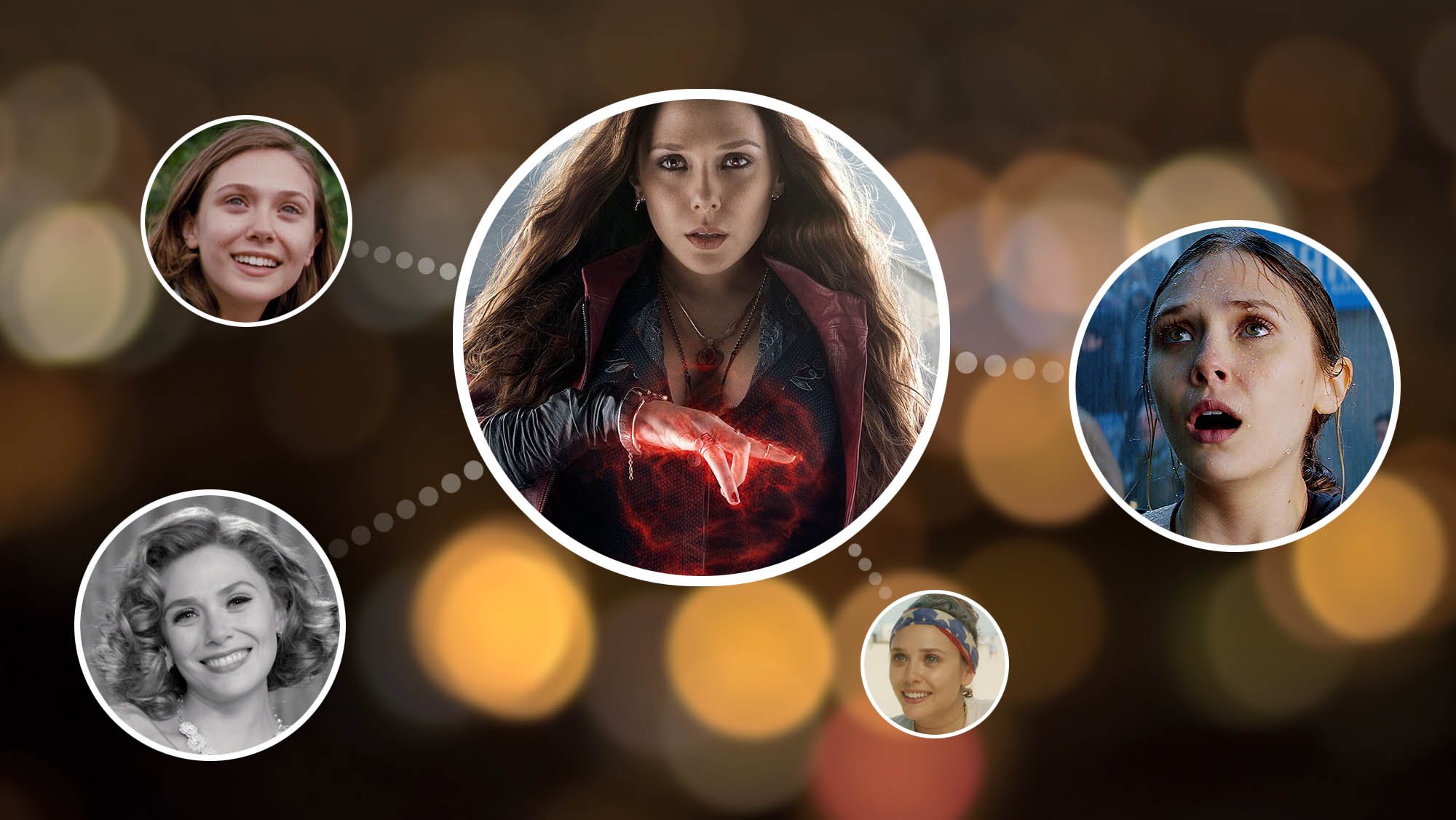 Steckbrief: Elizabeth Chase Olsen
Geboren: 16.02.1989 in Sherman Oaks, Kalifornien, USA
Auszeichnungen: Alliance of Women Film Journalists (Best Breakthrough Performance), Chicago Film Critics Association (Most Promising Performer), Florida Film Critics Circle (Pauline Kael Breakout Award), Ghent International Film Festival (Special Mention), Los Angeles Film Critics Association (New Generation Award), Vancouver Film Critics Circle (Best Actress), Fangoria Chainsaw Awards (Best Leading Actress), Deauville American Film Festival (Hollywood Rising Star Award)
Filmografie: IMDb-Seite
Elizabeth Olsen in Filmproduktionen vor den Avengers-Filmen
Bis zu den ersten Karriere-Erfolgen dauerte es allerdings auch eine Weile. Sie erhielt erst einmal Ballett- und Gesangsunterricht, nach der Schule besuchte sie die Tisch School of the Arts an der New York University. Die ersten größeren Rollen – und damit die ersten Erfolge – stellten sich ab 2011 ein. Sie war im Horrorfilm "Silent House" zu sehen und übernahm die Hauptrolle im Indiefilm "Martha Marcy May Marlene", was ihr viele gute Kritiken einbrachte, dazu zahlreiche Nominierungen für diverse Filmpreise wie die Saturn Awards oder die Satellite Awards. Einige Preise nahm sie auch mit nach Hause, unter anderem als Beste Darstellerin oder als "Most Promising Performer".
Zu erwähnen ist auch noch die Produktion "Red Lights" aus 2012, bei der sie an der Seite von Robert de Niro und Sigourney Weaver glänzte. Weiter ging's ein Jahr später mit "Kill your Darlings" an der Seite von Harry Potter-Darsteller Daniel Radcliffe und Jennifer Jason Leigh. An der Seite von "Breaking Bad"-Star Bryan Cranston spielte sie dann noch in "Godzilla" (aktuell bei Netflix) mit. Eher eine Enttäuschung war dann der letzte Film vor der Marvel-Karriere, "Oldboy", an der Seite von Josh Brolin und Samuel L. Jackson – einer der wenigen Filme, die Regisseur Spike Lee nicht gelungen sind. Ein Filmtipp ist dann noch "Kodachrome", ein Netflix-Film aus dem Jahr 2017, bei dem sich Elizabeth Olsen mit Ed Harris und Jason Sudeikis auf einen Roadtrip durch Amerika begibt.
Elizabeth Olsen im Marvel-Universum
Elizabeth Olsens erster Auftritt im Marvel-Universum dürften einige vermutlich gar nicht wahrgenommen haben: Sie taucht erstmals nämlich in einer der legendären Post-Credit-Scenes der MCU-Filme auf. Am Ende von "Captain America: The Winter Soldier" ist sie gemeinsam mit ihrem Bruder in einer geheimen Anlage zu sehen – dort experimentiert sie mit ihren Kräften, die ihr durch das Zepter von Loki verlieren wurden sind. In den Fokus rückte sie dann als festes Avengers-Teammitglied in "Avengers: Age of Ultron" 2015 und "Captain America: Civil War" – ab da war sie als Wanda Maximoff aka Scarlet Witch nicht mehr aus dem Marvel-Universum wegzudenken. Natürlich war sie auch im Phase III-Abschluss "Avengers: Endgame" nochmal zu sehen – und ist jetzt für den Auftakt von Phase IV mit "WandaVision" verantwortlich.
Festes Teammitglied heißt übrigens auch, dass sie während der Marvel-Produktionen bei weiteren Filmen mit Filmpartnern aus den Marvel-Drehs vor der Kamera stand: In "I saw the light" mit Loki-Darsteller Tom Hiddleston, wo sie auch einige Country-Songs zum Besten gibt, und in "Wind River" (aktuell bei Netflix) an der Seite von Hawkeye-Darsteller Jeremy Renner. Sehenswert ist auch "Very Good Girls", ein Dramafilm von Naomi Foner, der Mutter von Maggie und Jack Gyllenhaal. In dem Film spielt sie an der Seite von Dakota Fanning die Hauptrolle, exzellent besetzt sind auch die Nebenrollen mit Richard Dreyfuss und Demi Moore – sowie Agent Coulson-Darsteller Clark Gregg.
Elizabeth Olsen im Serienuniversum
Schauen wir noch auf weitere Serienproduktionen abseits von "WandaVision" – da ist vor allem "Sorry for your loss" zu nennen – eine Serie mit 2 Staffeln und 20 Folgen, die leider unter dem Radar vieler Serienfans gelaufen ist, da sie eine der wenigen Produktionen von Facebook Watch ist. Elizabeth Olsen spielt hier eine junge Witwe, die nach dem Tod ihres Mannes ihr Leben neu sortieren muss. Elizabeth Olsen überzeugte und wurde für diese Rolle für den Critics' Choice Television Award als beste Schauspielerin in einer Drama-Serie nominiert.

Und jetzt ist sie bei Disney+ angekommen und hat – wie eben schon erwähnt – die ehrenvolle Aufgabe, Phase IV des MCU zu eröffnen, was ihr nach Durchsicht der ersten Folgen von "WandaVision" auch bestens gelingt.

-->