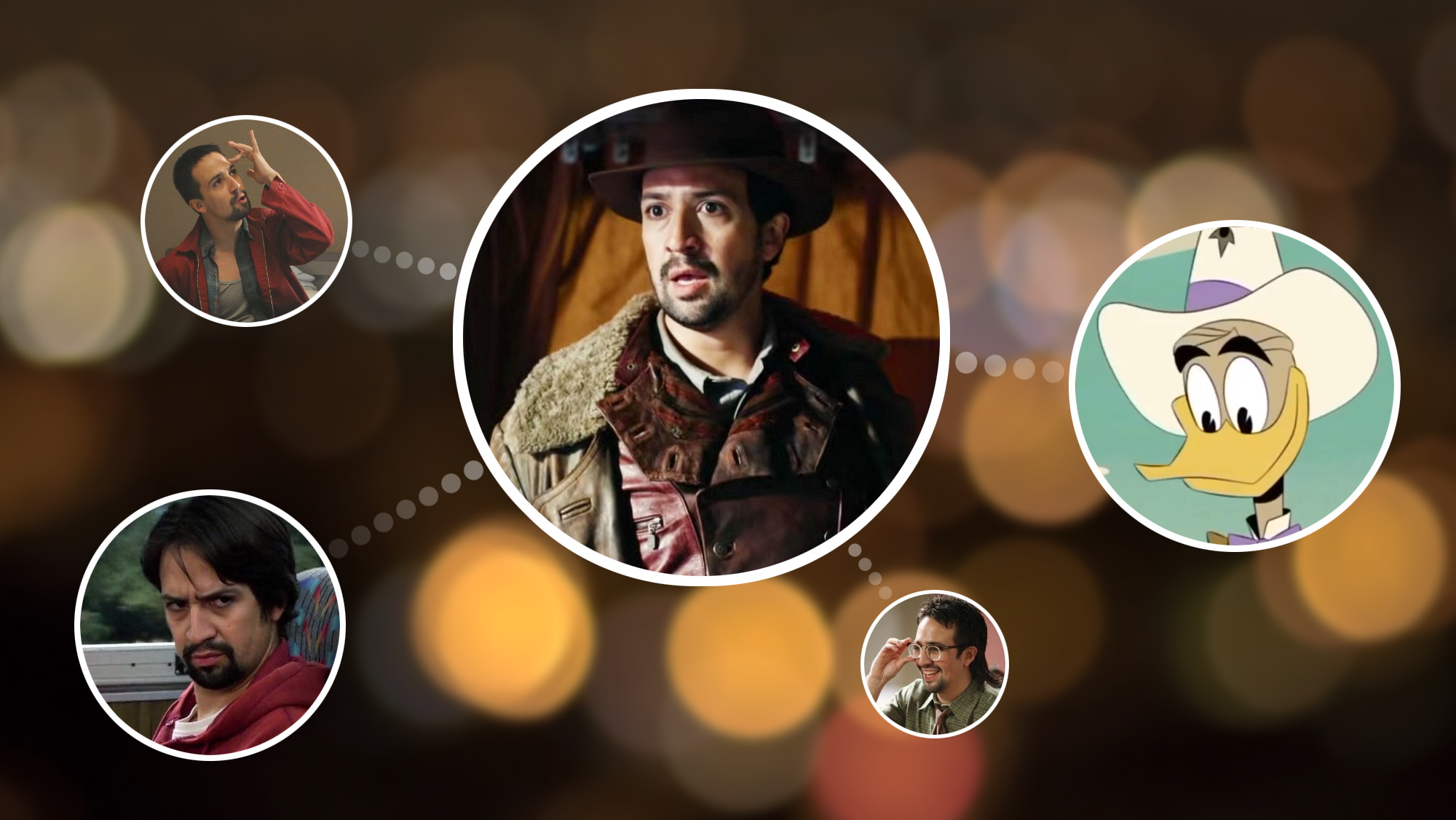 Lin-Manuel Miranda ist für mich irgendwie eine Herzensperson. Immer, wenn ich ihn in einem Film oder einer Serie entdecke, freue ich mich, wenn ich seine Stimme im Soundtrack herauserkenne, bin ich ein bisschen glücklich. Ich finde, er hat eine ganz besondere Ausstrahlung und ist einfach unglaublich kreativ. Bereits in seinem zweiten Studienjahr an der Wesleyan University in Connecticut schrieb er die erste Version von "In the Heights", ein Musical, das später zahlreiche Auszeichnungen erhielt und dieses Jahr im Juni sogar einen Film bekommt. Miranda ist Songwriter, Schauspieler, Texter, Komponist, Rapper und Produzent in einer Person. Er ist Mitglied und Mitbegründer von Freestyle Love Supreme, einer Hip-Hop-Comedy-Gruppe, die auf Comedy-Festivals auf der ganzen Welt auftritt. Er hat uns mit "Hamilton" ein Hip-Hop-Musical mit Broadway-Cast geschenkt. Da fragt man sich ja nicht nur: Was kann bei diesem kreativen Genie noch alles kommen, sondern auch: In welchen Serien kann ich ihn eigentlich noch so entdecken?
Steckbrief: Lin-Manuel Miranda
Geboren:16. Januar 1980 in New York City, New York (USA)
Filmografie: IMDb-Seite
Social Media: Twitter
Auszeichnungen: insgesamt 39 Nominierungen & 16 Awards, u.a. Grammy für Best Musical Show Album für "In the Heights" (2009) und People's Choice Award für Favorite Drama Movie Star in "Hamilton" (2020) sowie darüber hinaus drei Tony Awards
Seichter Start beim Klassiker – "The Sopranos"
Ich sag mal so: Wenn man den ersten eigenen TV-Serien-Auftritt in "The Sopranos" hat, egal wie klein die Rolle auch sein mag, kann man ja schon mal behaupten, man habe es geschafft. Noch bevor Lin-Manuel Miranda bekannt war, hat er 2007 einen kleinen Part in der Kult-Serie und ist wenige Sekunden, aber immerhin mit Sprechpart, als eine Art Concierge zu sehen und interagiert sogar (indirekt) mit Tony Soprano (James Gandolfini). Was man später wohl als Cameo-Auftritt bezeichnet hätte, ist hier tatsächlich "nur" sein erster kleiner Schauspiel-Job.
Ein Ritt durch die Serienwelt:
"House", "HIMYM" & Co
In den folgenden Jahren gibt es zahlreiche weitere Auftritte in namhaften Serien wie "Dr. House", in der er 2009 und 2010 zwar nur in insgesamt zwei Folgen zu sehen ist, dafür aber in einer wiederkehrenden Rolle. Als Juan 'Alvie' Alvarez ist er Patient des Mayfield Psychiatric Hospital und Houses Zimmergenosse. Er leidet an einer bipolaren Störung und rappt bei jeder Gelegenheit.
House M.D. - Talent Show (Season 6 Premiere)
In der Kinder-Comedy-Serie "The Electric Company" hat Miranda 2010 einen Auftritt als Mario, einem Hip-Hop-Musiker, der in einigen musikalischen Elementen der Show zu sehen ist.
In der "Sesamstraße" nimmt Miranda 2009 die Rolle als Freddy Flapman ein und leiht seine Stimme dort 2011 Lamb-Manuel. In "Modern Family" ist er 2011 als Guillermo zu sehen.
Und auch in "How I Met Your Mother" tritt er auf. 2013 ist er hier als Gus zu sehen, dem Mann, der mit Marshall im Bus sitzt und die gesamte Konversation reimt. Und auch hier kommt zum wiederholten Male Lin-Manuel Mirandas musikalisches Talent zum Vorschein, denn die Koversation artet schnell in einen Solo-Rap aus.
"Do No Harm", "Carpool Karaoke" &
"Curb Your Enthusiasm"
Ebenfalls 2013 geht die Sci-Fi-Dramaserie "Do No Harm" an den Start, in der Miranda in elf von 13 Episoden als Dr. Ruben Marcado auftritt. In der Serie geht es um Jason Cole, der tagsüber ein brillanter Neurologe ist und nachts zu Ian Pirce, dem genauen Gegenteil, wird – ein moderner Ansatz von Dr. Jekyll and Mr. Hyde. Mit Medikamenten betäubt er seinen Körper, um gegen Pirce anzukommen, doch im Laufe der Zeit entwickelt er eine Immunität dagegen und sein perfektes Leben droht zu zerbröckeln. Miranda verkörpert hier den Kollegen des Protagonisten.
2016 ist Lin-Manuel Miranda mit weiteren Broadway-Kolleg:innen bei James Cordens "Carpool Karaoke" zu Gast und singt sich mit ihnen durch den New Yorker Verkehr.
Und in "Curb Your Enthusiasm" liefert er sich 2017 ein Duell mit keinem Geringeren als Larry.
Und jetzt ab in die Lüfte
All seine Fernsehauftritte sind nun gar nicht mehr aufzuzählen. Es wirkt so, als wollen alle Macher:innen Lin-Manuel Miranda zumindest einmal für einen Cameo in ihrer Show haben. 2019 spielt er in "Brooklyn Nine-Nine" als David Santiago mit. Im gleichen Jahr verkörpert er Schauspiellegende Roy Scheider in "Fosse/Verdon" mit krassem Look und 2017 und 2020 leiht er in "BoJack Horseman" wieder einmal einer Figur seine Stimme: Hier ist er Crackerjack Sugarman.
2019 nimmt er die ultra-sympathische und wiederkehrende Rolle des Luftfahrers Lee Scoresby in "His Dark Materials" ein. Er ist einer der liebenswertesten Charaktere in der Fantasy-Serie, die auf Philip Pullmans Buchreihe "Der Goldene Kompass" basiert. Darin riskiert er alles, um die "Auserwählte" Lyra Silvertongue zu beschützen, die die Welt aus den Fängen des Magisteriums befreien soll. Scoresbys "Spirit Animal", Daemon genannt, ist der weibliche Schneehase Hester, mit der er sich so manches Mal einen verbalen Schlagabtausch liefert und damit vorzüglich unterhält. Miranda ist auch in der zweiten Staffel der Serie zu sehen.
Neues aus der Serienwelt
Nicht nur in diesem Jahr, sondern bereits seit 2018 schenkt Lin-Manuel Miranda verschiedenen Figuren im Reboot von "DuckTales – Neues aus Entenhausen" seine Stimme – egal ob Fenton Crackshell-Cabrera, Gizmoduck oder Elves: Miranda weiß einfach, wie er sein Organ einsetzen kann.

Es sieht ganz so aus, als kann dieser Mensch ganz schön viel. Er ist ein Künstler durch und durch. Und es macht unglaublich Spaß, dabei zuzusehen, wie erfolgreich er in dem ist, was er einfach zu lieben scheint. Lin-Manuel Mirandas Kunst und Ausstrahlung ist inspirierend, ansteckend, mitreißend. Ich freue mich schon sehr auf das Musical-Drama "In The Heights", in dem wir ihn nicht nur zu sehen, sondern auch wieder seine Musik zu hören bekommen. Feel Good-Mode on!

Bilder: CBS | FOX | BBC One | ABC | Disney XD

-->