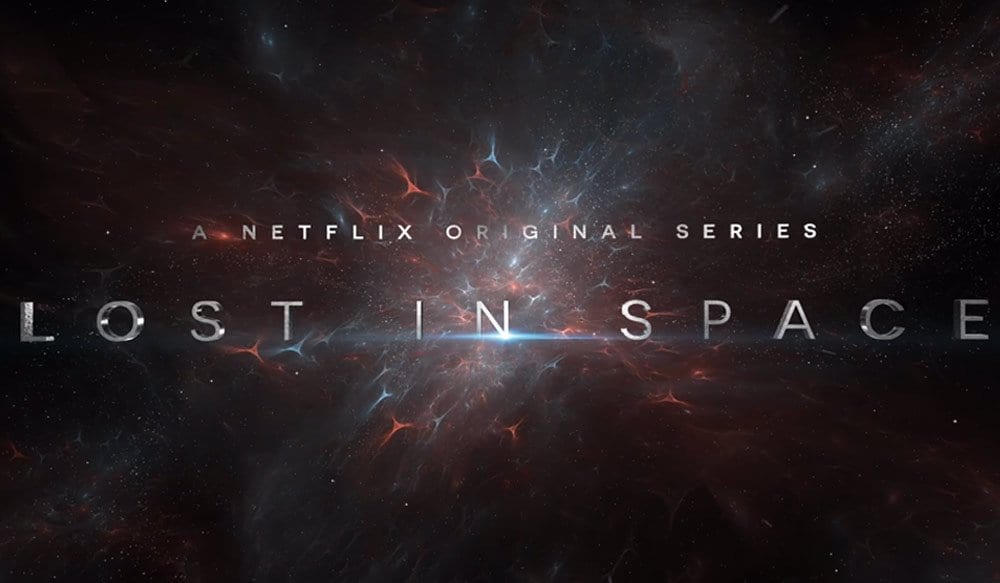 Während wir in den 2000ern das goldene Zeitalter des Fernsehens feierten, sind wir inzwischen im goldenen Zeitalter der Reboots und Comebacks angelangt. Mit Lost In Space hat sich Netflix eine bekannte Science Fiction Marke aus den 60er Jahren gesichert und diese neu aufgelegt. Zur ersten Folge haben wir bereits ein Review verfasst, siehe hier, jetzt soll es um die komplette Staffel gehen.
Original versus Reboot
Bereits im Artikel zur ersten Folge haben wir einen kurzen Vergleich zum Original gemacht. Bezogen auf die komplette Staffel kann man sagen, dass man sich mit den Charakteren wirklich sehr nah am Original bewegt. Einzige Ausnahme ist der böse Doktor, der jetzt von einer Frau gespielt wird. Ansonsten haben wir den intelligenten, aber etwas – dem Alter entsprechend – naiven Will. Die toughe Judy und die vorlaute Penny. Die Beziehung der beiden Eheleute Robinson ist natürlich modern. Maureen Robinson ist nicht mehr bloß eine (Weltraum-)Hausfrau, die das Essen zubereitet, sondern eine hochbegabte Wissenschaftlerin und Ingenieurin. Auch die Ehe an sich ist kompliziert und nicht durch bedingungslose Liebe gekennzeichnet. Trotzdem, wer das Original gesehen hat, findet viel Bekanntes, eingebettet in neue Abenteuer. Das hat Netflix wirklich gut hinbekommen.

Verschollen im Weltraum
Alle, die das Original aus den 60ern nicht gesehen haben sollten – was wahrscheinlich die Mehrheit ist, werden den Absatz oben übersprungen haben und sich viel mehr dafür interessieren, was von der Serie zu halten ist.
Die Ausgangsbasis der Serie wird schon nach dem Anschauen des ersten Trailers schnell klar. Die Familie Robinson wird durch einen Unfall  samt ihrem Raumschiff in einen unbekannten Teil des Weltraums verschlagen und kämpft von nun an ums Überleben. Aber nicht nur die Familie mit unseren Protagonisten, nein, eine gesamte Kolonie strandet. Das gibt sehr viel mehr Freiraum für Geschichten – im Original gab es ausschließlich die Familie Robinson.
Außerdem gibt es auch noch den Alien-Roboter, der das tut, was der kleine Will sagt oder denkt. Hier hätte ich mir dann doch mehr gewünscht. Zunächst ist er wie ein großes liebes Tier in einem Kinderfilm, dann wird klar, dass er für den Absturz der Kolonisten verantwortlich ist, nun aber sein Wesen geändert hat. Dann zerstört ihn Will aus Loyalität zu seiner Familie und den anderen Menschen, die vor ihm Angst haben, bis am Ende der Staffel Doktor Smith ihn wiederbelebt und er ihr hörig wird. Im entscheidenden Moment entscheidet er sich dann aber doch wieder für Will – nein, so ganz stringent ist das nicht. Man hat mehr das Gefühl, als ob man krampfhaft den Roboter aus dem Original in andere Art und Weise einbauen musste. Oder man hebt sich den spannenden Teil des Roboters für Staffel 2 auf?
Apropos zweite Staffel: Auch wenn man bei fast jeder dramatischen Aktion spürt, dass hier nichts Schlimmes passieren wird, deutet der Cliffhanger auf eine Wendung hin. Wenn nicht noch ein Wunder passiert, dann haben wir in Staffel 2 genau das Setup aus der bekannten Serie: Familie Robinson, der Roboter, Doktor Smith und Don West – ganz alleine, verschollen und ohne Hilfe.
Charaktere und Moral
Die meisten Charaktere agieren vorhersagbar und geradlinig. Es ist keine Serie mit fiesen Twists nach dem Motto, ach, Mister XY ist ja doch böse. Die Kinder sind Kinder und der Bösewicht ist durch und durch Bösewicht. Doktor Smith passt diese Rolle und das macht Parker Posey wirklich ganz großartig. Durch Rückblicke ist es eben kein 0815 Fiesling, man kann zumindest teilweise nachvollziehen, warum sie so handelt. Dazu wird bis zum Ende nicht klar, ob sie die Familie Robinson nicht doch ein kleines bisschen mag. Diese Ambivalenz, die einfühlsamen Worte von ihr, auf die dann Intrigen folgen – großartig. Ich habe mich selbst oft dabei ertappt, wie ich mich vor dem Fernseher über sie aufgeregt habe und mir gewünscht habe, dass sie keinen Erfolg mit ihren Aktionen hat. Ein gutes Zeichen dafür, dass sie ihrer Rolle gerecht wird.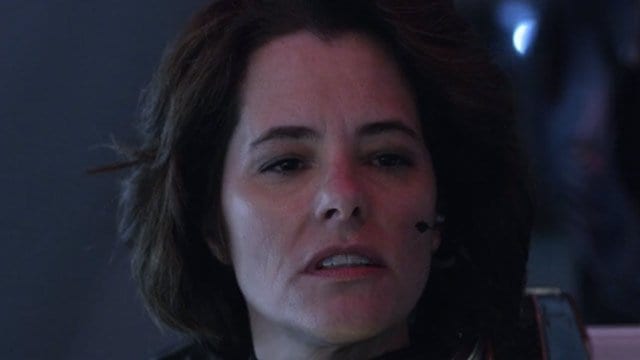 Doktor Smith, der interessanteste Charakter der Serie.
Deswegen ist es auch nicht so schlimm, dass die Familie, wie oben bereits angemerkt, sehr geradlinig daherkommt. Klar, streiten sich Maureen und John auch mal, aber im Prinzip ist es "one happy family". In der ersten Folge hatte ich noch Probleme damit, mir waren alle zu perfekt und leider zieht sich das auch komplett durch die erste Staffel. Wenn man sich aber daran gewöhnt, dann ist das nicht mehr so nervig. Trotzdem finde ich die gefühlt zu häufigen Moralansprachen und Szenen mit Erziehungsparolen der Eltern ihren Kindern gegenüber anstrengend.
Zielgruppe und Schleichwerbung
Für wen ist die Serie eigentlich gedacht? Das ist wohl die entscheidende Frage. Wer eine tiefgründige Science Fiction Serie sucht, der wird mit Lost In Space nicht glücklich. Für mich war die Frage, mit welchem Anspruch ich die Serie schauen soll, die entscheidende Frage. Eine Serie, die eine gesamte Folge lang Werbung für die von Kindern geliebten Oreo Kekse macht, darüber habe ich mich hier aufgeregt, ist definitiv kein Breaking Bad, Game of Thrones oder The Walking Dead. Diese Brille muss man ablegen oder sich zumindest darüber klar werden.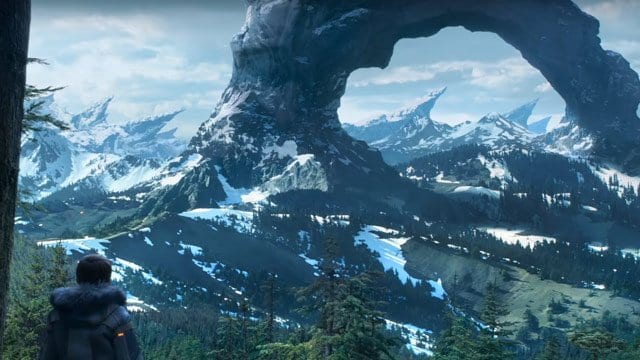 Die Serie sieht einfach fantastisch aus.
Wenn man das schafft, dann wird man mit einer zwar seichten, aber sehr bildgewaltigen Science Fiction Story belohnt. Bei der Gelegenheit sei auf die hervorragenden Effekte und Landschaftsaufnahmen hingewiesen. Während wir in anderen High-Budget Serien gerne mal ein verschwommenes Reh sehen oder Computerspiel-Drachen, fällt bei Lost In Space nichts aus dem Rahmen. Es ist einfach perfekt inszeniert, die Serie sieht großartig aus – wie ein Hollywoodblockbuster aus dem Kino.
Top oder Flop?
Lost in Space ist eine Serie, die man am besten mit der ganzen Familie schaut. Mindestens 10 oder besser 12 Jahre sollten die Kinder zwar schon sein, aber von da an funktioniert die Serie für alle Altersklassen. Im Prinzip ist es ein Familienkinofilm in 10 Teilen. Ich für meinen Teil hätte mir schon mehr Anspruch und Komplexität gewünscht, aber den hatte das Original auch nicht, insofern kann man der Serie dafür keinen Vorwurf machen.
Normalerweise würde ich der Serie aus meiner Sicht 2.5 oder maximal 3 Kronen geben. Ohne diesen Maßstab und im Sinne einer Serie für die ganze Familie sind dann doch 3.5 von 5 gerechtfertigt.