Bei der Eröffnungssequenz der dieswöchigen "Suits"-Folge habe ich kurz gehofft, Mike lässt mich auch weiterschlafen. Dann hätte ich ein bisschen länger von richtig guten Serien träumen können. Aber nein, wie das so ist bei diesem "Pro Bono Case", widme ich euch und den amerikanischen Anwaltschaften meine Aufmerksamkeit. Man bringe mir Kekse!
"Is there anything left for me?" – "Nah, you slipped in late, so you missed me making you breakfast." – "Ah, I see. But for the record: heating up poptarts doesn't count as breakfast." (Paula & Harvey)
Aber nein, das Essen ist alle. Einzig aufgetischt wird weiter fragwürdiges Verhalten Mikes. Nein, natürlich nicht moralisch, da ist er ja deutlich über Mutter Theresa anzusiedeln, aber die Deutlichkeit, in der er sich über sein Versprechen hinweg setzt, wird eigentlich nur von der Anzahl übertroffen, in der er betont, wie schlimm es wäre, wenn er auffliegt. Dann bei einer offiziellen Befragung eines Zeugen dabei zu sein, ist mehr als dämlich. Da dann seinen Namen nicht zu nennen, dürfte wenig helfen (vor allem nicht bei einem alten Bekannten).
"Where's my cookie?!" (Gallo)
Weitere Gefängnisse des Eigentümers sollen also Ansätze bringen – wie überraschend, dass da ein altes Bekanntes bei ist. Vor allem, dass genau das für Mike überraschend ist. Das fotografische Gedächtnis und gewissenhafte Arbeiten von Grundunterlaten dürfte nur noch eine Mär aus alten Staffelzeiten sein. Und das Abwiegen zwischen der vermeintlich persönlichen Aufopferung Mikes (da wird mit Gallo doch sicherlich noch irgendwas passieren) und dem großen allgemeinen Gut (Gerechtigkeit FTW!) wirkt irgendwann ermüdend. Das sieht zum Glück auch seine rationalere Hälfte.
"What is your word worth?" (Rachel)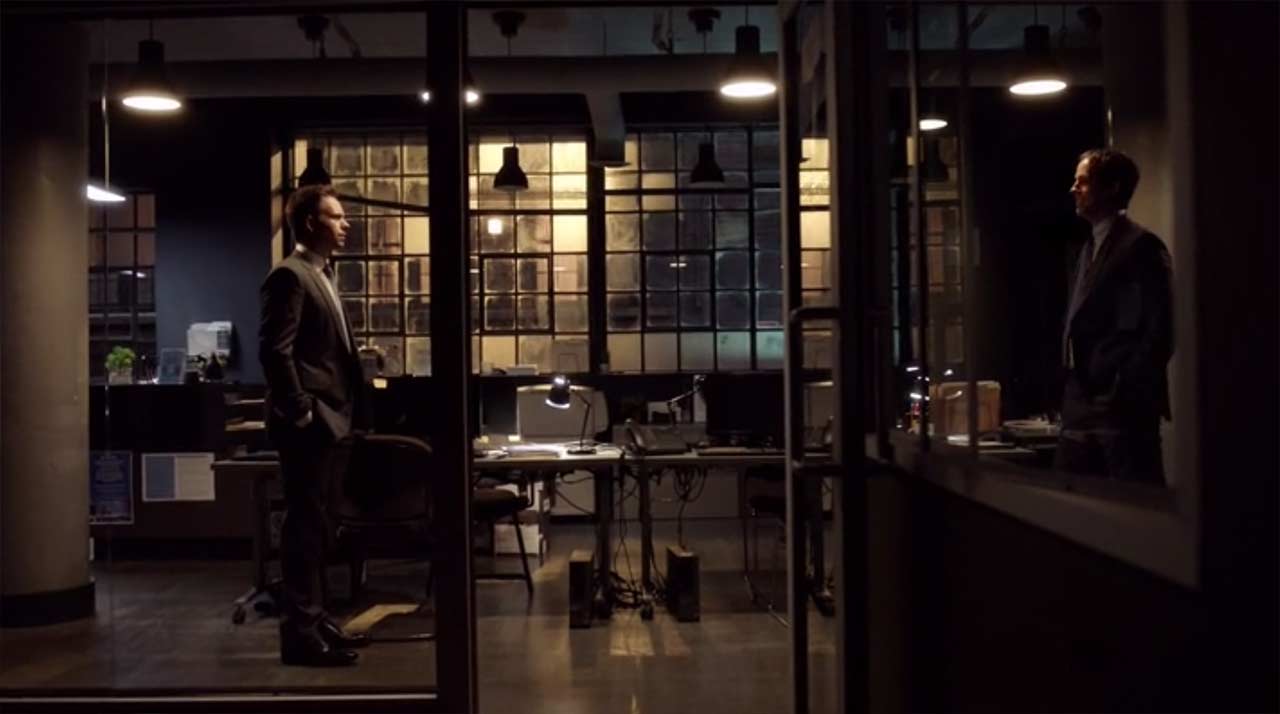 "Thanks for meeting me, Rick. I know, dominating the energy sector is a full time job." (Harvey)
Harvey hat die beiden neuen Fälle diese Woche für sich, gliedert einen aus Kapazitätsgründen (wo steckt denn dieser Mike?!) an Louis aus. Sein eigener Fall handelt von einem Solaranlagen-Rip-off. Das Highlight dabei war eigentlich der Übergang von der gesprochenen Zeile "I've got a lot on my plate" zum tatsächlich vollen Flying Buffet-Teller. Yummy!
"I'm sorry, I don't recognize you. You work in business affairs?" – "No, I work in suing your ass for trying to pass off Galvadine solar panels as your own." (Businesskasper & Harvey)
Was mir noch aufgefallen ist: Donna kleidet sich nun deutlich förmlicher. Und hat ihre Superkräfte ausgebaut, so dass sie weiß, dass der Kunde "seit 15 Minuten" wartet, obwohl sie ihn "gerade erst" im Konferenzraum gesehen hat. Wow! An diese Form der Magie reicht eigentlich nur noch die "ass-kickende" Holly Cronwall heran. Die schafft es zudem, innerhalb von 30 Sendeminuten einen Job nicht, dann doch, dann nicht und dann wieder doch angeboten zu bekommen, nur um ihn dann abzulehnen. Bin gespannt, ob das alles nur eine Finte war, damit Harvey doch bitte bei ihr angekrochen kommt. Denn schlecht scheint sie ja nicht zu sein.
Auch Louis ist endlich mal wieder nicht-schlecht, sondern sogar richtig gut, indem er den Fall von Paula löst, die von ihrem Ex-Partner (in Sachen Firma wie Liebe) verklagt wurde. Dabei ist die nennenswerteste Entwicklung eigentlich, dass Louis nicht bei erster Gelegenheit bereits alles ausplappert, was ihm anvertraut wurde (wie man das als Anwalt gelernt hat, guter Junge!). Am Ende hat der Fall dann sogar eine katharsische Wirkung für ihn.
Auch wenn ich es jetzt nicht bereue, nicht weiterschlafen haben zu können, vermisse ich doch weiterhin meinen Keks. Das ist mir mittlerweile zu viel (wiederholte) Emotionalisierung der Figuren, die mit ihren hochpersönlichen Problemen konfrontiert werden. Da werden mir das eigentliche Tagesgeschäft der Kanzlei (und damit verbundene, potenziell spannende und smart konstruierte Fälle) zu weit in den Hintergrund gedrückt. Der Solarpanele-Fall wurde durch undurchsichtige "Magie" gelöst und war so (so er denn vorbei ist) dann doch arg schmalspurig gehalten. Der Stalker-Fall wirkte da gar als noch kürzeres Zwischenspiel und beides hatte viel beiläufigere Funktionen. Figuren aufzuweichen, sie zueinander zu stellen und das Arbeitsleben mit dem Privaten verbinden. Eigentlich hoch anzurechnen, aber eben viel zu platt umgesetzt. "Nett". Wie ein kostenloser Keks, der einem zu süß ist.
Bilder: bravo