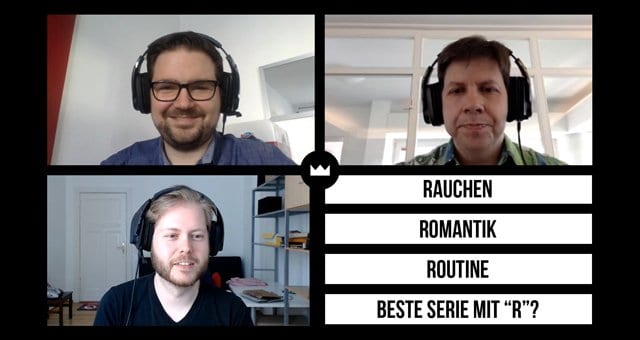 Kaum ist unser Podcast 18 Ausgaben alt geworden, holen wir die Themen für die Erwachsenen vor die Kamera. All das, was ihr schon immer wissen wolltet, euch nur nie zu fragen getraut habt, wird euch diese Ausgabe beantworten.
Jonas, Michael und Maik sind in Plauderlaune und haben die wohl besten Themen mitgebracht, die man mit Serien und dem Buchstaben "R" in Verbindung bringen würde. Spätestens nach dem Genuss dieser Ausgabe in Verbindung bringen muss. Aber Vorsicht! Die Ausgabe kann Spuren von Spaß und guter Unterhaltung enthalten. Möglicherweise ansteckend!
BUCHSTABE #R – Jonas, Maik & Michael
Rauchen 01:20
Romantik 09:54
Routine 20:40
Beste Serie mit "R"? 26:36
seriesly podcAZt #R - AWESOME von A bis Z
Diese Ausgabe wurde präsentiert von Morley Cigarettes. "The truth is in the ingredients" . Morley Cigarettes – the best smoke item in town!
Audio-Versionen (inkl. Download-Option)
Das wir seit einiger Zeit einen Pro-Account bei Soundcloud haben, wisst ihr schon, von daher wird es euch nicht überraschen, dass auch diese Ausgabe unseres PodcAZtes zeitnah in unserem Kanal auftauchen und somit auch dort abonnierbar sein wird. Und nicht nur da!

Auch bei iTunes findet man ab sofort AWESOMNESS ohne Ende. Abonnieren, Feedback da lassen und Freude verbreiten! Und dabei selber Freude erhalten! Win-Win!

Abschließend wieder ein kopfhörerdickes Danke an Logitech für die Bereitstellung der Logitech G633 Artemis Spectrum Pro Gaming Headsets (Partnerlink)!

-->