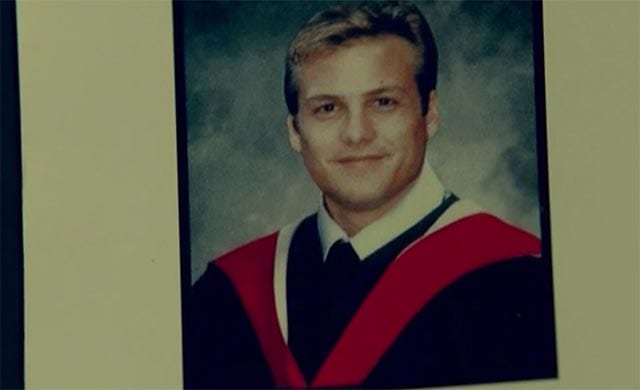 Diese Woche hat Suits mal wieder etwas Besonderes für uns im Gepäck: einen Rückblick. Sechs Jahre verschlägt uns der erneute Zeitsprung in die Vergangenheit. Doch anstelle einer kompletten Annodazumal-Episode gibt es eine intelligent mit der Gegenwarts-Storyline verwobene Erzählung.
"Just because a person gives advice doesn't mean that they have to follow that same advice. That's one of the core principles outlined in the book of Donna." (Donna)
Es ist schön, ein paar der alten Charaktere noch einmal zu sehen zu bekommen. Da weiß man schnell wieder, welcher Arsch Hardman doch war. Außerdem bekommen wir Insights dazu, wie Louis und Harvey einst gemeinsam Partner werden wollten – um sich dann gegenseitig in die Quere zu kommen. Und es gibt die Erkenntnis, dass Mike also schon einmal vorgeflunkert hat, (angehender) Anwalt zu sein.
"Where's your Power Point presentation?" (Mr. McKernon)
Ein Ritt durch die Vergangenheit – auch für die Charaktere in der Gegenwart. Die verschlägt es zu McKernon Motors, dem damals entscheidenden Kunden. Meist gelingt der Wechsel zwischen den Zeiten gut, der Shot über die unterschiedlichen Schuhe hat mir bspw. sehr gefallen. Schön wäre, wenn wir Claire noch einmal in der Gegenwart wieder sehen könnten und Mike erläutern darf, dass er eigentlich noch immer nicht studiert hat.
"You're not a fraud – you just never went to law school." (Louis)
Tja, und am Ende? Louis hat charmanter Weise alles nochmal nachgeschlagen und festgestellt: Mike heißt in Wirklichkeit Michael. Neben dieser schockierenden Tatsache gilt aber erneut die Moral, dass sich Jungs einfach mal Rangeln müssen, dann ist alles wieder gut.
Ich weiß nicht wieso, aber die Folge hat tatsächlich einen Nerv bei mir getroffen. Und das, obwohl das Ende viel zu schnell viel zu locker war – aber wir alle kennen die Momente bei Eisesstille, wenn selbiges Eis dann durch das Öffnen und Eingestehen einer Person gebrochen werden kann. Es sind keine epischen Dinge passiert, aber eben viel Menschliches. Gut geschriebene Dialoge, tolles Timing und eine gelungene Parallel-Erzählung zwischen Harvey/Louis und Louis/Mike. Und Zeitsprünge sind ah immer dufte. Nach der guten Folge letzte Woche fühlt man sich langsam darin bestätigt, bis hierher durchgehalten zu haben. Jetzt sollte das ganze "Fraud"-Thema aber auch endlich mal durch sein und es wieder voran gehen.