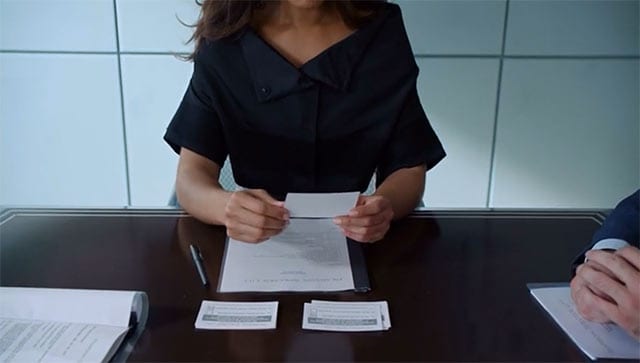 Diese Woche bietet uns Suits mal wieder tolle Dialoge voller One-Liner, die diesen Beitrag vielmehr zu einer Zitate-Sammlung, denn zu seinem ausgeschriebenen Review werden lassen. Kein Wunder, könnte man handlungsseitig behaupten, alles sei schon einmal da gewesen – nur anders. Man muss der Serie dabei lassen, dass der neuerliche Problemfall durchaus smart unter verschiedenen Handlungsschichten und immerhin einer(!) neuen Figur vergraben wird. Aber Fehler in der Durchführung lassen den Versuch unsinnig erscheinen…
"How the hell did you get up here?!" (Donna)
Hardman is back… Mehr Hard als Man und charming as ever.
"You really should try one of those standing desks. It's better on the back for a woman of your age…" – "This is a standing desk. For a man of your height." (Hartman & Jessica)
Okay, der Staatsfeind Nr. 1 kommt ein Mal hoch in die Büroräume, weil er unten noch jemanden kennt, den er nicht vergrault hat. Aber WIESO kann er es anscheinend laufend machen?! Sehr unsinnig. Beinahe so sehr, wie die Tatsache, dass man Jack nicht einfach raus schmeißt.
"I just reheated my Egg McMuffin and I'm gonna eat it in peace!" (IT Guy Benjamin)
Ich hatte mich letztens noch gefragt, wieso eigentlich so lange der IT Guy der Kanzlei nicht mehr zu sehen war – here he is again! Die IT hat halt die Macht über alles. Schön, Louis endlich mal wieder im strengen Arbeitsmodus zu erleben. Geht doch. Sogar ohne Bestechung…
"You know, Mike Ross always brings me food…" (Benjamin)
Sehr gefallen hat mir übrigens der Parallel-Schnitt bei Mike und Harvey. Allgemein erfreulich unterhaltsames Teamwork.
"By the way: Mike pissed in your bonsai." (Harvey)
"I want you to stop being an asshole to people!" – "it's too late for that…" (Dominic & Harvey)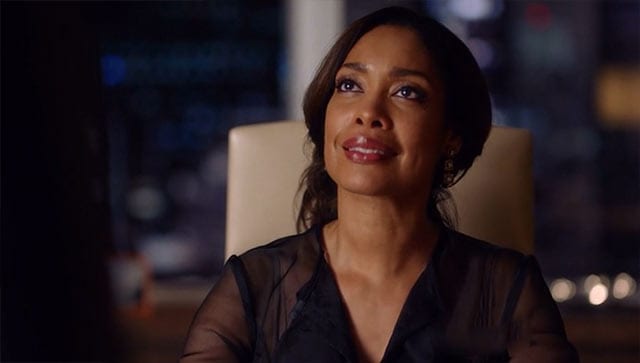 Zwei abschließende Bemerkungen zu dummen Dingen noch. Die immer auf der Höhe seiende Inhaberin einer Kanzlei hört irgendwo, dass scheinbar gerade der Dollar schlecht gegenüber dem Yen steht und (A) weiß das nicht und (B) überprüft es nicht? Das ist genau so dämlich, wie Hochzeitsankündigungs-Probleme. Können die nicht einfach "300 minus Harvard" Leute einladen?! Suits ist die Sendung, die aus jeder Mücke einen Elefanten machen kann…
"I'm saying I need to go see a guy about a thing." (Harvey)
Mit dem erstaunlich hager gewordenen Trevor kehrt dann natürlich noch ein "Altlaster" zurück. Bald haben wir Staffel 1 wieder beisammen! Können Harvey, Mike und Rachel jetzt endlich ihre eigene Kanzlei irgendwo ganz weit weg aufmachen?!
Irgendwie kommt mir gerade zu viel "denk mal drüber nach!" auf einmal Richtung Mike. Klar, alles logische Gedanken, aber die bestehen ja eigentlich seit Jahren. Plötzlich wird er zum Umdenken angestachelt und ich wette mit euch, dass er bis Staffelende entweder die Hochzeit absagt oder kündigt. Vermutlich Letzteres. Vielleicht sogar schon zum (ebenso bescheuerten angesetzten!) Midseason-Finale. Soll er doch Analyst in der Kanzlei Spector werden.
Dennoch war die Folge insgesamt recht kurzweilig – vor allem wegen der Sprüche, der Sticheleien und der Mike-Harvey-Action im Mittelpart. Wenigstens für dumme One-Liner ist dieser Hardman ja dann doch noch gut – ob als Geber oder Nehmer.
"Do I look like someone who needs to be hungry and paranoid?!" (Louis)
Ich freue mich jedenfalls darauf, nächste Woche einen bekifften Louis zu sehen. Und ja: Titus Welliver aus Bosch spielt Automobilkundenvorsitzenden Dominic Barone. You're welcome.
Fotos: usa