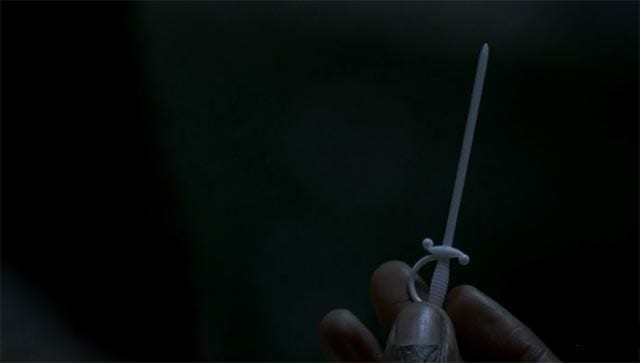 Pferde, Pasta und Piekser in Schwert-Form. The Walking Dead hat die Prioritäten verschoben. Statt Action und Überlebenskampf regieren Hausfrauen-Gespräche und Hausparties. Auch wenn das letzte Woche begonnene Eingelulle weiter gesponnen wird, geht es den Charakteren größtenteils noch immer wie den Zuschauern: dem Braten wird nicht so recht getraut.
"People are the real threat now." (Rick)
Rick, Daryl und Carol haben eine Art Geheimrat gegründet, der sich im Wald trifft. Das ist nämlich total unauffällig, gerade, wenn alle gleichzeitig die Anlage verlassen und wieder heim kehren. Wichtig sind die Sequenzen aber allemal für die Folge, da wir gerade bei Daryl durchaus einen Wandel beobachten dürfen. War er zunächst hellauf begeistert von der Vorbereitungs-Idee, sich Waffen zu besorgen, sieht er es am Ende der Folge anders. Das liegt an einem wirklich verdammt schönen Pferd, "pretty serious Spaghetti" und einem Jobangebot inklusive Firmen-Motorrad. Kein schlechter Tag für ihn, läuft.
Carol dagegen führt weiter ein Doppelleben. Harmlose Hausfrau, liebevolle Keks-Bäckerin und kompetente Kinder-Furchteinflößerin. Was ein Multi-Talent. Nur eine Frage der Zeit, bis der Junge sich verquatscht. Die Ansage hat jedenfalls gesessen und demonstriert, welchen Wandel der Charakter tatsächlich seit Staffel 1 vollzogen hat. A pro pos Wandel: Rosita habe ich bei der Party kaum wieder erkannt. Schick, schick!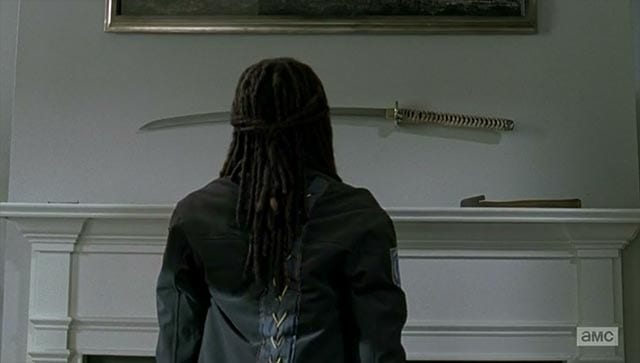 Wichtig ist aber vor allem eines diese Woche: der Umgang mit dem Wechsel von "Draußen" nach "Drinnen". Nicht alle kommen mit Pasta und Pieksern klar. Michonne hat zunächst Bedenken, hängt ihr Katana aber dann doch an den Nagel. Nicht für alle ist es so leicht, sich von der Vergangenheit zu lösen. Sasha dreht durch, sieht einige Flashbacks und unter anderem Tyreese mit Piekser am Buffet stehen. Sie ist gedanklich noch am meisten in der eigentlichen Gefahrenwelt verankert und will gerade deshalb auf den Glockenturm. Für die Comicleser eine schöne kleine Analogie zu Andrea, die dort die "Chef-Sniperin" abgibt.
Und auch Rick fühlt sich beinahe verbunden zu einem Walker, der an die Außenwand schlägt. Es ist wohl nur eine Frage der Zeit, bis er gemeinsam mit ihm Hand in Hand Tongefäße töpfert.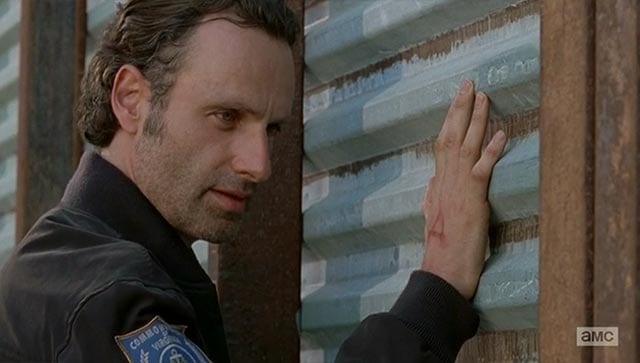 Aufgrund der inneren Zerrissenheit hat mir die Folge etwas besser gefallen als die letzten. Außerdem gab es in Sachen Kameraführung einige sehr schöne Perspektiven und Schnitte zu sehen. Dennoch will es nicht ganz reinhauen bei mir gerade, wenn ich ehrlich bin. Da aber durchaus Samen der kommenden Geschichte gesät werden, lässt darauf hoffen, dass es mit der Ruhe bald vorbei ist. Nein, damit meine ich nicht unnötiges Walker-Geschnetzeltes, aber eben etwas mehr Dynamik. Gerade das am Walker entdeckte "W" dürfte da für Abhilfe sorgen (mögliche Erklärungen dazu gibt es hier zu sehen; Spoilers, obviously).

-->