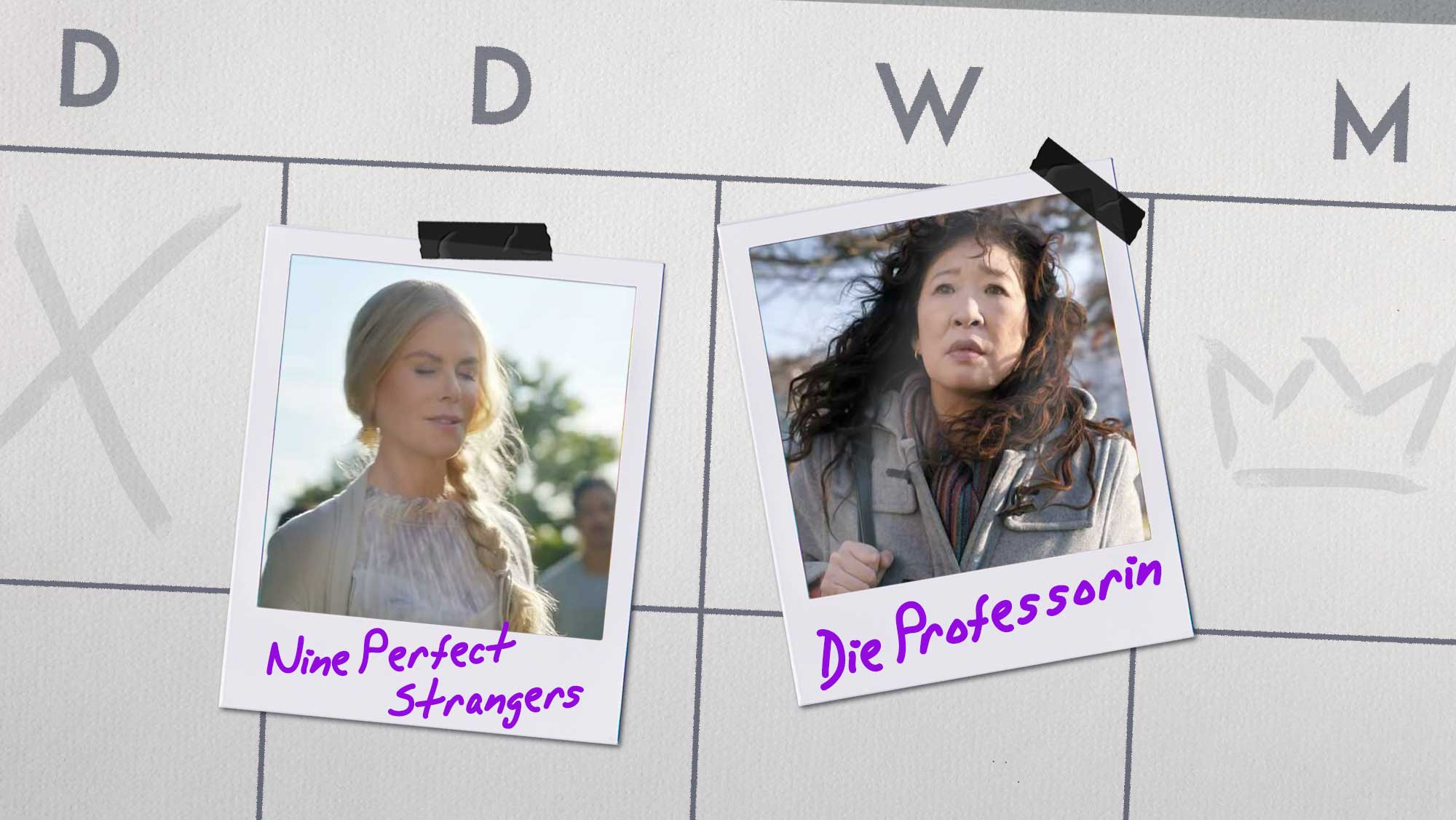 Und schon sind wir im August – Wahnsinn… Noch hat die traditionelle neue TV-Season nicht begonnen, aber einige Streaming-Anbieter sowie überraschenderweise das deutsche Fernsehen haben im Programm dann doch ein paar Alternativen zum Sommerwetter. Schauen wir doch mal genauer auf die kommende Woche!
Montag, 16.08.2021
Zum Wochenstart geht es ungewohnt sachte los. Aus den USA bekommen wir mit "Heels" aber immerhin einen interessanten Neustart zu sehen (S01E01, Starz).
Wer nicht genug Serienfutter hat, kann sich in die Tiefen des Reality-TV wagen und entweder "Bauer sucht Frau International" (20:15 Uhr, RTL) oder "Promi Big Brother" (20:15 Uhr, Sat.1) schauen. Na dann…
Dienstag, 17.08.2021
Auch am Dienstag hat das Free TV mehr zu bieten. Nicht viel, aber mehr. Auf US-Hulu läuft eine neue Folge "Reservation Dogs" (S01E03), ich werde mir aber den Supercup anschauen, der ungewohnter Weise nicht als weiteres "Testspiel" in der Saisonvorbereitung, sondern nach Spieltag 1 der Bundesliga läuft. Und dazu ab 20:05(!) Uhr auf Sat.1 – alles irgendwie seltsam… Gut, dass man die neue Ausgabe von "Wer stiehlt mir die Show?" (20:15 Uhr auf ProSieben) auch im Nachgang über Joyn sehen kann.
Mittwoch, 18.08.2021
Vor allem dank Disney+ hat der Mittwoch einiges an neuem Futter zu bieten. Dort laufen nämlich neue Folgen von "Monsters At Work" (S01E08), "Turner & Hooch" (S01E05) sowie "What If…" (S01E02). Aus den USA kommen zudem noch Episoden von "Fantasy Island" (S01E02, FOX) und "Miracle Workers" (S03E06, TBS).
Deutsche TV-Premiere feiert derweil die zweite Staffel von "What We Do in the Shadows" (S02E01, 20:15 Uhr) auf ProSieben FUN, währen beim RTL "Die Bachelorette" Rosen vergibt (20:15 Uhr).
Donnerstag, 19.08.2021
Die Highlights tummeln sich in der zweiten Wochenhälfte. Gehört da der Donnerstag als mittlerer Tag eigentlich dazu? Wie dem auch sei, mit "Nine Perfect Strangers" gibt es jedenfalls einen vielversprechenden Neustart auf Hulu (US) zu sehen, wo es direkt die ersten drei Folgen geben wird. Über CBS All Access kann man zudem noch "Star Trek: Lower Decks" (S02E02) sehen.
Freitag, 20.08.2021
DAS Highlight dürfte dann aber wohl "Die Professorin" (aka "The Chair") darstellen, das auf Netflix startet. Zusätzlich gibt es Neues von "American Horror Stories" (S01E07, Hulu), "Brooklyn Nine-Nine" (S08E03+04), "Ted Lasso" (S02E05, Apple TV+) sowie "Mr. Corman" (Apple TV+).
Im linearen Fernsehen könnte man in das "Ninja Warrior mit Hunden" – "Top Dog Germany" – schalten (20:15 Uhr, RTL), vor allem möchte ich aber auf einen musikalischen Themenabend hinweisen: "Freddie Mercury – The Untold Story" (arte, 21:45 Uhr) und im Anschluss "Freddie Mercury – Tribute Concert" (arte, 22:45 Uhr) dürfte interessant werden!
Samstag, 21.08.2021
Nichts los. Also, außer Bundesliga und Serien-Aufholen.
Sonntag, 22.08.2021
Fast genauso wenig ist am Sonntag los, wobei aus den USA mit "The Newsreader" (S01E02, ABC) immerhin etwas Frischfutter zu uns gelangt. Naja, muss ja auch nicht jeden Tag Neues kommen…

Ich wünsche euch eine AWESOME Woche!

-->