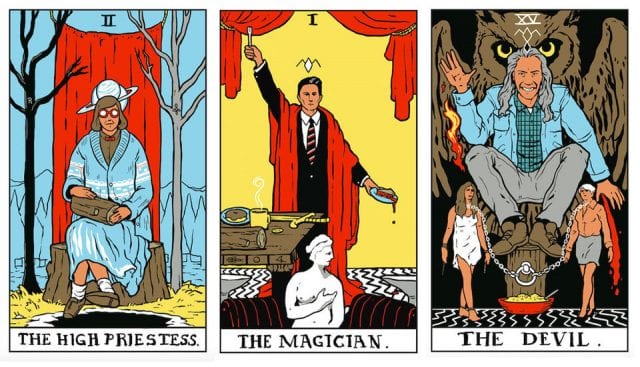 Schöne Arbeit von Künstler Benjamin Mackey: Er hat zu allen Twin Peaks-Hauptcharakteren Tarot-Karten entwickelt, basierend auf der Tarot-Optik von Pamela Colman. Bei dem Karten-Deck geht er sehr schön ins Detail.
Agent Cooper ist zum Beispiel "The Magician" und hält auf der Karte einen Kirschkuchen in der Hand. Auf dem Tisch steht natürlich eine Tasse Kaffee, dazu ein Donut. BOB ist "The Devil", und hinter ihm ist eine Eule gezeichnet ("Die Eulen sind nicht was sie scheinen."). Die Log Lady ist "The High Priestess" – selbstredend mit Holzscheit abgebildet. Mackey wollte möglichst nah an den Originalcharakteren bleiben:
The Log Lady as the mystic High Priestess and Dale Cooper as the Magician who 'longs to see' were obvious choices, whereas other cards were more of tough call. I did my best to respect the attributes of both character and card significance, playing with symbols and tweaking meanings slightly for better deck cohesion and internal logic.
Einen Überblick über alle Karten findet man hier.
via: The Huffington Post