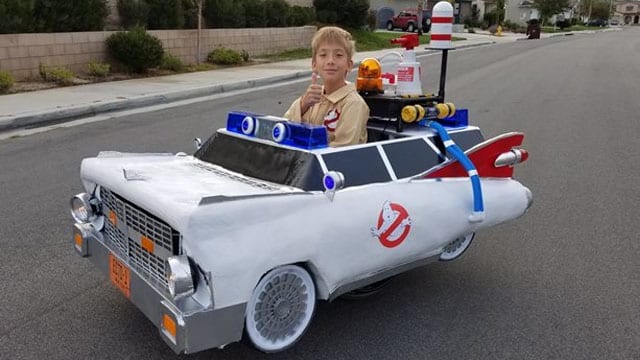 Wohl dem, der einen so handwerklich begabten Vater hat. Ryan Scott Miller baut seinem Sohn Jeremy jedes Jahr eine coole Verkleidung für seinen Rollstuhl. Und das nicht einfach nur mit ein wenig Pappmachee.
Hier wird nicht gekleckert, hier wird richtig geklotzt. In diesem Jahr fährt Jeremy mit dem Ecto-1 Mobil durch die Straßen. Ghostbuster lässt schön grüßen. Und Ryans Konstruktionen habe diverse technische Finessen, wie er seinem YouTube Clip, der völlig zurecht gerade ein wenig durch diverse Timelines geht, anfügt:
"The Ecto-1 include working headlights, siren lights, tail lights and speakers for Ghostbusters siren and theme music! The roof rack includes yellow canisters, green canister, blue tubes, ladder, red probe, siren light, two speakers (one for the Ghostbusters siren and one for theme music), satelite dish and whatever the white & red canister is from the Ecto-1."
Sehr cooler Dad, oder? Man könnte allerdings streiten, ob der Ecto-1 wirklich eine Steigerung zum letzten Jahr darstellt:
Jeremy's Snowspeeder in action!
Ich bin mir da nicht so sicher, dass dürfte Jeremy aber völlig wurst sein. Auch wieder zurecht.
via: radiotimes