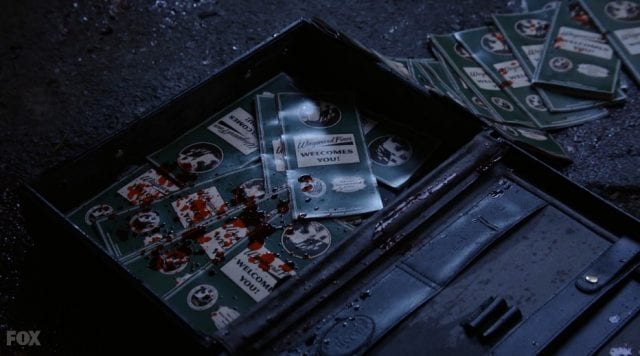 Das Ende von Wayward Pines hat dann doch den einen oder anderen überrascht – natürlich vor allem diejenigen, die bereits vorher die Buchtrilogie kannten, auf der die Serie basiert. Denn bislang hatte sich das Autorenteam doch recht nah am Original orientiert. Bis Episode 5 war das erste Buch abgearbeitet, die Episoden 6 bis 9 bauten auf den Büchern 2 und 3 auf. Zum Ende hin wurde es allerdings schon etwas differenzierter: Vor allem das dominierende Auftreten der "Ersten Generation" überraschte – um mit dem Abschluss in der letzten Folge vollends zu verblüffen. Das Ende der Serie (?) unterscheidet sich dann doch deutlich vom Roman-Ende. Warum haben die Macher von Wayward Pines dieses Ende gewählt? Showrunner Chad Hodge erklärt die Beweggründe gegenüber Entertainment Weekly.
Das Ende von Wayward Pines – Unterschiede zwischen Buch und Serie
Eine der wichtigsten Unterschiede zwischen Buch-Reihe und TV-Serie ist die Rolle der "Ersten Generation". Die "Erste Generation" mit der gesamten Handlung drumherum spielt in der Buch-Reihe im Prinzip keine Rolle. Im Buch begeben sich alle wieder in den Tiefschlaf, als abzusehen ist, dass sie gegen die Abbies in Wayward Pines nichts ausrichten können. Im Buch heißt es:
"Let's just go back into these chambers. This is not our planet right now. Let's see what happens when we wake up in 10,000 years."
Das Buch endet dann damit, wie sich Ethans Auge wieder öffnet – und schlägt damit eine Brücke zum Anfang der Serie, die genauso startet (und die damit eine gewisse Parallele zu Lost aufweist, wie wir im Review der ersten Folge schon festgestellt hatten).
Auch in der TV-Serie scheinen die meisten Menschen wieder in einem Tiefschlaf zu sein, lediglich die "Erste Generation" und offensichtlich einige Erwachsene, die man zum sinnvollen Betrieb der Stadt benötigt, leben in Wayward Pines. Die Story rund um die "Erste Generation" sei die stärkste Idee für ein Ende gewesen, gibt Chad Hodge zu. Dabei seien mehrere Varianten – neben der im Buch – diskutiert worden. Aber gerade dass die Jugendlichen diejenigen sind, die Pilchers Idee folgen, hätte einen gewissen Reiz ausgemacht:
We considered many different endings and ultimately decided this one was the most in the weird tone of the show and in the truth of the show and what would probably have happened. There's obviously many ways you can go, but the strength of the First Generation and the fact that they were the ones following Pilcher's ideology, for better or worse, they ended up taking over.
Schließlich müsse man Wayward Pines' einmal aus der Perspektive der "Ersten Generation" sehen: War es aus deren Perspektive richtig, allen die Wahrheit zu verraten? Immerhin sind daraufhin Pilcher und viele Bewohner gestorben, Wayward Pines stand kurz vor dem Abgrund. Insofern haben die Erwachsenen aus Sicht der "Ersten Generation" – und der Ideologie Pilchers folgend – im Prinzip alles falsch gemacht. In Wayward Pines hätte es bestimmte Regeln gegeben, die für das Verständnis des Zuschauers zwar merkwürdig erscheinen würden, für Wayward Pines als Konstrukt aber Sinn gemacht hätten.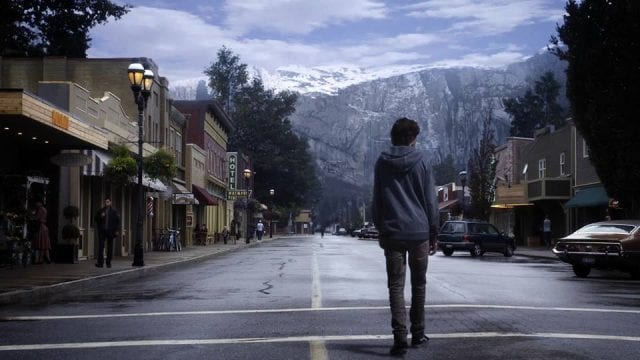 Da das Ende der Serie durchaus als offen zu bezeichnen ist, heizte das nach der Ausstrahlung die Diskussion um eine Fortsetzung erneut an. Chad Hodge deutet aber an, dass dieses Ende nicht als Teaser für eine zweite Staffel gemeint gewesen sei. Alles, was wir in den Folgen sehen, sei als geschlossene Handlung gemeint gewesen. Der Showrunner meint besonders die Parallelen zwischen der ersten und letzten Folge – wenn Ethan und Ben in der gleichen Art und Weise, verstört und orientierungslos, über die Main St. schlurfen. Viel hat sich in Wayward Pines offensichtlich auch nicht geändert – mal von der Pilcher-Statue und dem gehängten Erwachsenen abgesehen. Unabhängig davon, dass die zehn Folgen als Serie, nicht als Staffel gedacht waren, gebe es tatsächlich eine Diskussion bei FOX:
There are some preliminary discussions, but nothing official yet. It really was always designed to be this one season, so should it have a further life, it's a whole new discussion. This ending and where it went was always intended to be the end.
Sollte es eine weitere Staffel geben, wird sie wohl ohne Ethan Burke stattfinden. Dieser sei definitiv gestorben, wie Chad Hodge betont.
Das wäre in einer Fortsetzung denkbar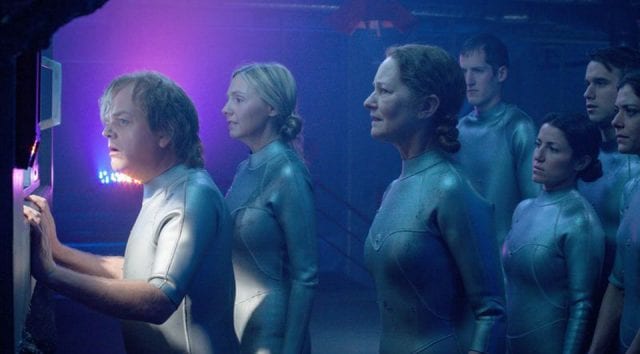 Zuletzt heizte Producer M. Night Shyamalan die Diskussion noch einmal an. Auch er sagt, dass Wayward Pines als abgeschlossene, zehnteilige Serie gemeint gewesen sei, was das Produzieren der Serie sehr angenehm gemacht hätte. Er und der Autor der Romanvorlage, Blake Crouch, hätten allerdings da so eine Idee, wie er gegenüber Deadline bestätigte:
I knew where I wanted to go. I knew I wanted the fences to come down. I knew where we were heading for the finale and so we could architecture the 10-episodes in that manner. So, I am happy to walk away, especially with such a wonderful reaction and all that stuff. But honestly, Blake and I do have an idea. We're super surprised, excited, humbled by the reaction to Wayward Pines, and I did ask Blake to come over to my house, which he did. We did sit down for a few days, and we talked about all kinds of things, and we both felt very good about our time together. We both made a pact saying if we did decide to do something more here that we would approach it with a very high level of integrity and not let the opportunity dictate it because we're both happy to walk away.
Wie genau die Idee der beiden aussieht, hat er allerdings nicht verraten. Wie könnte also eine zweite Staffel aussehen? Darüber zerbricht man sich sicher nicht nur bei FOX den Kopf. Wir haben auch einmal überlegt, welche Varianten in Frage kommen.
Denkbare Szenarien:
– Die "Erste Generation" etabliert sich und versucht, sich die Welt von den Abbies zurückzuerobern. Wäre natürlich recht actionreich angelegt und würde sich von der ersten Staffel stark abheben.
– Ben und Amy wecken die rebellischen Erwachsenen wieder auf, weil sie an das Gute in den Erwachsenen glauben, lösen aber so einen neuen Konflikt in Wayward Pines aus.
– Eine zweite menschliche Kolonie auf der Erde wird entdeckt oder macht sich bemerkbar. Entweder versuchen beide Kolonien, sich gegen due Abbies zu verbünden, oder sie bekriegen sich – ähnlich wie die Menschengruppen in "The Walking Dead", die zuletzt mehr untereinander als gegen die Walker kämpften.
– Ach ja, und das Thema Außerirdische geht natürlich immer.
Unabhängig von den Ideen für eine zweite Staffel meine ich: Als Miniserie hat Wayward Pines eine starke Wirkung hinterlassen. Ich fänd es gut, die Serie mit den zehn Folgen für sich so stehen zu lassen. Die Serie macht so als geschlossene Einheit Sinn und hat gut funktioniert. Wie so oft bei Fortsetzungen steht zu befürchten: Es kann nur schlechter werden.
Für weitere Diskussionen…
Das Ende von Wayward Pines wurde natürlich umfangreich diskutiert, in vielen Foren und auch hier bei sAWE. Wir haben Euch einmal die wichtigsten Beiträge und Meinungen in einer kurzen Linkliste zusammengestellt:

io9.com: Wayward Pines Ends With a Bang and a Whimper … And, Yes, a Twist

New York Post: hy Fox should let 'Wayward Pines' die after one season

Vox: Fox's miniseries Wayward Pines is everything wrong with TV. And I love it so.

Entertainment Weekly: Wayward Pines postmortem: Who survived the finale?

Deadline: 'Wayward Pines' Finale: M. Night Shyamalan Talks Season 2 & TV Debut

… sowie ein großartiges Review der letzten Folge aus der Wayward Pines Community!

-->