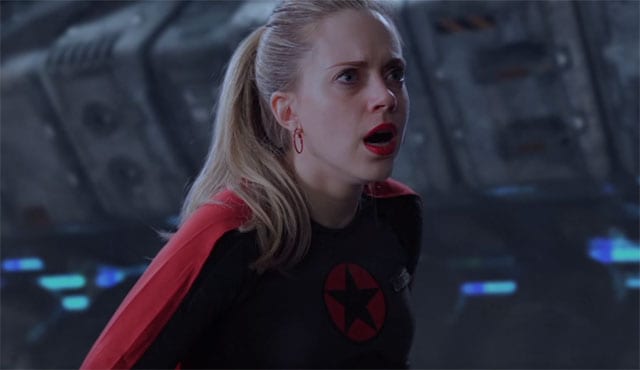 Das nenne ich mal eine Schnapsidee! Aus ihm geboren und in ihm spielend. "The Drunk Series" ist dabei zwar weniger eine wirkliche Serie und eher eine Reihe von Web-Kurzfilmen, aber sie alle eint eben die eine Idee: Betrunkenheit. Trunkenheit am Schriftsteller-Tisch und Trunkenheit am Set. Denn die hirnrissigen Ideen der Schreiberlinge lassen sich vermutlich auch nur ertrag… ähm, wirklich fühlen, wenn man sich selbst in ihren Wahrnehmungsstatus begibt. Heraus kommt herrlich bescheuerte Unterhaltung.
"Written drunk. Acted Drunk. The Drunk Series is an experiment in writing screenplays while drunk with several writers from the Portland area. We promised each other that whatever we wrote, we would produce them as short films. We ended up with six creations and asked our brave and talented cast to be sloppy, near-blackout drunk on the days and nights of filming."
Natürlich wollt ihr nun auch die Ergebnisse sehen. Wir hätten hier den ersten und neuesten Film für euch. Zunächst "Star Drunk", die betrunkene SciFi-Hommage.
Inklusive Behind the Scenes-Footage:
"Star Drunk" ist mittlerweile über zwei Jahre alt – mal schauen, wie sich die Macher entwickelt haben. "Dread Drunk" ist das Sequel dazu – wenn auch eigentlich Episode 5 aller Filme.
Auch hier gibt es ein Behind the Scenes:
Alle weiteren Episoden und Hintergrundvideos könnt ihr auf dem Ganglebot-YouTube-Channel sehen. Wir empfehlen, sich das Ganze auch noch in leicht angetütertem Status anzuschauen. Triple-drunk! Aber denkt dran: Immer mit bedacht trinken und keinen Blödsinn anstellen, ihr wisst schon.
via: likecool