Ein passendes Finale für eine über Jahre hinweg laufende Serie zu gestalten, ist sicherlich kein einfacher Job. Die Erwartungen sind hoch, es soll ein besonderes Highlight sein und doch den Charakter der gesamten Reihe wiederspiegeln und inhaltlich auch noch zufriedenstellend abschließen. Wir hatten euch ja bereits die schlechtesten, besten und erfolgreichsten Serienfinale gezeigt, bzw. mit euch darüber diskutiert.
Reddit-User ChallengeResponse ist einen interessanten Weg an die Beurteilung von finalen Episoden gegangen.
"Script that compares the average performance of a television show to its finale, identifying shows that surprise and disappoint"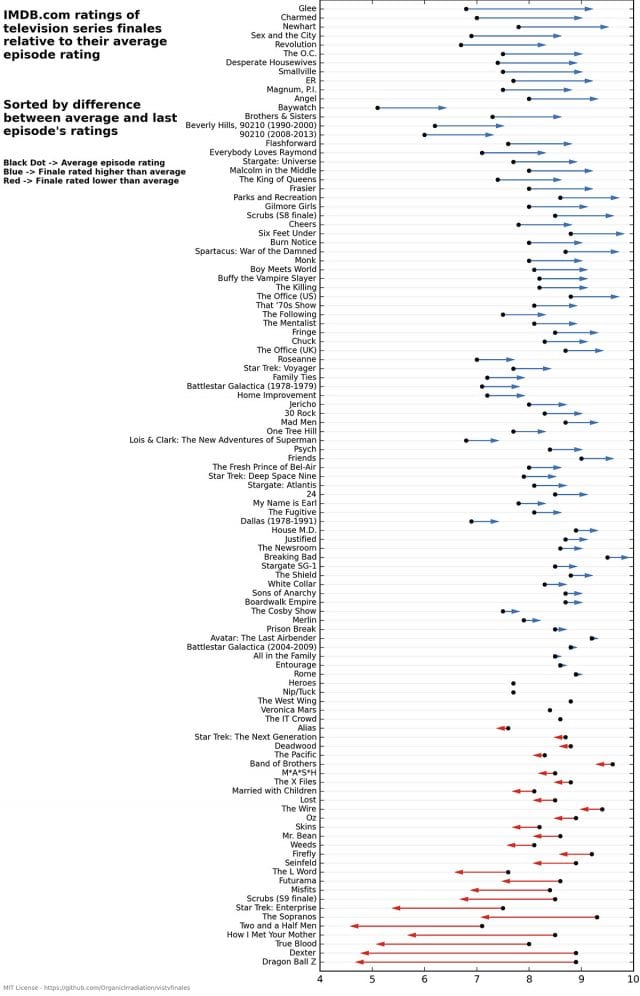 (Klick auf das Bild lässt es größer werden…)
Dabei sehen wir vor allem eines: Etliche Serienfinalfolgen sind tendenziell besser bewertet, als ihr "Gesamtstatus". Das könnte darauf hinführen, dass man mehr erwartet, nicht enttäuscht wird und es somit standesgemäß mit ein bisschen Good Will besser bewertet – oder es auch einfach gut war. Ich hätte tatsächlich gedacht, dass es mehr Enttäuschungen gibt, da die Erwartungen meist deutlich zu hoch sind im Vorfeld. Das macht es natürlich gerade bei den ganz Großen schwer. Breaking Bad hat es als eine der wenigen Serien mit richtig hoher Gesamtwertung geschafft, dennoch höher da zu stehen (was mich ehrlich gesagt auch etwas wundert, aber gut).
Mittelmäßige Serien haben es natürlich leichter zu scheinen – außer sie heißen Two And A Half Men und überfordern imFinale ihre Zuschauer… Und dann wäre da noch Dexter. Hach, mein dunkler Seriengefährte vergangener Tage. Was hat man nur mit dir gemacht…? Aber das unsagbar schlechte und unbefriedigende Finale mochte ja selbst Michael C. Hall nicht.
via: mashable