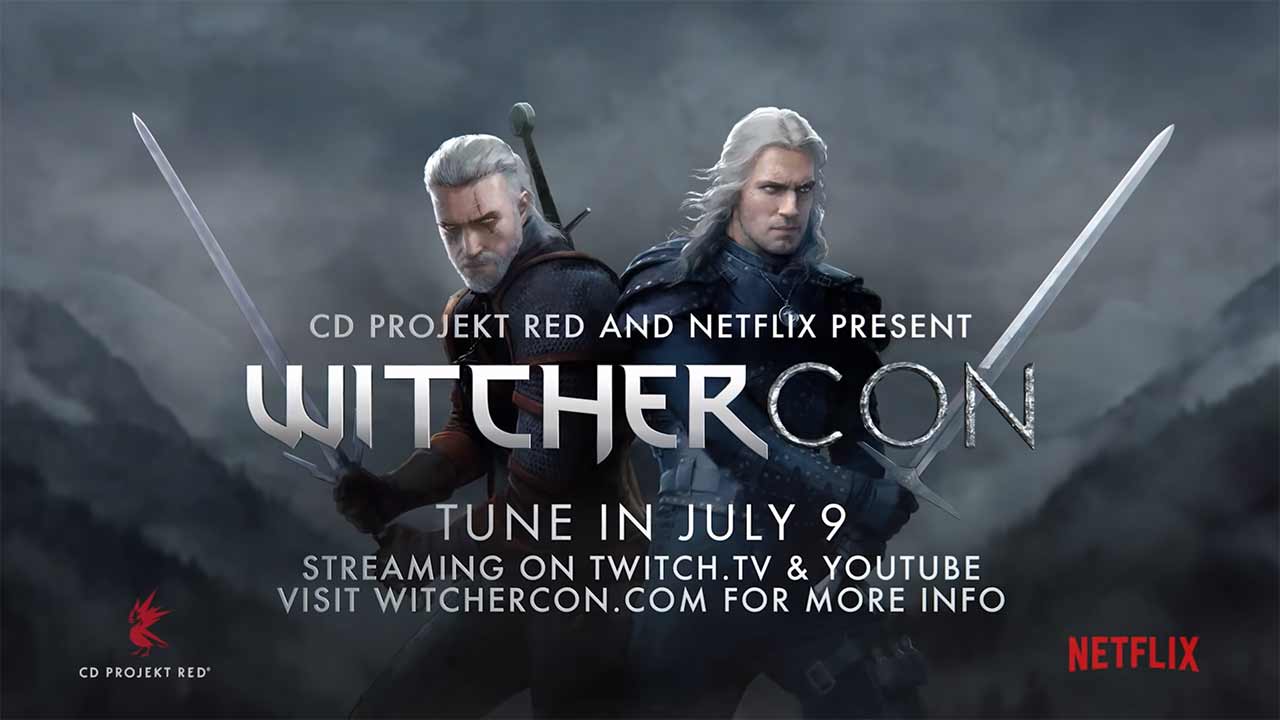 Vor rund zwei Wochen hatten wir bereits auf das kommende Online-Event hingewiesen, jetzt haben Netflix und CD PROJEKT RED ihrer ersten "WitcherCon" auch offiziell ein Programm verschafft. Und einen neuen Teaser gibt es auch noch!
"We're bringing The Witcher universe to fans around the world like never before. Join Netflix, in partnership with CD PROJEKT RED, for the first ever WitcherCon on July 9! Featuring Henry Cavill, Anya Chalotra, Freya Allan, The Witcher showrunner & executive producer Lauren Schmidt Hissrich, The Witcher: Blood Origin showrunner & executive producer Declan De Barra, and more special guests. WitcherCon will include breaking news, exclusive reveals, and plenty of surprises!"
WitcherCon 2021 Programm
Hier die bislang veröffentlichten Programmpunkte des Online-Events in der grafischen Übersicht, darunter gibt es ein paar mehr Details zu den teilweise noch etwas rätselhaften Überschriften.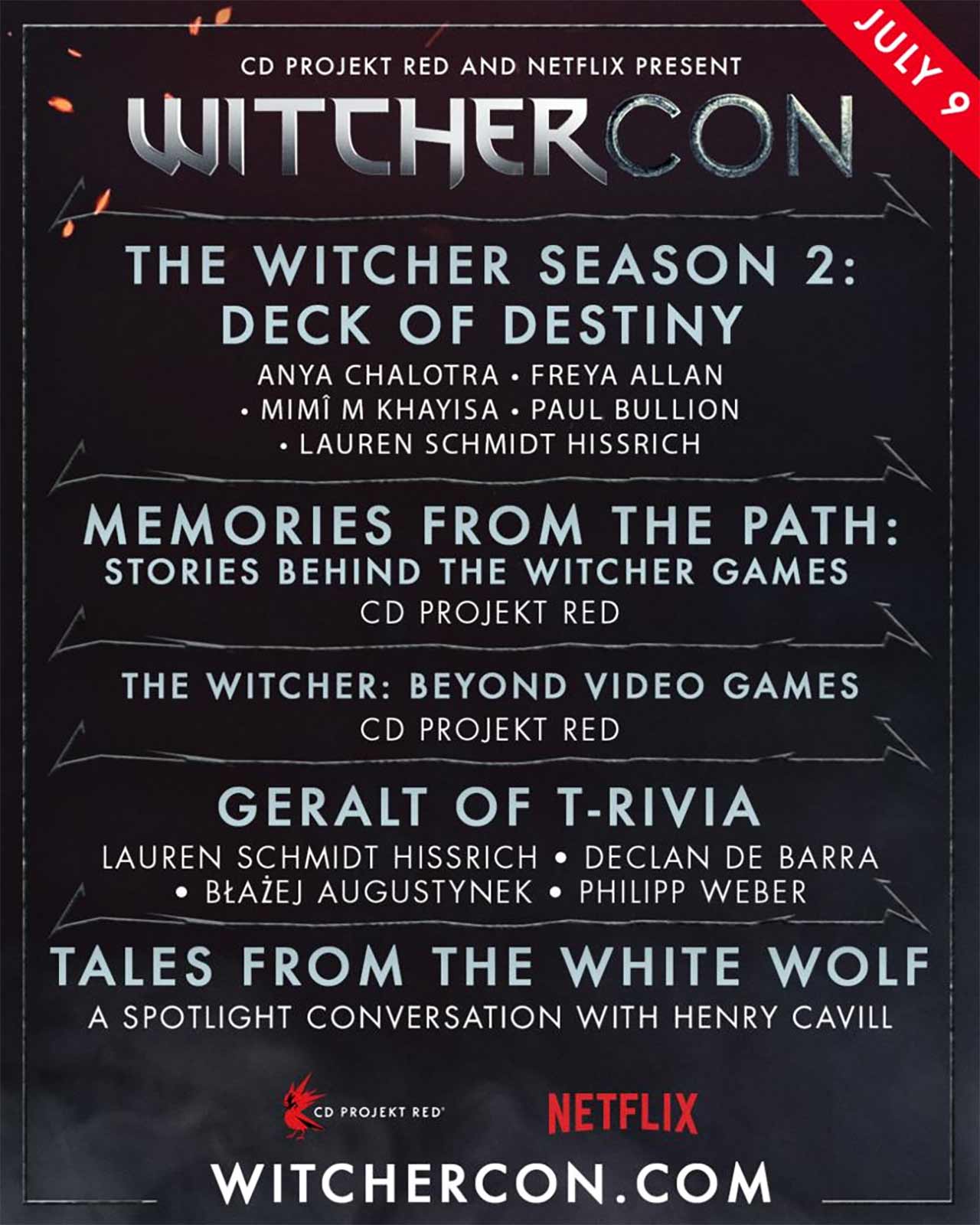 The Witcher: Staffel 2 – Deck of Destiny
Panel-Gäste: Lauren Schmidt Hissrich, Anya Chalotra, Freya Allan, Mimî M Khayisa und Paul Bullion
"Cast und der Showrunner werden The Witcher-Karten aus einem rätselhaften Stapel von Fan-Fragen ziehen, die den Verlauf des Panels und das Schicksal der Gäste bestimmen werden."
CD Projekt Red Memories from the Path: Geschichten hinter dem The Witcher-Spiel
"Seit über 13 Jahren hat die The Witcher-Reihe die Fantasie von Spieler*innen auf der ganzen Welt in ihren Bann gezogen. Jetzt sprechen die Entwickler*innen hinter den Spielen darüber, wie sie ihre fesselnden Geschichten zum Leben erweckt haben."
Geralt of T-Rivia
Panel-Gäste: Blazej Augustynek, Philipp Weber, Declan De Barra und Lauren Schmidt Hissrich
"Es ist ein Treffen der The Witcher-Masterminds, bei dem sich die wichtigsten Schöpfer*innen der The Witcher-Spiele und der The Witcher-Netflix-Serie zusammentun, um ihr Wissen über das gesamte The Witcher-Universum zu testen. In diesem Spiel im Stil eines Pub-Quiz' sind Leckerbissen hinter den Kulissen und spoilernde Einblicke genauso wertvoll wie die richtigen Antworten."
CD PROJEKT RED's The Witcher: Beyond Video Games
Panel-Gäste: Rafal Jaki, Bartosz Sztybor und Lukasz Wozniak
"Von Detective Noir bis zu düsterem Horror – bis hin zur Alten Welt und darüber hinaus: Bereiten Sie sich darauf vor, das erweiterte Universum von The Witcher zu erleben – mit den neuesten Details zu den kommenden Comics und dem Brettspiel, welche von der Serie inspiriert sind!"
Geschichten vom weißen Wolf: Ein Gespräch mit Henry Cavill
"Zum Abschluss der WitcherCon kommen die Fans von Henry Cavill auf ihre Kosten, wenn sich Geralt von Rivia höchstpersönlich zu einem ausführlichen Gespräch über Fantasy, Schicksal und das The Witcher-Universum mit Moderator Josh Horowitz (MTV & Comedy Central Moderator) zusammensetzen wird. Der Weiße Wolf hat vielleicht sogar die eine oder andere Überraschung auf Lager.."
Wie zu erwarten war, gibt es neben ordentlich Fan-Service auch einige exklusive Ankündigungen und Veröffentlichungen. Der Trailer zur zweiten Staffel der Netflix-Serie "The Witcher" dürfte uns sicher sein!

Der "WitcherCon" beiwohnen könnt ihr am 9. (ab 19:00 Uhr) sowie 10. (ab 3:00 Uhr nachts) Juli 2021 über den Twitch-Kanal von Netflix oder auch bei YouTube.

Bilder: Netflix & CD PROJEKT RED

-->