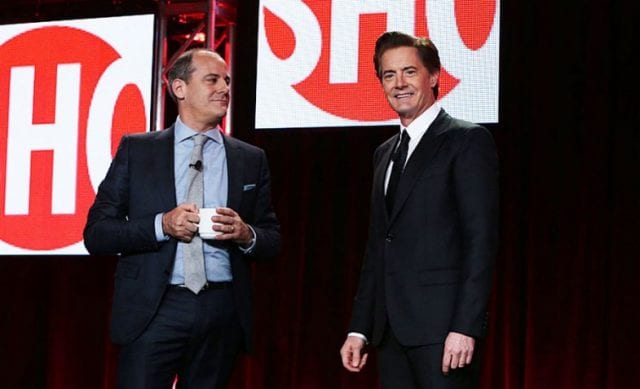 David Lynch dreht immer noch fleißig an Twin Peaks, und Showtime-Chef David Nevins macht sich so seine Gedanken, in welcher Form der Sender Twin Peaks denn ausstrahlen könnte. Alle Folgen auf einmal zu veröffentlichen, wie es Netflix zum Beispiel gerne macht, ist wohl keine Option. Doch auch das wöchentliche Versenden sei keinesfalls gesetzt. Derzeit mache man sich noch Gedanken, ob es nicht auch ganz neue Formen geben könnte.
Dabei soll auch die Idee eine Rolle spielen, Folgen unterschiedlich lang anzusetzen. David Lynch hatte vor einiger Zeit angegeben, die Serie wie einen langen Film abdrehen zu wollen, um ihn erst anschließend in einzelne Folgen zu teilen. Demnach ist also noch alles offen.
There's great value in having the conversation sustained over the course of a couple of months. […] Although I'll do different shows in different ways. When we put Twin Peaks out, maybe it'll be fun not to do just one a week, but to do it in a different way. Who knows. Something I'll talk about with David Lynch. There's all sorts of possibilities, but the idea of just throwing it out, having a week [or two] of buzz, and then having it die down, I don't think that makes sense for us.
Gedacht wird bei Showtime übrigens wohl auch daran, die neue Staffel der Serie ins Kino zu bringen, Twin Peaks-Schauen als eine Art Fan-Happening stattfinden zu lassen. Kirschkuchen, Donuts und Kaffee dürften dann natürlich nicht fehlen.
Hier das Video-Interview mit David Nevis: