Twin Peaks ist abgedreht – okay, nicht nur inhaltlich, sondern auch mit Blick auf die filmerische Tätigkeit. Die Fortsetzung, die nächstes Jahr laufen soll und die wieder im Nordwesten der USA gedreht wurde, ist jetzt im Kasten. 140 Drehtage sind es jetzt geworden. Es gibt aber auch noch Meldungen, dass zusätzliche Szenen in Los Angeles und Paris gedreht werden sollen. Auch von einer 2. Staffel ist die Rede.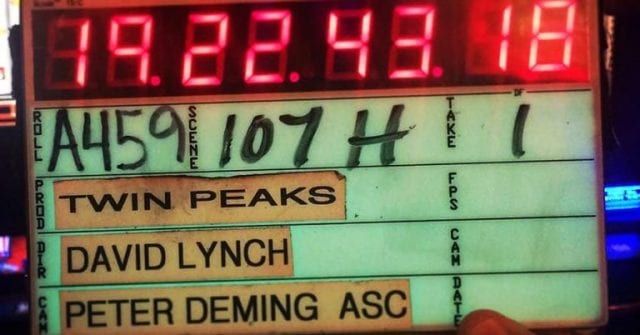 Wie wir ja wissen, soll die Fortsetzung 18 Folgen bekommen – wobei nicht klar ist, wie lang jede Folge sein wird – ich gehe aber mal von 45 Minuten aus. Ist natürlich die Frage, ob die 18 Folgen auf Showtime als eine Staffel gesendet werden oder ob man eben 2 Staffeln daraus macht – das würde den Hinweis von 'For Locations' erklären – auf deren geschütztem (welchen Sinn hat das bitte?) Twitter-Account war von Filmsessions für die 2 Staffeln die Rede.
Und jetzt machen Nachrichten aus Paris die Runde: Kyle Mac Lachlan ist dort mit seiner Frau und David Lynch unterwegs, um "etwas" zu drehen:
Dinner with two special agents! Lucky me ✨ @Kyle_MacLachlan @DAVID_LYNCH pic.twitter.com/ocHgb0Ydk8

— Desiree Gruber (@desireegruber) April 19, 2016
Mit dabei ist auch Peter Deming, Director of Photography für Twin Peaks…
Bin gespannt. Anfang 2017 geht's ja dann endlich los.