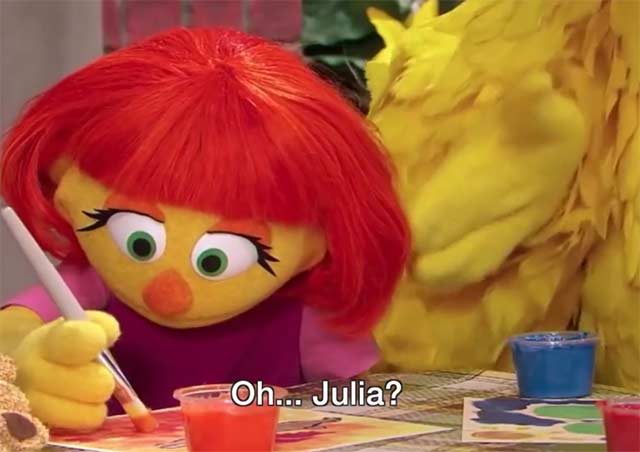 Die Sesamstraße hat eine neue Bewohnerin (zumindest in den USA). Und die ganz besonders. Wobei, eigentlich nicht – denn sie ist wie du und ich, nur etwas anders. Wie ja eigentlich Jeder. Denn Julia ist Autistin. Ich finde es wunderbar, dass Kindern so das Thema spielerisch und mit Fingerspitzengefühl nahe gebracht wird. Anscheinend sind die Reaktionen vor allem aus der Autismus-Community bislang größtenteils positiv ausgefallen.
Ihr könnt euch hier eine aufbereitete Kurzfassung anschauen, oder nachfolgend die kompletten zehn Minuten, wie sie im Fernsehen liefen.
"Meet Julia, an old buddy of Elmo's and the newest friend on Sesame Street. Julia has autism…and she and Elmo share an amazing friendship."
Hervorheben möchte ich in dem Zuge noch diesen Kommentar von Erie Berrie unter dem Video auf Facebook:
"This is great. Now we need Bert and Ernie to come out of the closet so children can learn that homosexuality is natural also."
Das wäre doch mal was!