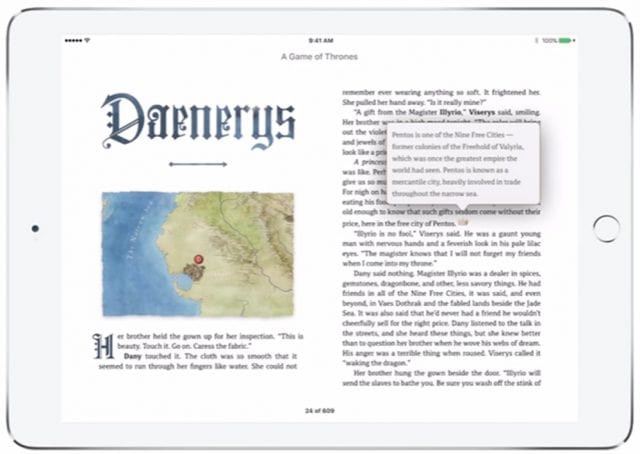 Bis es mit der neuen Staffel von "Game of Thrones" weitergeht, dauert's bekanntlich noch ein Weilchen. Bis dahin ist es einge gute Gelegenheit, mal in die Buchvorlage reinzuschauen. Vor einiger Zeit ist ja eine Neuausgabe in gedruckter Form erschienen, jetzt hat Apple zudem eine multimediale iBooks-Variante vorgestellt.
iBooks – A Game of Thrones: Enhanced Edition – The Life of the Imagination – Apple
Autor G.R.R. Martin lobt die digitale Version, die ihm neue Möglichkeiten des Publizierens ermöglichten. Tatsächlich kann man in der Enhanced Version durch Karten scrollen, Begriffserklärungen aufrufen und Bilder zoomen. Jetzt müsste Apple nur noch etwas erfinden, dass G.R.R. Martin hilft, schneller zu schreiben. Oder ist er mit dem nächsten Band schon fertig? Also!
iBooks –A Storm of Swords: Enhanced Edition - Family Ties – Apple
iBooks – A Clash of Kings: Enhanced Edition – Hard Choices – Apple