Wir kennen das Problem bei vielen Serien, die auf Roman- oder Comicvorlagen aufbauen: Vielfach wissen Buchleser schon ziemlich genau, was in Serien wie The Walking Dead oder Game of Thrones passieren wird. Bei George R. R. Martins Fantasy-Epos wird's in Kürze andersrum laufen: David Benioff, Showrunner der HBO-Serie, verriet jetzt auf einer Veranstaltung bei der Oxford Union Society, dass die Serie ab Staffel 5 teilweise der Romanreihe vorgreifen wird. Man wisse schon, wie Game of Thrones insgesamt enden wird – und da der gute George R. R. Martin derzeit mit dem Schreiben seiner Bücher nicht hinterherkommt, wird die Serie ihn überholen. Heißt für Bücherfans: Lieber weggucken!
Bei dem Event in Oxford gab David Benioff zu, dass er sich gemeinsam mit seinem Co-Showrunner D. B. Weiss und GoT-Erfinder Martin besprochen habe, wie es mit der Serie weitergehen könne, nachdem absehbar gewesen sei, dass man mit der Serie schneller unterwegs ist. Martin habe ihnen seine Idee vom Ende der Reihe erzählt, so dass sich die beiden jetzt ans Werk für die weiteren Staffeln machen können. Es werde weiterhin hier und da Abweichungen geben, aber das Ziel von Romanreihe und TV-Serie sei das gleiche.
Luckily, we've been talking about this with George for a long time, ever since we saw this could happen, and we know where things are heading. And so we'll eventually, basically, meet up at pretty much the same place where George is going; there might be a few deviations along the route, but we're heading towards the same destination. I kind of wish that there were some things we didn't have to spoil, but we're kind of stuck between a rock and a hard place. The show must go on. . .and that's what we're going to do.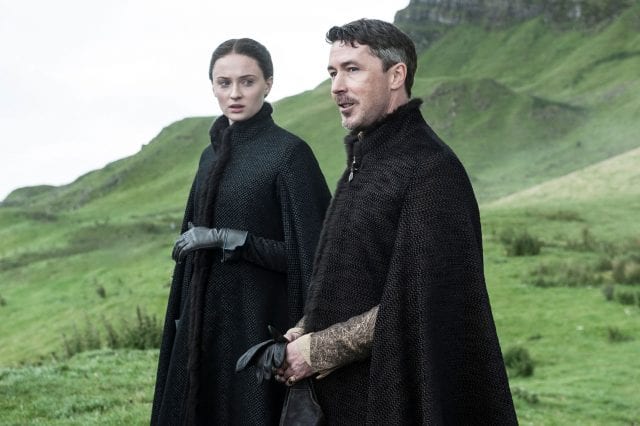 Das Problem aus Sicht der Bücherfans: Die Serienproduktion läuft schneller, als Martin schreiben kann. Bisher hat der Serienschöpfer fünf Bücher von "Das Lied von Eis und Feuer" veröffentlicht: Dem ersten Roman aus dem Jahr 1996 folgten 1999, 2000, 2005 und 2011 weitere Bücher. Darauf basieren die bisherigen Staffeln der HBO-Serie. Wir haben ja schonmal nachgezeichnet, welche Episode sich auf welches Buchkapitel stützt. Doch seitdem ist kein weiteres Werk von Martin erschienen. Das sechste Buch, "The Winds of Winter", war eigentlich für dieses Jahr geplant, wurde vom Verlag aber schon in 2016 verschoben – unwahrscheinlich, dass Martin in der Folge mit der Geschwindigkeit des Drehs mithalten kann. Martin lässt sich aber nicht unter Druck setzen – ihm ist es wichtig, dass die Bücher gut werden. In 50 Jahren werde es niemanden mehr kümmern, wie regelmäßig die Bücher erschienen seien, sagte er bei der Premiere der 5. Staffel in San Francisco.

Hier die komplette Veranstaltung mit David Benioff in Oxford:

via: Vanity Fair

-->