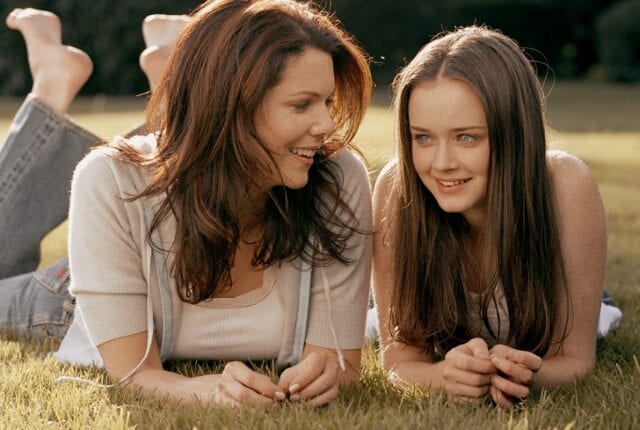 Vor gut einer Woche bestätigte Netflix, dass das lang ummunkelte Comeback der Gilmore Girls Realität ist und wir uns aus gutem Grunde Hoffnung auf eine Rückkehr nach Stars Hollow gemacht haben. Seitdem überschlagen sich die Neuigkeiten zur Serie, fast täglich gibt es neue Informationen zu Cast und Plot und mit dem Drehbeginn vergangenen Dienstag ließ auch das erste Foto vom Set nicht lange auf sich warten. Wer soll da noch den Überblick behalten? Wir haben für euch die Neuigkeiten zum Comeback einmal zusammengefasst. Steht der Kaffee bereit?
Format
Das Finale der Serie wird 4 Episoden á 90 Minuten umfassen. Jede Folge steht dabei für eine Jahreszeit, die auch den jeweiligen Titel der Episode vorgibt. Starten werden wir mit "Winter". Amy Sherman-Palladino und Daniel Palladino kehren als Schöpfer, Autoren und ausführende Produzenten der Serie zurück. Aufgrund von Unstimmigkeiten mit Warner Bros. stiegen sie nach der 6. Staffel aus und wurden während der 7. Staffel durch Showrunner David S. Rosenthal ersetzt. Dieser hat das Ende der Serie allerdings nicht so umgesetzt, wie Amy S.P. es ursprünglich für ihre Figuren geplant hatte – nun ergreift sie die Möglichkeit, das Finale ihren Vorstellungen entsprechend zu gestalten.
Cast
Es gibt mittlerweile so einige Darsteller, die ihre Rückkehr zu den Gilmore Girls angekündigt haben – und ohne die ein Comeback der Erfolgsserie nicht vorstellbar wäre: Da sind natürlich zum einen die originalen Gilmore Girls Lorelai (Lauren Graham), Rory (Alexis Bledel) und Emily (Kelly Bishop). Scott Patterson wird als Luke Danes wieder mit dabei sein. Sean Gunn alias Kirk Gleason wird wieder die skurrilsten Jobs ausführen. Keiko Agena alias Lane Kim wird uns zeigen, ob sie sich aus den erzkonservativen Fängen ihrer Mutter befreien konnte.
Liza Weil wird uns als Paris Gellar wahnsinnig machen. Rose Abdoo schlüpft wieder in ihre Rolle als Mechanikerin Gypsy. Und Yanic Truesdale kehrt nicht nur als Michel Gerard zurück, er wird auch wieder am Empfang des Hotels zu sehen sein.
Auch wenn er den meisten vielleicht nicht auf Anhieb etwas sagt, aber Tanc Sade alias Finn ist auch wieder mit dabei. Ihn kennen wir aus der "Life and Death Brigade" von Logan Huntzberger – womit wir bei Matt Czuchry wären – der ebenfalls zurückkehren wird. Mal sehen, ob er Rorys Ablehnung seines Heiratsantrags überwunden hat.
Die wohl traurigste Gewissheit herrscht um die ausbleibende Rückkehr von Edward Herrmann alias Richard Gilmore, der eine tragende Rolle in der Serie spielte. Der Darsteller verstarb im Dezember 2014. Die Serie wird darüber aber nicht hinwegspielen, sondern auch Richards Fehlen thematisieren. Die Handlung setzt 4 Monate nach seinem Tod ein.
Ungewissheit bleibt bezüglich der Rückkehr von Sookie St. James bestehen. Als beste Freundin und Geschäftspartnerin von Lorelai wäre es ein großer Einschnitt, sollte Darstellerin Melissa McCarthy nicht zur Serie zurückkehren. Doch dazu gibt es einige Unstimmigkeiten. Während Amy Sherman-Palladino in einem Interview mit TVLine sagte, dass McCarthys Terminplaner so voll sei, dass sie für die Gilmore Girls vermutlich keine Zeit finden werde, meldete sich McCarthy kurze Zeit später selbst zu Wort – und bekundete, dass sie nie eingeladen worden wäre.
She's really f—ing busy. But the thing I have said [to her team] is, "Look, if Melissa is available and has an afternoon free, I'll write her a scene. Melissa was one of us. If she has a spare moment to run over [to the set] — even if for just a cameo — we would be totally game. And if it's a last-minute thing, I would write her in and we would figure it out." That's the way we left it. (Amy Sherman-Palladino)
Thanks for the invite, but sadly no one asked me or Sookie to come back to Stars Hollow. Wish them all the best!! https://t.co/II2Atug4wx

— Melissa McCarthy (@melissamccarthy) 2. Februar 2016
Drängt sich mir aber noch die Frage auf, was mit Jess und Dean ist? Mit Miss Patty und Taylor Doose? Und und und…
Story
Die neuen Folgen spielen in der Gegenwart und damit etwa 9 Jahre nach (ursprünglichem) Ende der Serie. Viel mehr ist zum Inhalt noch nicht bekannt, außer dass Rory nicht verheiratet ist. Und dass die letzten 4 Worte, die Amy S.P. schon frühzeitig für das Finale ihrer Serie im Kopf hatte, nun gesagt werden können – im Austausch zwischen Lorelai und Rory.
Bilder
Yanic Truesdale feiert sein Comeback zu den Gilmore Girls gebührend – und lässt uns daran teilhaben – via Twitter. Danke dafür!
First day back at the Inn with my old boss. Fun times! #GilmoreGirlsRevival #WarnerBros pic.twitter.com/sxprUKdLyk

— Yanic Truesdale (@YanicTruesdale) 6. Februar 2016
Happy to be back and reconnect with my old pal Michel. Feeling blessed and excited! #GilmoreGirls pic.twitter.com/jJLNcjVKKv

— Yanic Truesdale (@YanicTruesdale) 30. Januar 2016
Das Beste kommt ja bekanntlich zum Schluss. Also los, Milo Ventimiglia und Jared Padalecki – wo bleiben eure Zusagen?

UPDATE: Die neuesten Zusagen findet ihr hier.

via: TVLine & Entertainment Weekly – Beitragsbild: Flavorwire

-->