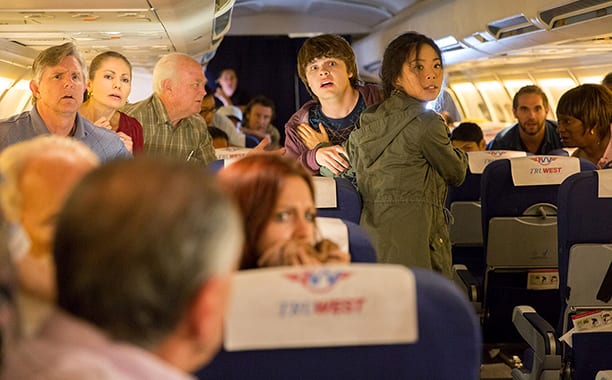 Eine Woche noch bis zur ersten neuen Folge der aktuellen Staffel von The Walking Dead nach der Winterpause – eine gute Gelegenheit, sich schonmal einzustimmen. Wie wäre es zum Beispiel mit der Webserie Flight 462? Die beiden Serien The Walking Dead und Fear the Walking Dead haben ja bekanntlich eine kleine Schwester, eine Art Mini-Spin-Off – wir haben sie Euch ja schonmal vorgestellt. Flight 462 ist als Webserie konzipiert. Die erste Folge lief am 4. Oktober auf AMC.com, die weiteren Folgen, jeweils etwa eine Minute lang, waren als Pausenfüller der sechsten Season von The Walking Dead zu sehen.
Die Handlung ist nicht ganz unwichtig: Sie spielt in einem Flugzeug und zeigt auch dort den Ausbruch des mysteriösen Virus'. Das Flugzeug ist auch bereits in einer der ersten Folgen von Fear the Walking Dead zu sehen gewesen – wie es am Horizont entlang fliegt und später verschwindet. Auch im aktuellen Teaser zu Fear the Walking Dead ist es als Schatten zu sehen. Es stürzt möglicherweise ab, aber einer der Überlebenden wird Teil des Fear the Walking Dead Cast der zweiten Staffel – das steht fest. Mal sehen, wie das verknüpft wird – schöne Idee auf jeden Fall!
Hier hatten wir Euch schonmal die ersten sechs Folgen gezeigt.
Mittlerweile sind auch die abschließenden Folgen der ersten Season verfügbar. Insgesamt ist die Webserie auf 16 Folgen ausgelegt, die zweite Hälfte dürften also im Umfeld der nächsten TWD-Folgen laufen.