Am 21. Juli 2020 geht das deutsche Netflix-Original "how to sell drugs online (fast)" in die zweite Runde – Netflix hat jetzt einen ersten echten Trailer veröffentlicht. Auch die zweite Staffel wurde dieses Mal wieder von Philipp Käßbohrer ("Neo Magazin Royale") und Matthias Murmann kreiert.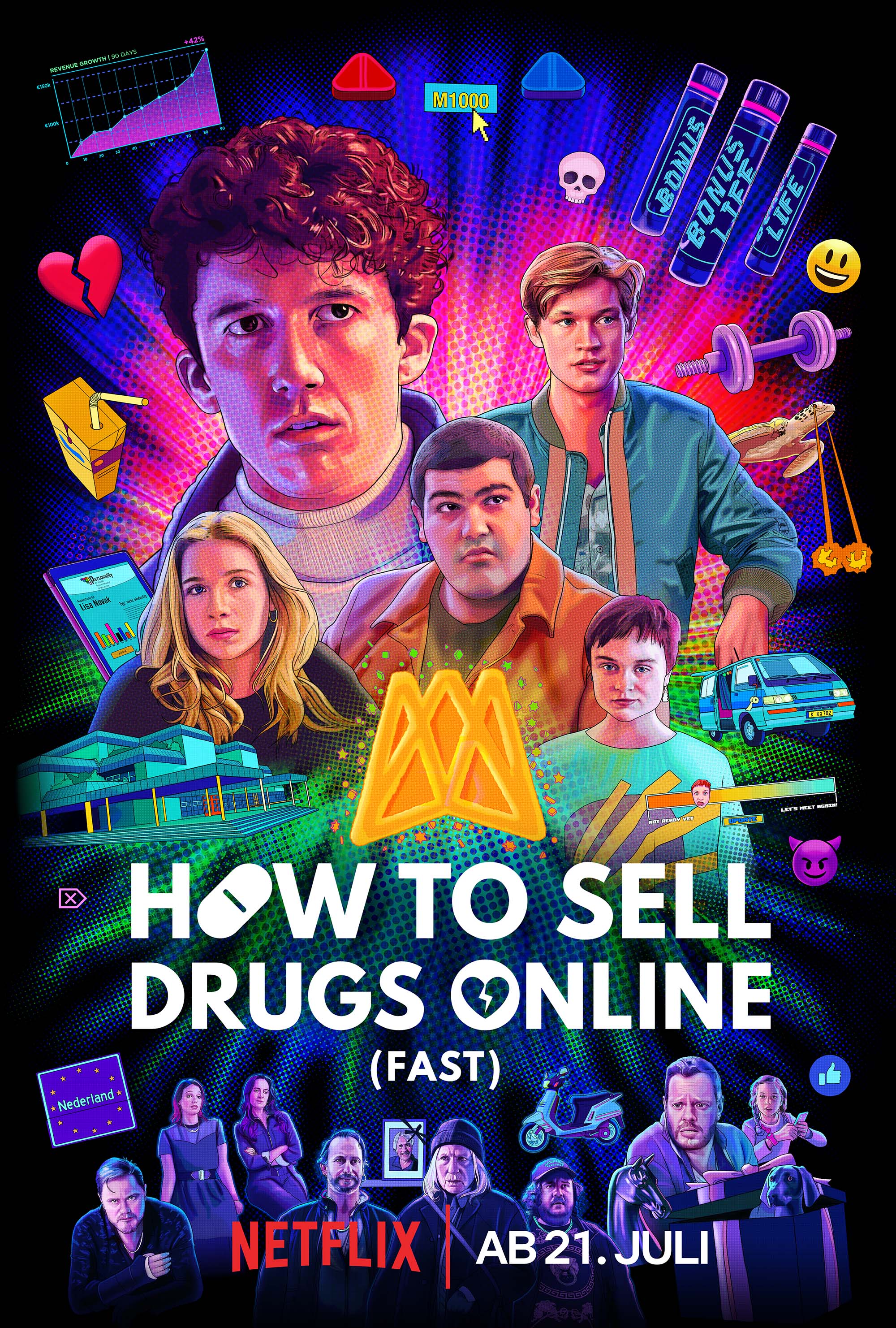 How to sell drugs online (fast): Darum geht's in Staffel 2
Wer sich nochmal auf den aktuellen Stand bringen möchte – (zum Review zu Staffel 1 geht's hier).
Inhaltlich dreht sich in Staffel 2 alles um das ungleiche Trio, das sich vor dem großen Erfolg ihres Drogen-Online-Shops tatsächlich kaum noch retten kann. How To Sell Drugs Online fast(er) ist somit das Motto der zweiten Staffel. Der Online-Drogenshop von Moritz, Lenny und Dan wächst immer schneller. Das Trio kommt durch die weltweite Nachfrage kaum hinterher. Und die privaten Probleme werden auch nicht weniger. Lisa will endlich wissen, warum sich Moritz so komisch verhält. Dan will seinem Vater unbedingt beweisen, dass er kein Loser ist. Und Lenny lernt im Internet die überdrehte Coderin xKira7 kennen, die eigentlich genauso tickt wie er. Ein "Perfect Match" – oder?
Während Moritz mit den Partnern aus Holland auf eigene Faust neue Deals aushandelt, verstrickt er sich immer tiefer in ein kompliziertes Lügenkonstrukt. Zwischen der ersten großen Liebe, Beziehungskrisen, Zukunftsängsten, Abistress und einer mehr oder weniger ausgewogenen Work-Life-Balance entpuppen sich die Holländer als gewissenlose Gangster. Und nicht nur die Polizei interessiert sich für den Tod von Buba, sondern auch dessen äußerst seltsame Familie.
Maximilian Mundt (Moritz Zimmermann), Danilo Kamperidis (Lenny), Damian Hardung (Dan) und Lena Klenke (Lisa) kehren als Hauptbesetzung in ihre bekannten Rollen zurück und erhalten mit Newcomerin Lena Urzendowsky einen Neuzugang, der Lenny als Computergenie Kira um den Finger wickelt und für viel Wirbel sorgt – sagt Netflix.
Die sechs Folgen der zweiten Staffel der meist gestreamten deutschen Netflix Original Serie in Deutschland, ist ab 21. Juli exklusiv & weltweit auf Netflix zu sehen.
Bilder: Netflix