Die Meldung schlug in Teilen der Fangemeinde von "Doctor Who" auf wie ein mit Wasser gefüllter Luftballon in einer Dunkelkammer. Viele wurden und machten sich nass und trauern diesem kreativen Showrunner bereits jetzt schon nach obwohl es ja noch eine gemeinsame Staffel geben wird. Wenn auch erst in 2017. So ähnlich äußert sich Moffat selbst in einem Interview mit dailyrecord anlässlich der Verleihung des Order of the British Empire (OBE) aus den Händen Prinz Charles. Also das mit der letzten Staffel, nicht mit der Wasserbombe.
Ausgezeichnet und sich nun Ritter nennen könnend wurde Moffat für seine Dienste rund um das britische Fernsehen und insbesondere für seine Arbeit für "Doctor Who" und "Sherlock", die wie kaum etwas anderes im popkulturellen Mainstream für die Insel und seine Kultur stehen. Schön, dass diese Arbeit gewürdigt wird. Auch wenn Moffat das Gefühl hatte, dort eigentlich nichts verloren zu haben.
"Talking to other people before I came in, I kind of feel everyone's here for a better reason than me." (Steven Moffat)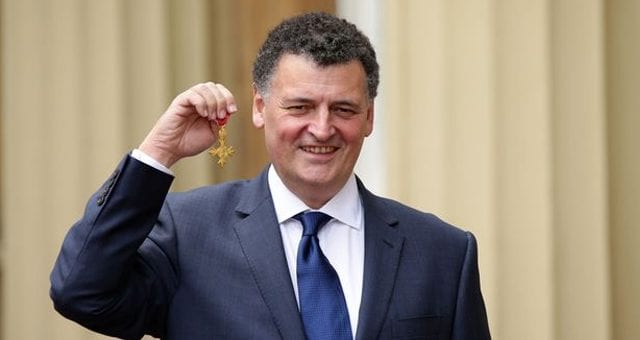 Er äußerte sich in diesem Rahmen auch zu seiner bevorstehenden Demission als Showrunner von "Doctor Who". Es sei aus seiner Sicht Zeit, den Staffelstab an einen anderen Showrunner zu übergeben. Er haben eine wunderbare Zeit gehabt, aber aus seiner Sicht, müsse nun ein anderer Showrunner in die verantwortliche Position, um der Serie weiterhin neue Impulse geben zu können.
"I'm leaving because I think it's time to go. I've been doing it for so long that I think it's time for someone else to have a go. And time for me to have a go at something else! I had almost gone at the end of the previous year to be honest and, looking at who was coming up next and what Chris was up to, I figured it'd be better if I did another year all round." (Steven Moffat)
Der finale Halbsatz kommt von mir und ist Interpretation, aber wie ich finde, eine nahe liegende. Damit dürfte er dann wiederum seinen ebenfalls zahlreichen Kritikern Recht geben, die sich seit einiger Zeit darüber beklagen, dass sich Moffat in eine kreative Sackgasse manövriert habe. Und mit seiner Demission eröffnet und ermöglicht er der Serie einen "Neuanfang". Eigentlich ja ein positives Zeichen und ein Zeichen dafür, dass er die Serie höher hängt als seinen eigenen Beitrag.

Obwohl. Den OBE hat er jetzt ja schon. Was soll da noch kommen …

via: dailyrecord

-->