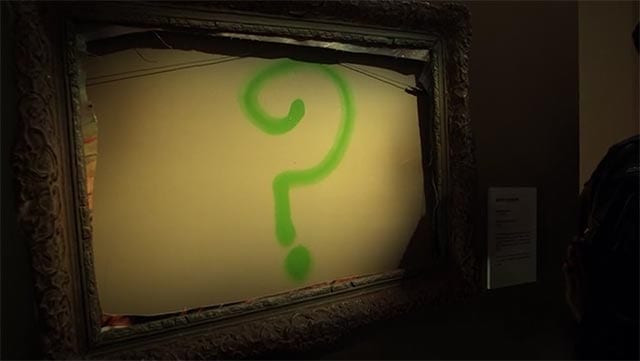 Der Beginn der aktuellen Gotham-Folge hat sehr an den Twitter-Account erinnert, der alte Labels aus TV-Zeiten des dunklen Ritters sammelt.
"This is a real bomb." (Bombe)
Nygma testet nämlich erste Unruhen und tritt als noch unbekannter und unbenannter Riddler auf – zumindest symbolisch. Kommt für mich etwas überraschend, wie schnell dieser Schritt erfolgt ist, erst recht der vermeintliche Anschlag. Alles nur um Jim vom Ermitteln abzuhalten? Und wie kam er überhaupt aus dem Museum? Kameras gab es scheinbar auch keine? Das hat nicht nur in Sachen Logik an die guten alten Batman-Folgen erinnert.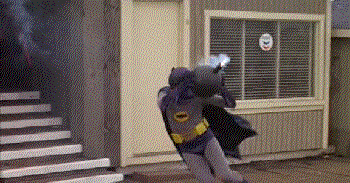 Wieso lässt Jim die Bombe nicht einfach im Schließfach?! Alleine es überhaupt aufzumachen ist selten dämlich gewesen und spielt nur der weiteren Geschichte in die Hände. Da ist nicht nur Captain Herzbruch enttäuscht von ihm, auch Lee und selbst Barbara würde sich im Grab umdreh… ähm, naja, aufwachen. Klar doch. Und 40 Jahre Haft?! Da konnte selbst Dent nichts gegen machen…?! Arg überzogenes Bild, das da gezeichnet wird (in verdammt schnellem Ablauf).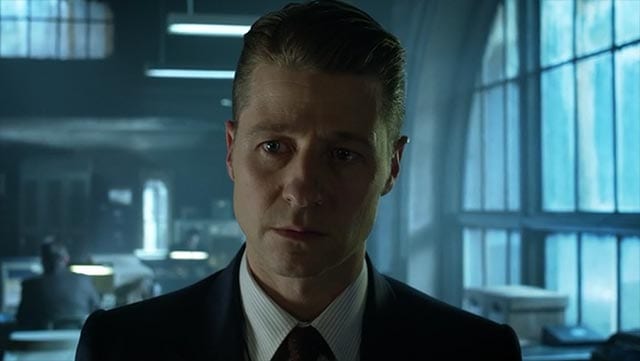 "You were a good partner, Harvey." – "Still am." (Jim & Bullock)
Kommen wir zu Glaubwürdigerem. Der geläuterte Penguin ist durchaus unterhaltsam geraten, auch wenn wie ich bereits befürchtet hatte, seine neu gewonnene Naivität mit Hang zum Pazifismus ausgenutzt wird. Zumindest bleibt er aber vorerst am leben (wäre ja auch seltsam, wenn nicht…).
"Apology accepted. Let's kill him." (Tabitha)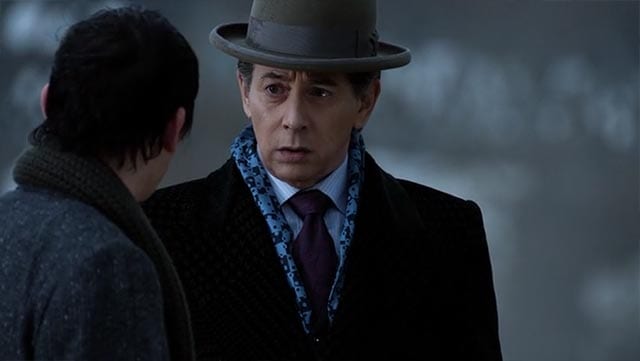 Und auch wenn Penguin seinen Sinn für Zweifel genau so sehr verloren hat wie seine Mutter, so hat er doch einen Vater gewonnen. Rein zufällig, scheint es zunächst (und ich wollte schon meckern!), aber vermutlich wird da einfach eine Schwächephase ausgenutzt. Ein sehr schwammig argumentierender Vater, der nur launisch mitspielende "Verwandte" zusammen zu trommeln wusste – und ich dachte, Pilze wären diese Woche das, was am faulsten stinkt…
"I don't mind stealing, if it's from criminals." (Bruce)
Bruce zeigt sich erneut "moralisch flexibel" und demonstriert, dass er Alfred tatsächlich zuhört. Wie diese Comeback-Aktion in "Karate Kid"-Manier zustande kommt ist natürlich mehr als utopisch, aber hey – Batman ist ein klein bisschen näher gerückt.
"I had the feeling that he couldn't beat me. That no one can." (Bruce)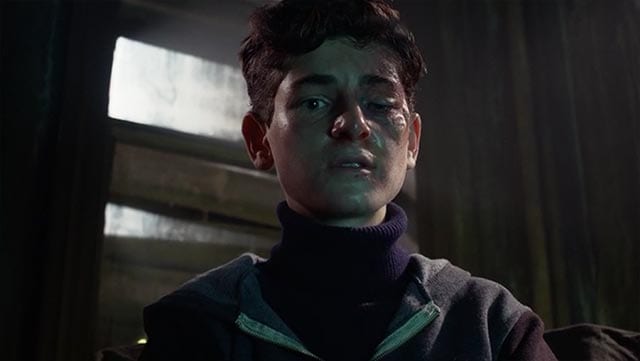 Eds Plan war durchaus smart und unterhaltsam, gerne hätte ich das alles sich aber über den Verlauf mehrerer Folgen entwickeln sehen. So hat es einen zwar positiv überrumpelt (und man hat sich als Zuschauer ein bisschen in Jims Position gefühlt), mir hätte das deutlich unterschwelliger und sich erst mit der Zeit zuziehend aber dramaturgisch besser gefallen. Die ganze Geschichte um Penguin sehe ich als willkommene Überleitung an, die mich in ein, zwei Wochen dann nicht meckern lässt, weshalb "wasauchimmer" jetzt so schnell aus dem Nichts passiert ist, oder was eigentlich mit Penguin ist (was ist eigentlich mit Fish, verdammtnochmaley?!).
Nygma macht jedenfalls sehr viel Spaß und Bruce wird langsam auch gekonnt "entlangweilt", auch wenn es hart an der Grenze zur Überzeichnung kratzt. Aber noch ist es einfach verdammt unterhaltsam und ich bin gespannt, wie Jim sich aus der neuen Situation befreien wird. Beim aktuellen Tempo der Serie vermutlich viel zu schnell…
Bilder: FOX