Im Zuge des Deutschland-Starts von Netflix durfte ich neben den Schauspielern von Orange Is The New Black auch mit den Stars von From Dusk Till Dawn sprechen. Darunter auch kein geringerer als Robert Rodriguez himself!
Robert Rodriguez am Set von "From Dusk Till Dawn: The Series"

Robert Rodriguez ist zusammen mit Quentin Tarantino Vater des Filmklassikers From Dusk Till Dawn, welcher 1996 seine Premiere feierte. Ein außergewöhnlicher Horror-Film, der sich selbst nicht zu ernst nimmt und noch vor dem Twilight-Hype Vampire auf die Leinwand brachte. Ebenfalls bemerkenswert, From Disk Till Dawn hat aus Schauspielern Stars gemacht, waren in der Cast damals noch unbekannte Namen wie beispielsweise George Clooney, Salma Hayek, Juliette Lewis oder Danny Trejo vertreten. Nach zwei eher durchwachsenen Sequels zum Original, dürfen wir seit diesem Jahr eine Neuauflage der Geschichte als Serie auf Netflix begutachten. Das Staffel-Review findet ihr übrigens hier.
Neben Robert waren noch die zwei Hauptdarsteller D.J. Cotrona und Zane Holtz anwesend, welche die zuvor von Clooney und Tarantino verkörperten Charaktere Seth und Richie Gecko in der Serie spielen.
Zane Holtz & D.J. Cotrona (von links)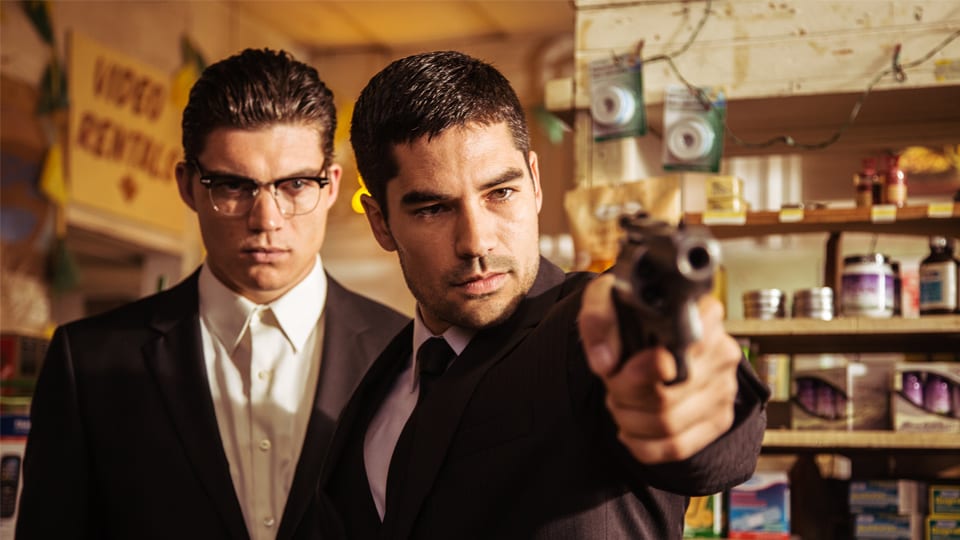 In dem Interview geht es um die Frage, warum Robert From Dusk Till Dawn erneut aufgelegt hat, wann D.J. und Zane zum ersten Mal das Original zur Serie gesehen haben und wie groß der Film eigentlich in Deutschland war.
Eigentlich hätte ich gerne noch mehr gefragt, aber Robert war einfach zu gut aufgelegt und hat jede Frage sehr ausführlich beantwortet. Man beachte das Ende, ich wurde von der Aufnahmeleiterin abgeschnitten. D.J. und Zane freuen sich, dass sich nicht mehr in die Verlegenheit kommen auf die Frage nach den zu großen Fußstapfen von George und Quentin antworten müssen. Dann eben beim nächsten Mal, viel Spaß:
From Dusk Till Dawn: Robert Rodriguez, D.J. Cotrona & Zane Holtz Interview
Bilder und Videoausschnitt im Interview: (c) Netflix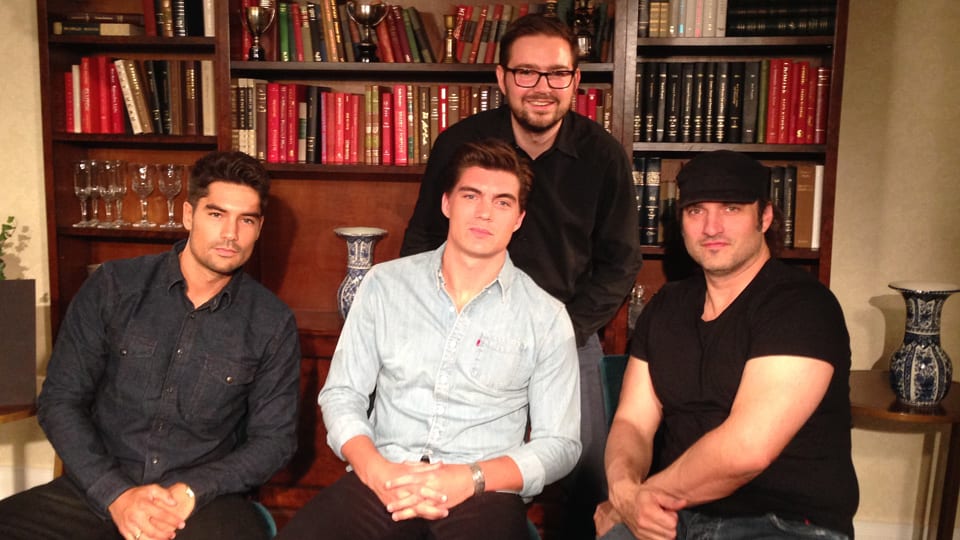 -->