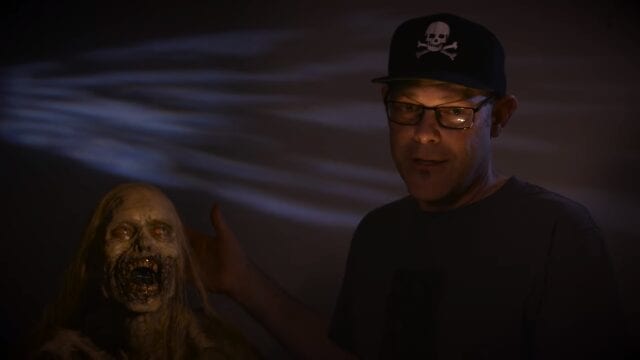 Ihr schaut gern The Walking Dead, aber wollt euch eigentlich noch viel lieber selbst mal gegen (oder als) die wandelnden Toten behaupten? Dann ab nach Hollywood mit euch! In ein paar Wochen ist es nämlich soweit, dann wird die nigelnagelneue Attraktion in den Universal Studios in Hollywood eröffnet und The Walking Dead wird wie kürzlich erst The Wizarding World of Harry Potter am eigenen Leib erfahrbar.
In den letzten Wochen haben die Studios zahlreiche Castings durchgeführt und eine Menge Schauspieler gefunden, die den Besuchern zukünftig als Zombies ordentlich Angst einjagen sollen. Im neuen Behind the Scenes-Video erklärt uns Special Effects-Spezi Greg Nicotero, was neben den "echten" Zombies so alles in Vorbereitung ist, um uns zum Schaudern zu bringen. Sein höchstes Ziel: die Erfahrung im Studio so authentisch wie möglich zu gestalten. Bedeutet im Grunde auch: so verstörend wie möglich.
"For me, something that's very exciting is being able to make the attraction as 100 percent authentic as possible. We're getting a chance to do animatronic characters that we've never done before. We're getting a chance to utilize molds that were created specifically for the show, and translate them into parts of the attraction. It's one-of-a-kind, state-of-the-art. I can't wait." – Greg Nicotero
Making The Walking Dead Attraction - KNB EFX
Das offizielle Eröffnungsdatum für die Attraktion ist der 4. Juli diesen Jahres. Hollywood ist euch zu weit? Dann startet doch erstmal mit dem Movie Park in Bottrop! Und im Oktober geht's dann auch mit The Walking Dead im TV weiter.
via: Entertainment Weekly Bild: Universal Studios Hollywood