In dieser Woche wird es emotional und herzergreifend bei BBC two. Denn in dieser Woche werden zwei LGBT Dramen ausgestrahlt, die nicht nur mit zwei interessanten Geschichten aufwarten dürften sondern auch mit jede Menge interessanter Darsteller.
Ich hatte vor einiger Zeit schon mal auf verschiedenste LGBT Serienprojekte im UK hingewiesen, die in diesem Jahr, in dem man den 50. Jahrestag eines Gesetzes feiert, dass homosexuelle Handlungen (auf freiwilliger Basis) im Vereinigten Königreich straffrei setzte, ausgestrahlt werden sollen. Und in dieser Woche kommen gleich zwei Serien bei BBC two, die meine ganze Aufmerksamkeit definitiv erhaschen konnten.
Against the Law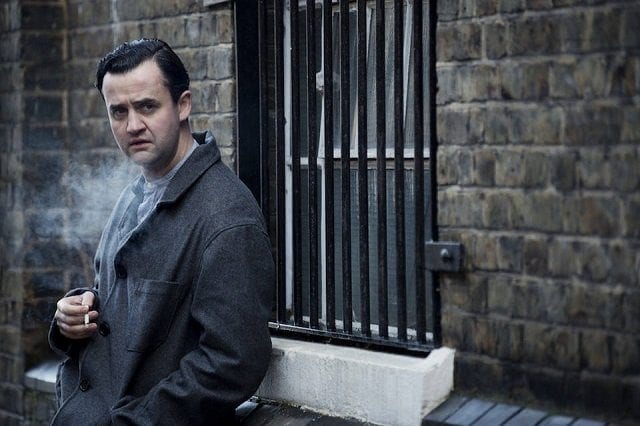 Bereits am morgigen Mittwoch läuft das Drama "Against the Law" welches auf einer wahren Begebenheit basiert. Im Mittelpunkt des Dramas steht eine Gerichtsverhandlung im Jahre 1954 gegen vier Männer die in sittenwidriger Absicht und Handlung einen gemeinsamen Urlaub verbracht haben. Bekanntheit erlangte diese Gerichtsverhandlung unter den Namen "Montague Trial" oder dem "Montague Case".
Edward John Barrington Douglas-Scott-Montagu, der 3. Baron Montagu of Beaulieu – also ein Mitglied des englischen Hochadels – stand im Mittelpunkt dieser Gerichtsverhandlung, neben ihm waren der Journalist Peter Wildeblood sowie zwei Angehörige der Royal Air Force angeklagt. Die Anklage war Gesprächsstoff und sorgte über Wochen für Zeitungsartikel und Aufmerksamkeit. Nicht nur wegen der Beteiligung eines Adligen.
Gay Britannia: Against the Law | Trailer - BBC Two
Der Journalist Peter Wildeblood schrieb nach seiner Entlassung aus dem Gefängnis – alle Angeklagten wurden zu Gefängnisstrafen verurteilt – ein Buch mit dem Namen "Against the Law" welches die Ereignisse zusammenfasste und Denkanstöße für die Zukunft formulierte, auf dem nun dieses Drama basiert.
Daniel Mays (Pearl Habour, Rogue One, Line of Duty) spielt hier den Journalisten Peter Wildeblood und Mark Gatiss einen hinzugezogenen Psychologen.
Man In An Orange Shirt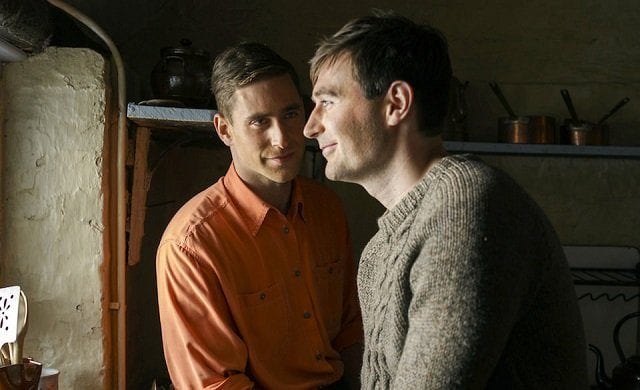 Die Geschichte von "Man In An Orange Shirt" ist dagegen reine Fiktion, dürfte aber nicht weniger emotional daher kommen. Das zweiteilige LGBT- Drama wird am kommenden Sonntag bei BBC two ausgestrahlt und handelt von zwei Liebesbeziehungen die zeitlich gesehen 60 Jahre voneinander getrennt sind. Aber dennoch miteinander verbunden. Und die Verbundenheit erfolgt über das Familiendrama welches sich uns in "Man In An Orange Shirt" offenbaren wird.
"People who know my novels will be unsurprised to hear that that stories give equal focus to wives and mothers and are very much about tensions between family bonds, the need to be good and the urge to seize happiness. (Patrick Gale)"
Die erste Beziehung ist in den 40iger und 50iger Jahren angesiedelt. Der Druck der damaligen Gesellschaft steht ihr als großes Hindernis im Weg und so entscheidet man sich der Liebe eben nicht den Vorzug zu geben sondern dem gesellschaftlichen Zwang. Man heiratet demnach eine Frau. Die zweite Liebesbeziehung ist in unserer Gegenwart angesiedelt und stellt einen schwulen Nachfahren ins Zentrum der Geschichte. Und die Auswirkungen der damaligen Geschichte, des Großvaters, drohen nun beim Enkel ein Happy End zu verhindern.

Der Zweiteiler basiert auf einem Serienscript von Patrick Gale, einem sehr erfolgreichen Schriftsteller, der für sein TV Erstlingswerk einige Ideen aus seinen bekanntesten Büchern miteinander gemixt hat um daraus etwas Neues zu schaffen.

Gay Britannia: Man In An Orange Shirt | Trailer - BBC Two

Im Mittelpunkt des Cast stehen für mich hier aber nicht die Männer sondern zwei Frauen: Vanessa Redgrave und Laura Carmichael. Redgrave ist eine alte Dame des britischen Films und Fernsehens, Oscarpreisträgerin und Gewinnerin mehrerer Golden Globes. Ich kenne sie vor allem als Erzählstimme bei "Call The Midwife". Zum anderen freue ich mich auf Lady Edith, Laura Carmichael, die ich jetzt schon länger nicht mehr im Rahmen einer Serie gesehen habe, da ich es immer noch nicht geschafft habe in "Marcella" reinzuschauen. Shame on me!

Bilder: BBC two

-->