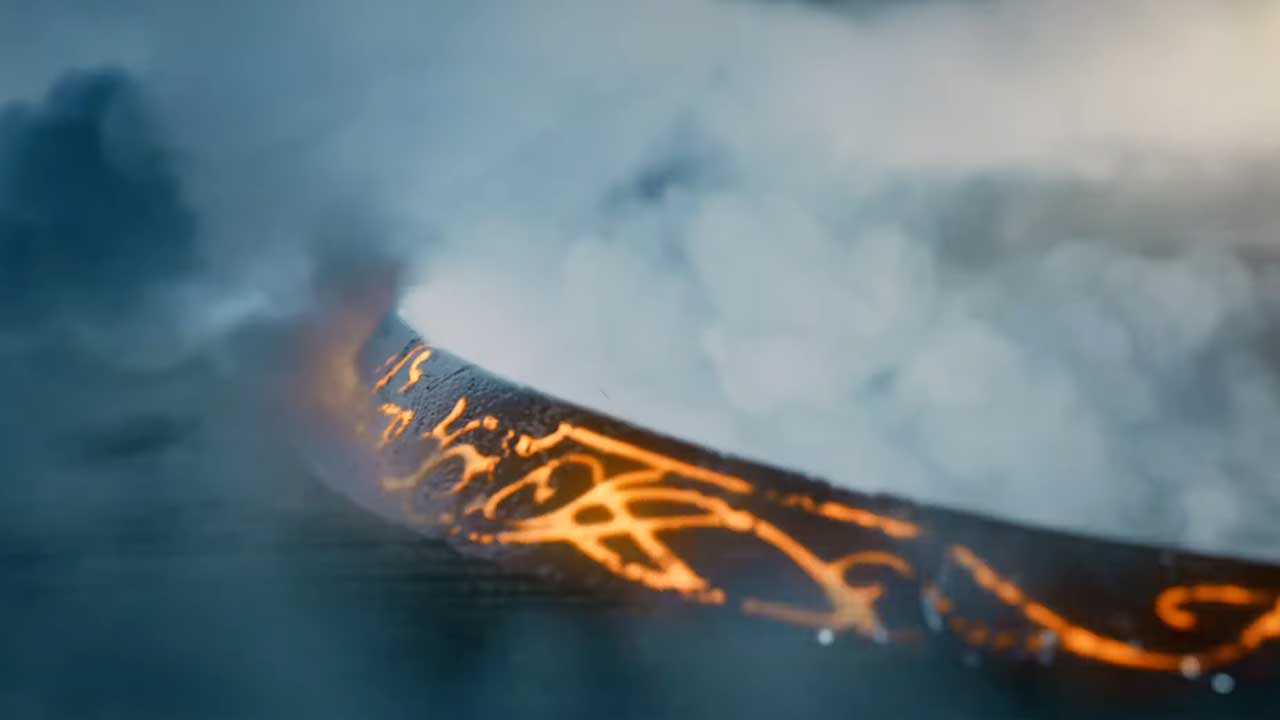 Da ist er! Der erste kleine Fetzen Bewegtbild zur Serie, auf die Millionen Menschen weltweit warten dürften. Und jetzt ist es auch ganz genau raus: "Der Herr der Ringe: Die Ringe der Macht" wird die Adaption zur Kinofilm-Trilogie zur Fantasy-Bestseller-Reihe also heißen. Dass der langerwartete potenzielle "Game of Thrones"-Nachfolger Anfang September diesen Jahres an den Start gehen wird, ist bereits seit August bekannt, jetzt gibt es eben auch den offiziellen Beititel präsentiert, der in standesgemäßer Schmiedekunst und in epochaler Aufmachung vor unseren Augen entstanden lassen wird. Hier der offizielle Teaser zur Titel-Ankündigung, den Amazon Prime Video vor wenigen Minuten veröffentlicht hat:
Die Musik hat jedenfalls schon direkt wieder Gänsehaut-Feeling! Eigentlich wäre das doch auch als Intro zur Serie denkbar, auch wenn es dazu vielleicht etwas zu unspektakulär ist.
Die Sequenz besteht übrigens gar nicht komplett aus CGI, hier könnt ihr sehen wie die Sache umgesetzt worden ist:
"The title sequence of The Lord of the Rings: The Rings of Power was not a CGI creation but rather achieved practically at a foundry using molten metals, reclaimed redwood, sparkler dust, argon pours, liquid hydrogen and more. Multiple pours of molten metal were shot with the Phantom Flex 4K camera until the creators got the exact effect they were looking for."
Im Original wird die neue Prime Original Serie analog "The Lord of the Rings: The Rings of Power" heißen. Alles ein bisschen sperrig, am Ende dürften alle nur "HdR-Serie" oder so schreiben, nehme ich an…
Ich dürfte nicht die einzige Person sein, die sehr große Erwartungen an diese angeblich aktuell teuerste Fernsehserien-Produktion aller Zeiten hat. Da hängt mit dem ganzen Tolkien-Erbe und dem gigantischen Fantasy-Kosmos soviel dran, das KÖNNTE richtig richtig gut werden. Sicher ist jedenfalls, dass etliche Augen aus aller Welt glühend auf die erste Episode blicken werden.
Hier noch ein "bisschen" was an offizieller PR-Info zur Handlung in der Serien-Adaption aus Mittelerde:
"Die neue Serie von Amazon Studios bringt zum ersten Mal die heldenhaften Legenden des sagenhaften Zweiten Zeitalters der Geschichte von Mittelerde auf den Bildschirm. Dieses epische Drama spielt Tausende von Jahren vor den Ereignissen von J.R.R. Tolkiens Der Hobbit und Der Herr der Ringe und wird die Zuschauer in eine Ära zurückversetzen, in der große Mächte geschmiedet wurden, Königreiche zu Ruhm aufstiegen und in den Ruin stürzten, ungeahnte Helden auf die Probe gestellt wurden, die Hoffnung am seidenen Faden hing und der größte Bösewicht, der je Tolkiens Feder entsprungen ist, der die ganze Welt in Dunkelheit zu hüllen drohte. Die Serie beginnt in einer Zeit des relativen Friedens und folgt einem Ensemble von bekannten und neuen Charakteren, die sich dem lange befürchteten Wiederauftauchen des Bösen in Mittelerde stellen. Von den dunkelsten Tiefen des Nebelgebirges über die majestätischen Wälder der Elfenhauptstadt Lindon und das atemberaubende Inselreich Númenor bis hin zu den entlegensten Winkeln der Landkarte werden diese Königreiche und Figuren ein Vermächtnis schaffen, das noch lange nach ihrem Tod weiterleben wird."
Die erste Staffel von "Der Herr der Ringe: Die Ringe der Macht" wird ab Freitag, dem 2. September 2022, über Amazon Prime Video zu sehen sein.

-->