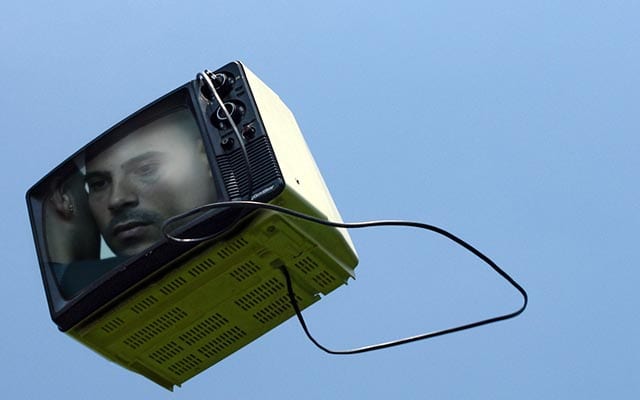 Kalenderwoche 45 könnte kaum besser damit anfangen, als dass ich meinen Einsatz fast verpasst hätte und euch erst zur späten Stunde die folgenden Serientipps präsentiere. Als Entschuldigung könnte ich jetzt sagen, mein Hund habe das Google Spreadsheet gefressen, auf dem mein Name für den heutigen Tag vermerkt war, aber belassen wir es bei dem Gedanken, dass es eine kreative Entscheidung war, diesen Artikel in die späten Abendstunden zu legen. Aber wenn wir schon bei Hunden sind, die haben mich heute tatsächlich etwas aus der Fasson gebracht, man beachte den Monatsrückblick ganz unten.
Montag, 2. November 2015
Der Fernsehabend hat zwar schon angefangen, aber zumindest kommt dieser Artikel noch rechtzeitig für den Tipp, heute um 23 Uhr für eine Doppelfolge The Walking Dead auf RTL2 einzuschalten. Dort läuft übrigens die ganze Woche über die 5. Staffel, jeweils um 23 Uhr, außer am Wochenende (Freitag, Samstag & Sonntag) erst um 23:25 oder 23:30 Uhr. Alternativ könnt ihr heute auch ganz aktuell die neue 6. Staffel bei Fox im PayTV um 21 Uhr schauen. Dort läuft Folge vier, zu der ihr bei uns selbstverständlich auch die passende Meinung findet.
Dienstag, 3. November 2015
Der rote Blitz, aka The Flash, rennt wie üblich durch den Abend am Dienstag um 21:15 auf Pro7. Ich konnte mich zwar nicht damit anfreunden, aber anscheinend ist das eine Minderheitsmeinung. Im PayTV dürft ihr parallel eine neue Folge von Heroes Reborn (Syfy, 21 Uhr) sehen. Ob sich das lohnt, könnt ihr hier nachlesen.
Ganz wichtig: Am Dienstag um 20:10 läuft eine der besten South Park Folgen auf Comedy Central – wenn auch in Deutsch. In S08E01 spielen die Kinder mit Ninja-Waffen, fast die gesamte Folge ist ebenfalls im passenden Manga-Stil gezeichnet, absolut großartig!
Mittwoch, 4. November 2015
Am Mittwoch begeistert mich relativ wenig. The 100, 20:15 Uhr auf Pro7, läuft mit erwähnenswertem Erfolg, deshalb auch die Erwähnung ;-)
Donnerstag, 5. November 2015
Am Donnerstag läuft auf Arte eine Doppelfolge Gomorrha, Folge 9 und 10 der ersten Staffel. Ich habe gerade an diesem Wochenende mit der Serie angefangen und kann nur sagen: genial! Außerdem macht es Spaß, eine Serie ausnahmsweise mal in Deutsch zu schauen, denn das Original wäre hier Italienisch und zumindest für mich unverständlich. Die Serie ist übrigens viel besser als dieser sehr langweilig gestaltete Trailer:
Gomorrha - Staffel 1 - Trailer [HD] Deutsch / German
Ebenfalls ein Hinweise wert ist die Serie Mann/Frau von Christian Ulmen. Um 21:45 Uhr wird auf Einsfestival das als Webserie konzipierte Format gesendet.
Freitag, 6. November 2015
Kalkofes Mattscheibe Rekalked um 22 Uhr auf Tele 5 ist in Ermangelung neuer Switch Reloaded Folgen definitiv ein Tipp. Denn außer dieser Sendung findet man aktuell im Fernsehen kein anderes Programm, welches das eigene Medium auf den Arm nimmt.
Samstag, 7. November 2015
Am Samstag sieht es eher mager aus, vielleicht solltet ihr lieber eine Session Netflix, Watchever oder Amazon Instant Video einschieben. Am ehesten würde ich euch noch zu Blue Bloods, 23:15 auf Kabel 1, raten. Das Polizistendrama mit Tom Seleck ist durchaus sehenswert.
Sonntag, 8. November
Auf ComedyCentral läuft um 23 Uhr die Sitcom Workaholics und zwar die zweite Folge der 5. Staffel. Mit einem Videozitat dieser Serie verabschiede ich mich dann auch. Kommt gut unterhalten durch die Woche!

Workaholics - We've Run Out of Things We Smeeoke

-->