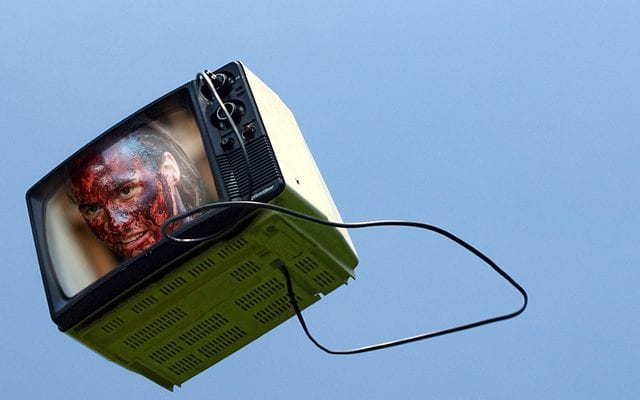 Rekordhitze im Spätsommer, da hat es das Fernsehprogramm oft schwer. Und heiße Serien sind im Moment ja auch eher Mangelware. Was es trotzdem für diese Woche in Sachen Großserienwetterlage zu berichten gibt, habe ich Euch mal zusammengestellt, immer schön in Kombination mit den vorhergesagten Temperaturen – in der Serie und bei uns Zuhause. So könnt Ihr immer gut selbst überlegen, was bei Euch den Vorzug erhält – Biergarten oder Wohnzimmer.
Montag, 29. August
Okay, gleich zu Beginn gibt's einen Ort in einer Serie, der genauso heiß ist wie das, was wir hier bei uns bieten können. Amazon bietet eine neue Folge von "Fear the Walking Dead" an, und wir sind in Mexiko, rund um Tijuana hat's heute etwa 27 Grad Celsius. Bei strahlendem Sonnenschein. Bei uns werden's so 20 bis 26 Grad, bei bedecktem Himmel. 1:0 für Team Serie, würde ich sagen. Weitere Argumente für heute:
– Person of Interest, Folge 5 der 5. Staffel, ab 20:15 Uhr auf RTL Crime.
– The Last Ship, Folge 11 der 3. Staffel, ab 20:15 Uhr auf TNT Serie.
– The Night Manager, Folge 1, ab 22:15 Uhr im ZDF.
Fast durchweg an warmen Spielorten also, nur The Night Manager verspricht mittendrin ein bisschen Abkühlung – mehr dazu in Tobias' Review.
Dienstag, 30. August
Wir erwarten 25 bis 28 Grad bei uns, ohne Wölkchen am Himmel. Nach diesem Wetterchen sieht's auch meistens in Springfield aus, der heimlichen Hauptstadt der USA. Schwer zu sagen, ob das Pendel zugunsten des Biergartens oder des Serienabends ausschlägt – tendenziell würde ich aber zu Freizeitbeschäftigung im Freien tendieren, denn die neuen Folgen 1 und 2 der 27. Staffel von "The Simpsons", die wir ab 20:15 Uhr auf Pro Sieben erwarten dürfen, werden bei dem Sender mit der roten Ziffer sicher noch zehntrillionen Mal wiederholt – wie man das so kennt. Okay, ein gutes Argument hat Pro Sieben dann doch noch – "DC's Legends of Tomorrow" starten im Anschluss an das Simpsons-Doublefeature.
DC's Legends of Tomorrow | official trailer (2016) Wentworth Miller Brandon Routh
Wer sich für den Biergarten entschieden hat, sollte dann aber um 22:30 Uhr zurück sein – dann gibt's 'ne Doppelfolge "The Nick" bei ZDFneo – die Folgen 7 und 8 der 2. Staffel als Free-TV-Premiere.
Mittwoch, 31. August
Uff, bei den Temperaturen packen wir nochmal was drauf – um die 30 Grad sollen es wieder werden. Übrigens auch in New York, wo die Serie "Quantico" spielt. Auch hier also wieder ausgeglichen. Aber da uns die warmen Sommertage so langsam ausgehen, würde ich hier nochmal dem Treff unter freiem Himmel der Free-TV-Premiere einer Serie vorziehen. Wer es anders sieht: Quantico läuft bei Pro Sieben ab 20:15 Uhr, die Folgen 11 und 12 der ersten Staffel gibt's zu sehen. Zwei Staffeln weiter ist "The 100", ebenfalls die Folgen 11 und 12 gibt's zu sehen, ab 22:15 Uhr bei Pro Sieben.
Donnerstag, 1. September
Justified Season 4 Trailer: Raise the Stakes
September klingt immer schon so nach Herbst, oder? Für die Temperaturen gilt das noch nicht, geschmeidige 20 bis 26 Grad erwarten uns. Auf die gleichen Temperaturen kommt auch Harlan in Kentucky, aber – mit Regen! 1:1 also zwischen Team Serie und Team Biergarten. Denn außer "Justified", das in Harlan spielt, gibt's nicht viel im Serienangebot der Sender. Und ein wirklich gutes Argument ist das Angebot auch nicht, denn: Justified ist zwar klasse, AXN zeigt aber ab 21:55 Uhr immer noch eine Folge aus der 4. Staffel (Folge 11), obwohl wir ja schon mit Staffel 6 und damit dem Serienfinale durch sind. Ansonsten hätten wir natürlich noch Folge 4 der 2. Staffel von "Wayward Pines", ab 21 Uhr auf FOX, oder Folge 14 der 2. Staffel "iZombie" ab 20:15 Uhr auf sixx.
Freitag, 2. September
Portal Hunting – Marvel's Agents of S.H.I.E.L.D. Season 3, Ep. 9
So, definitiv nochmal Biergarten, weil Wochenende und wieder zwischen 24 und 30 Grad. Und möglicherweise schon das Staffelfinale für den Sommer, denn was so für das Wochenende droht, ist wenig einladend. Wenig einladend ist auch das Serienprogramm für den Freitag, wir haben hier lediglich "Marvel's Agents of S.H.I.E.L.D." im Angebot, Folge 9 der 3. Staffel ab 20:15 Uhr auf RTL Crime. Übrigens keine ganz leicht verdauliche Folge, das sei schonmal verraten. 2:1 für den Biergarten!
Samstag, 3. September
Ja, da braut sich was zusammen am Himmel… die ersten dicken Wolken ziehen ein, nur noch etwas mehr als 20 Grad werden's wohl werden. Und da die Bundesliga außerdem ihre doofe Länderspielpause macht, sollten wir mal bei Netflix und Co. vorbeischauen. Ich selbst stecke gerade in der Serie "Daredevil", Staffel 1 werde ich wohl abschließen. Empfehlen für den Samstag kann man natürlich "Stranger Things" oder "Marcella", alles gut an einem Tag schaffbar. Bei Amazon könnte man sich nochmal "Transparent" vornehmen, immerhin geht's da demnächst auch weiter. Also nochmal ein klarer Punkt für das Team Serie – 2:2.
Sonntag, 4. September
Nächste Folge 1594 "Gute Ernte" am 04.09. um 18:50 Uhr

Tja, was soll ich sagen: Der Sommer ist dann wohl erstmal abgesetzt. Regenwetter steht uns bevor. Also nochmal zurück auf Samstag springen, und die Binge-Empfehlungen vornehmen. Einen Serientipp habe ich natürlich, "Lindenstraße", Folge 1594, ab 18:50 Uhr im Ersten. Soviel Zeit muss sein.

So. Wie steht's? 3:2 für Team Serie? AWESOME!

-->