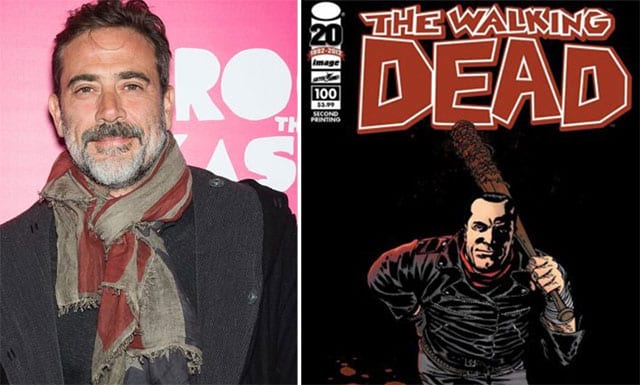 Darauf dürften Fans der The Walking Dead-Comicreihe eine ganze Weile lang gewartet haben – Negan. Jetzt ist zumindest schon einmal klar, wer den Kult-Bösewicht zukünftig in der TV-Serie verkörpern wird. Laut dem Hollywood Reporter wird Jeffrey Dean Morgan die Rolle übernehmen.
Mit Comic-Verfilmungen hat Morgan durchaus Erfahrung, war seine größte Rolle vermutlich in "Watchmen". Ansonsten ist er aber teils auch eher auf "schmierigen Romanz-Schienen" unterwegs ("P.S., Ich liebe Dich" oder seriell "Grey's Anatomy"), konnte aber in der letzten Staffel Extant durchaus überzeugen.
Bleibt abzuwarten, in wie fern er den Irrsinn Negans verkörpern kann. Sicherlich eine Herausforderung – nicht unbedingt aufgrund des Charakters, sondern vielmehr auf Basis der Erwartungen der Comic-Kenner. Ich bin noch etwas zweifelhaft dabei, aber einige Momente in Extant waren durchaus vielversprechend – auch wenn der Charakter leider relativ flach angelegt war. Hatte aber eine deutliche kantigere Besetzung mit mehr Kiefer erwartet…
In den Kirkman-Vorlagen führt Negan die Gruppe The Saviors an, die Gemeinschaften auf postapokalyptische Weise schutzgelderpressen. Stets mit dabei ist sein geliebter und mit Stacheldraht umwobener Baseballschläger "Lucille". Viel mehr will ich gar nicht auf ihn eingehen, aber in den Comics hat er verdammt viel Spaß gemacht! Am Ende der laufenden sechsten Staffel soll es soweit sein, dass Negan zumindest angedeutet wird – und die Menge dürfte feiern, wie damals bei Michonne. Mindestens.
via: ign | Bild: Gilbert Carrasquillo/FilmMagic