Die Musik
Bei dem "Soundtrack" handelt es sich um lediglich fünf Tracks – vier instrumentale Stücke und den Titelsong. Trotzdem kommt man auf eine Gesamtspiellänge von über 30 Minuten – was daran liegt, dass die instrumentalen Stücke eben sehr lang sind. Gegenüber filmandgamecomposers.com erklärt Komponist Dominic Lewis die Idee hinter der Komposition:
The songs that were chosen I feel have more of an impact on how we shaped this new world. The score took more of a character enhancement role. I used Western orchestral instruments as the tent poles for the score, and from there, tried to bend reality with more unsettling atmospheric sounds built from an organic source. The Man in the High Castle deals with some pretty disturbing issues.
Auf dem Album sind jetzt die fünf bekannten Songs vertreten, dazu acht neue Tracks. Es startet mit dem bekannten "Edelweiss"-Intro samt Gesang, der Rest des Albums ist dann instrumental.
– Alternate Outcome gefällt mir mit der ruhigen Grundstimmung und dem dramtischeren Streicher-Überleger sehr gut.
– Chapter 12 Verse 5 Ein ruhiger Track mit einem düsteren, dramatischen Grundton.
– Neuland ist ein Klavier-Track, kurz gehalten, sehr melancholisch.
– The Crown Prince's Speech gab's schon auf der EP und ist in der Serie während der Rede des japanischen Kronprinzen zu hören. Das Stück baut eine düstere, unterschwellig-gefährliche Stimmung auf. Das wirkt in der Serie gut und gefällt auch als separates Stück.
– Too Good For This World ist ein kurzes, eher ruhiges Stück.
– Fate Is Fluid ist das beste Stück der Instrumentals aus meiner Sicht. Es spielt ebenfalls mit der eher düsteren Stimmung und ist über die acht Minuten sehr abwechslungsreich mit einem gewissen Hang zur Dramatik. Es ist in der Serie vor allem zu hören, als die Handlung bei Hitler oben in der Burg spielt.
– A Grave Situation ist ein sehr ruhiges, bedächtiges Stück mit einem dramatischen Grundton.
– Edelweiss überzeugt natürlich vor allem im Zusammenhang mit dem visuell starken Intro der Serie. Mit einem deutschen Wort anzufangen, ist darüber hinaus ein kluger Schachzug, wie ich finde. Der zarte Gesang von Jeannette Olsson bildet ein tolles Gegengewicht zu der dunklen Optik des Vorspanns und zu dem zu erwartenden düsteren Thema der Serie. Es liegt hier in der Originalversion aus der Serie vor, ist also mit knapp einer Minute etwas kurz geraten. Hier hätte man sich auch eine zusätzliche, längere Fassung gewünscht. Hier die Version aus "The sound of Music":
Fazit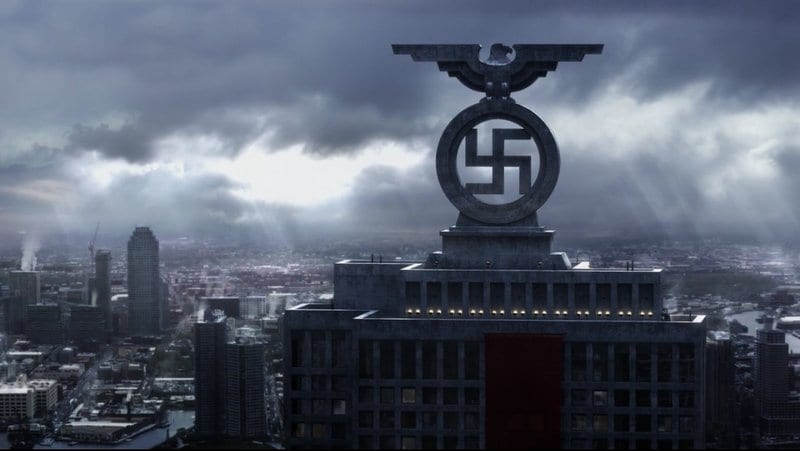 Auch wenn's etwas ungewöhnlich angelegt war: Insgesamt ist es natürlich schon schön, dass der ersten Staffel mit einem weiteren Soundtrack größere musikalische Beachtung geschenkt wird. Die neuen acht Tracks sind sicher eine Bereicherung, auch wenn man sagen muss, dass die besten Songs aus der ersten Season schon auf der EP enthalten waren.
Das müsst Ihr wissen
Die Tracks gibt's natürlich bei Amazon (erstaunlicherweise aber nur zum Kauf, nicht im Basis-Amazon Music). Auch bei Spotify sind die Tracks zu finden, weswegen wir die besten Score-Stücke auch in unsere Serien-Musik-Playlist bei Spotify platzieren konnten. Die Amazon-Musikredaktion hat außerdem eine Playlist zusammengestellt mit weiteren Stücken, die im Laufe der Serie zu hören sind und die bei Amazon Prime verfügbar sind. Mit dabei sind so zum Beispiel Ella Fitzgerads Summertime oder Bing Crosbys Mack the Knife, aber auch Kyu Sakamotos Sukiyaki oder Beethovens Für Elise. Einige Songs, die in besonderen Versionen in der Serie vorkommen, fehlen hier allerdings leider, zum Beispiel "The End of the World", im Original von Skeeter Davis, in der Serie in einer speziellen japanischen Version zu hören.
Henry Jackman & Dominic Lewis: The Man in the High Castle Season 1 (Music From The Amazon Original Series)
1. Edelweiss (Vocal) 1:23
2. Alternate Outcome 3:21
3. Chapter 12 Verse 5 3:44
4. Neuland 1:33
5. The Crown Prince's Speech 3:07
6. Attentäter 2:32
7. The Grasshopper Lies Heavy 3:34
8. A Grave Situation 4:47
9. Unofficial Treaties 1:47
10. Too Good For This World 1:42
11. Fate Is Fluid 4:20
12. Vorsatz 4:11
13. The Necklace 1:21
13 Tracks, 2017 Amazon
Dieser Beitrag hat mehrere Seiten: