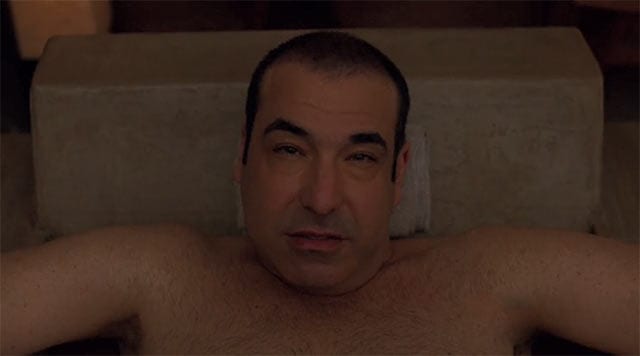 Wir biegen auf die Zielgerade zur Pause ein. Und weil das bei Suits schon fast traditionell lange dauern wird, kann man schon fast von Staffelende-Brisanz reden. Aber irgendwie will diese Woche eigentlich alles abschließen.
Louis überzeugt die nächste Person vom "Mudding" und macht seine Halb-Freundin zur ganzen. Yay. Nebenstrang abgefrühstückt.
Ich bin immer wieder erstaunt, wie schnell Serienfiguren lesen können. "Hier, ich habe einen Weg zur Wiedereröffnung des Verfahrens gefunden, steht auf dieser Din-A4-Seite." – "Ah… Das funktioniert aber nur theoretisch."
"Nobody is better in dropping the hammer than me." (Jessica)
Jedenfalls schaffen die Damen es, dass der Fall wiedereröffnet wird. Doppel-yay!
"Playing the odds isn't the same as not caring." (Jessica)
Bei Mike dauert es dagegen doch noch ein paar Tage – welch Überraschung… Oder auch "wie bescheuert". Als ob er mit dem ganzen Anwalts-Gespiele nicht fünf Tage hätte warten können. So beginnt ein kindisches "er hat angefangen und keiner will nachgeben!"-Spiel. Nervig.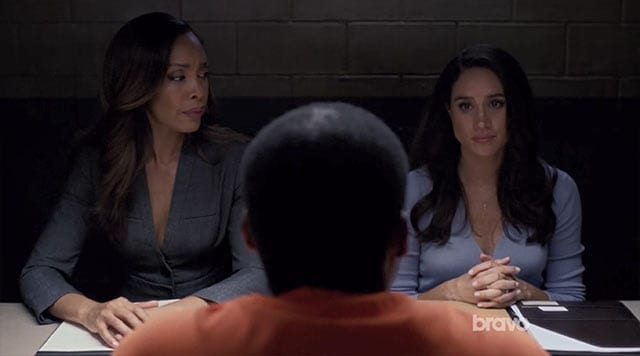 Gallo kann dagegen sehr gut schauspielern, und fast fühlt man einen Moment etwas. Und zwar mit Harvey und ob dieser damit leben kann, wenn Gallo draußen wieder krumme Dinger macht und Menschen verletzt. Aber dazu kommt es natürlich nicht (wie könnte es auch?!). Zunächst verstrickt er sich in seinen eigenen alten Aussagen – doof, wenn man gegen sich selbst antreten muss. Aber zum Glück geht das Verwirrspiel im munteren Hin und Her weiter und ändert sich im Minutentakt.
Aber dann der "klasse" Plan von Mike. Unnützer Kram, der ihm fast das Leben kostet. Dumm. Okay, es ist, damit sein Leben außerhalb des Gefängnis erhalten bleibt, aber das Risiko war dämlich hoch. Naja, Film-Dramatik halt.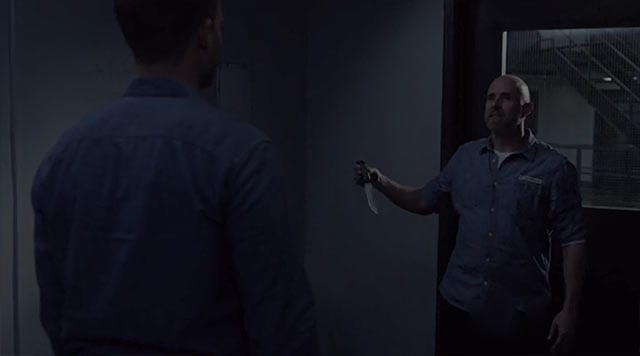 "Now I'll take that hatred in your face as a yes, because it's the same look as the last time I put you away." (Harvey)
Und dann hat Rachel tatsächlich doch noch ihren Zeitlupen-Auftritt. Hach, all that feelings… Naja, nicht wirklich. Sehr schlechter Sountrack und mittlerweile erreicht einen so etwas nicht mehr wirklich emotional, wie ich finde.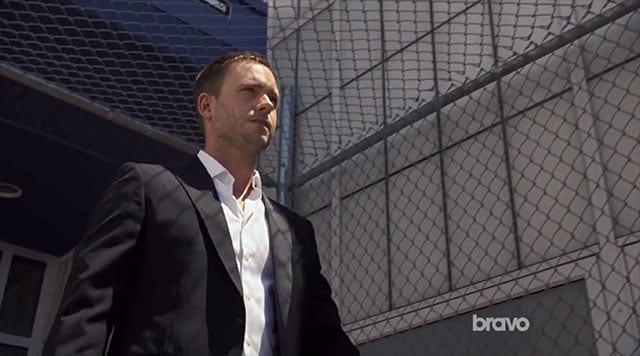 Alles hat sich angefühlt wie eine abschließende Folge. Aber natürlich gibt es nächste Woche (bzw. diese, weil ich so spät dran bin) noch den einen oder anderen Midseason-Cliffhanger. Da können wir uns wohl sicher sein. Ein Schicksalsschlag im Death Row-Fall? Doch noch ein Rückfall bzgl. Mikes Gefängnis-Story? Wir werden sehen.
Bilder: bravo