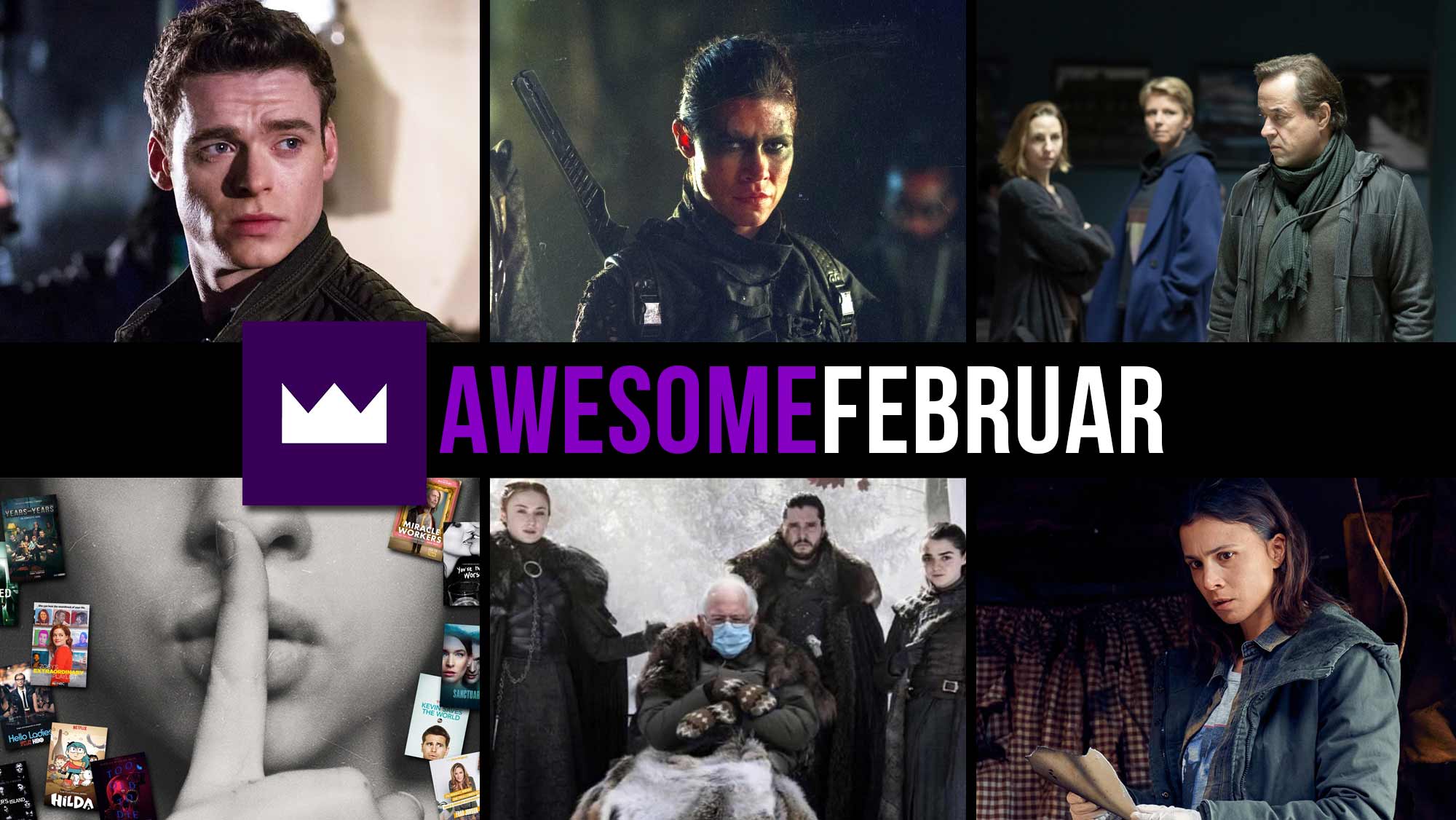 Und da ist er auch schon vorbei, der kürzeste Monat des Jahres. Trotz seiner lediglich 28 Tage hatte der Februar aber auch dieses Jahr so einiges zu bieten – sowohl, was seriellen Input anbelangt, als auch hier bei uns im Blog. Dabei hat sich aber jemand in den Vordergrund gearbeitet, dem Whitney Houston einst ein Ständchen gesungen hat. Aber auch abseits vom "Bodyguard" gab es einige Titel abseits des ganz großen US-Mainstreams in eurer Klickliste. In der habe ich übrigens ganz dreist auch einfach mal den Beitrag zur Serie "Tod von Freunden" aufgenommen, der streng genommen bereits am 31. Januar abends erschienen ist… Jetzt aber viel Spaß mit unserem seriesly Monatsrückblick!
Direkt zu Monatsrückblicken springen
Top Serien-Blog-Artikel des Monats
Das sind die meistgeklickten Beiträge, die den letzten Monat hier bei uns im Blog veröffentlicht worden sind, und diese Liste bildet im Grunde genommen die bei euch beliebtesten und für euch interessantesten Serien ab.
TV-Einschaltquoten des Monats
Harte Fakten. Hier die von der GfK gemessenen Daten für das klassische, lineare Fernsehen und die acht reichweitenstärksten TV-Sender Deutschlands (Quelle: DWDL).
Monatsmarktanteile Fernsehsender
MA ab 3
+/-
Vormonat

+/-


Feb 20

MA 14-49
+/-
Vormonat

+/-


Feb 20

Das Erste
12,2
-0,8

+0,2

7,6
-1,0

+0,8

ZDF
14,9
-0,2

+1,0

6,9

-0,4

+0,8

RTL
7,5

±0

-0,9

10,9

-0,1

-1,3

Sat.1
5,1

±0

-0,2

6,8

-0,1

-0,4

ProSieben
3,9

+0,3

-0,1
9,7

+0,9

+0,2

Vox
4,6

+0,3

+0,1

7,1
+0,9

+0,4

RTLzwei
2,6

-0,2

±0

4,6
-0,5

-0,6

Kabel Eins
3,2

+0,2

-0,2

4,3

+0,3

-0,7

Meistgesehene Sendungen je Sender im Monat
| | | |
| --- | --- | --- |
| | Gesamtpublikum | Zielgruppe 14-49 |
| Das Erste | Tatort: Rettung so nah | Tatort: Rettung so nah |
| ZDF | Wilsberg – Überwachen und belohnen | heute-show |
| RTL | Let's dance – Wer tanzt mit wem? | Let's dance – Wer tanzt mit wem? |
| Sat.1 | The Jungle Book | A Star is born |
| ProSieben | The Masked Singer | The Masked Singer |
| Vox | Kitchen Impossible | Kitchen Impossible |
| RTLzwei | Das Vermächtnis der Tempelritter | Die Geissens – Eine schrecklich glamouröse Familie |
| Kabel Eins | Unstoppable – Außer Kontrolle | Trucker Babes – 400 PS in Frauenhand |
seriesly MONATSRÜCKBLICKE
Abschließend gibt es noch die subjektiven Monats-Rückblicke aus unserem Autorenteam. Jede/r führt persönliche Highlights auf und schenkt euch einen Einblick in die eigene Watchlist.
Kiras Monat
Mein Februar war serientechnisch relativ einseitig: Ich bin endlich mal mit "OZARK" gestartet und habe die Serie nicht nur für richtig gut befunden, sondern auch direkt die erste und zweite Staffel durchgeschaut. Nun bin ich auch schon am Ende der dritten Staffel angelangt und kann es kaum erwarten, dass es mit der vierten Staffel weitergeht, die letztendlich auch die finale Season der Thriller-Serie sein wird. Neben "OZARK" gab es aber noch einen kleinen Schwenker: Der Twist-reichen Mystery-Serie "Behind Her Eyes" konnte ich nicht widerstehen und musste die überschaubaren sechs Folgen der Miniserie in einem Rutsch durchbingen.
Habe ich gesehen
Fabios Monat
Mein TV-Programm im Februar ist mindestens genauso wechselhaft gewesen wie das Wetter. Vom überzeugenden ZDF Neo Original "Unbroken" über die wöchentliche Dosis "WandaVision", die sich langsam dem Ende nähert, bis hin zum wenig gelungenen "The Crew". Schade, denn ich hätte eine gute, neue Sitcom vertragen können. Stattdessen blieb es bei stumpfen und vorhersehbaren Gags. Immerhin warten mit "Falcon & The Winter Soldier" und "Invincible" im nächsten Monat gleich zwei (Superhelden-) Highlights darauf von mir gesichtet zu werden.
Habe ich gesehen
Maiks Monat
Die vier Wochen sind in Windeseile an mir vorüber gezogen. Aus den Monatsbeginn-To-Dos wurden Monats-Mitte-To-Dos, die sich dann noch mal eben in "Muss vor Monatsende fertig werden!"-To-Dos gewandelt haben. Aber gut, jetzt im März haben wir ja drei Tage mehr Zeit… Dennoch hat es die ein oder andere Serie bei mir auf die Bildschirme geschafft, nicht zuletzt, weil ich mir einen "gesunden Februar" gemacht hatte. Das bedeutet, dass es neben viel gesundem Essen vor allem auch viel Sport gab – daheim im Wohnzimmer, stets mit ein, zwei Serienepisoden nebenbei. So wird man nicht nur fit, sondern bekommt auch was von der Watchlist, yay!
Habe ich gesehen
-->