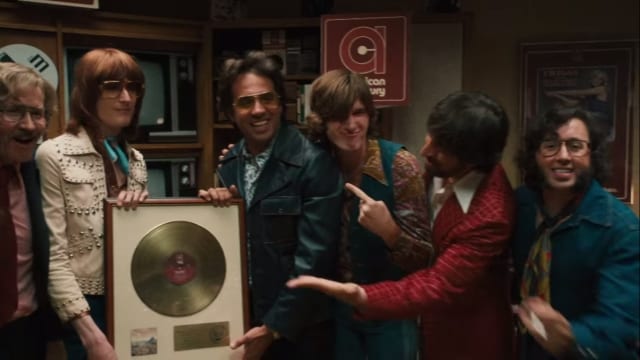 Der genaue Starttermin steht noch nicht fest, aber die Namen der Macher der neuen HBO-Serie Vinyl lassen auf Großes hoffen: Martin Scorsese, Mick Jagger und Terence Winter bringen im Januar 2016 als ausführende Produzenten eine Dramaserie ins Fernsehen, die in der Musikszene im New York der 1970er Jahre spielt. Neben Bobby Cannavale, der den Plattenfirmenboss Richie Finestra verkörpert, sind auch andere bekannte Gesichter wie Olivia Wilde, Ray Romano und James Jagger zu sehen.
Nachdem wir euch im August bereits einen ersten Teaser vorgestellt haben, gibt es jetzt weitere Einblicke in die Sex, Drugs & Rock 'n' Roll-Serie, die HBO wie folgt bewirbt:
Feather your hair, break out the polyester and get ready to rock and roll. The 1970s take over in 2016.
Vinyl | 'Rock & Roll Was Real' Official Trailer (2016) | HBO
Think back to the first time you heard a song that made the hairs on the back of your neck stand up…made you wanna dance or go out and kick somebody's ass. That's what I'm talking about! – Richie Finestra
In Vinyl steht die Bedeutung von Musik im Mittelpunkt von allem – und die Dramaserie zeigt schonungslos, was das Business mit einem machen kann. Der Trailer macht definitiv Lust auf mehr!

via: HBO

-->