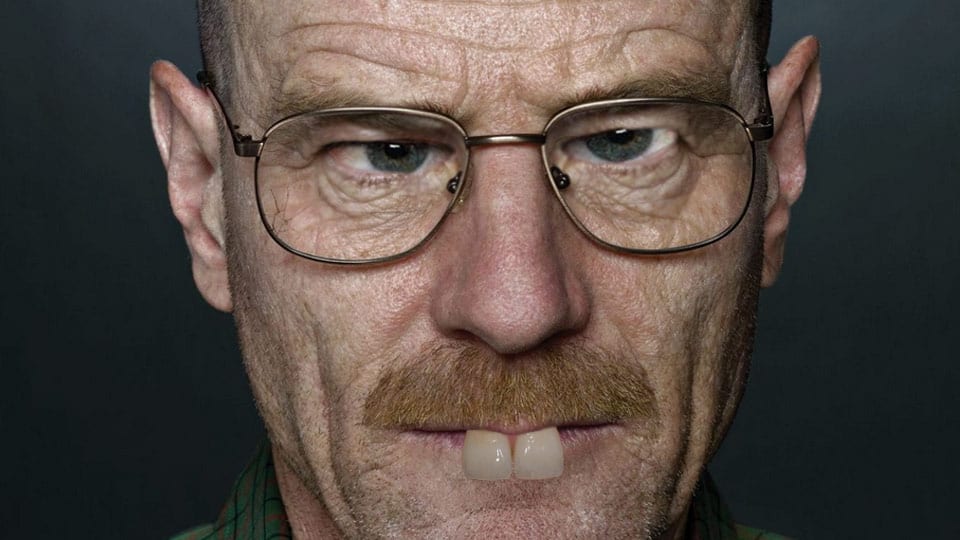 Das goldene Zeitalter der Serien ist auch das Zeitalter der Hypes. Es fing an mit den Sopranos, dann kam The Wire, Breaking Bad, oder Game of Thrones – alles von Kritikern hoch gelobte Serien. Das Problem, man kann diesen Serien kaum entfliehen. Es gibt immer diesen einen Freund oder Freundin, welcher jeder Gelegenheit nutzt auf eine dieser Hype-Serien hin zu weisen. Ihr habt es dann sogar probiert – aber bereits nach wenigen Minuten war klar,  dass diese Serie einfach nichts kann und ihr habt euch gefragt, warum alle diese Serie so abfeiern? Dann ist jetzt eure Chance euren Unmut kund zu tun. Denn wir drehen den Spieß um und wollen wissen, welche der folgenden Serien ist eurer Meinung nach die überbewerteste Serie aller Zeiten.
Breaking Bad
Wüste, Drogen und ein Lehrer mit Nebenjob in der Autoreinigung. Das sind die Bestandteile von Breaking Bad. Ihr habt es Walter White nie abgenommen, dass ausgerechnet er zum Drogenboss aufsteigen konnte? Die Geschichten der Episoden waren eurer Meinung nach an den Haaren herbeigezogen und überhaupt hat euch das ständige "Bitch" von Jessie Pinkman nur genervt?
Game of Thrones
Komplexe Intrigen und imposante Kulissen – davon schwärmen die Fans der Fantasy Serie. Aber ihr könnt und wollt die Starks und Lannisters nicht auseinanderhalten, denn am Ende sind doch eh alle gleich? Euch sind die Drachen herzlich egal, Brüste könnt ihr euch auch in anderen Filmen ansehen und die ständigen Tode der Hauptcharaktere entlocken euch nur ein müdes Gähnen?
The Wire
Eine Serie die auf dem Abhören von Telefon aufgebaut ist. Wow! Dazu hat einfach jeder Charakter ein Problem, sei es mit den Vorgesetzten, der Ex-Frau oder dem Alkohol – sehr innovativ!
Sherlock

Eigentlich hat Sherlock den Fall doch schon eine Sekunde nach dem Start der Episode gelöst. Er weiß einfach alles, man kann ihm nie etwas vor machen – wo liegt da der Spaß diese Serie zu schauen?
Sopranos

Ein Mafiaboss mit psychischen Problemen und die Polizei schafft es einfach nicht ihn in 6 Staffeln zu überführen? Dazu dann immer das gleiche Gezanke mit Frau und Kindern, worum geht es denn nun in der Serie?
House of Cards

Warum bekommt Frank Underwood eigentlich nie einen steifen Nacken vom ständigen umdrehen und in die Kamera schauen?
Seinfeld

In den 9 Staffeln Seinfeld hatte Jerry jede New Yorkerin mindestens zweimal als Freundin. Dazu liefen alle Folgen gleich ab, ein Wutanfall von George, Kramer der den Kühlschrank leer räumt und Elaine, die scheinbar kein eigenes Zuhause hat und deswegen auf dem Sofa angewurzelt sitzt.
Dexter

Nach der ersten Staffel hatte es doch jeder kapiert, warum noch weitere Staffel veröffentlichen, die den Charakter immer weiter aufweichen? Am Ende war Dexter doch nur noch ein kleiner Softie und ein Schatten seiner selbst.
Mad Men

Whiskey, Vodka und Gin. Passiert sonst noch was in Mad Men?
Lost
Wir wollen weg von der Insel. Nein, wir wollen wieder zurück auf die Insel. Nein, wir wollen weg und nach Hause. Nein, wir müssen dringend zurück! (…)
ABSTIMMUNG VORBEI! Hier die Ergebnisse:
(291 Stimmen)
Breaking Bad 29
Game of Thrones 68
The Wire 16
Sherlock 11
Sopranos 14
House of Cards 21
Seinfeld 38
Dexter 25
Mad Men 22
Lost 47
Ergebnisse von letzter Woche
Letzte Woche fragten wir nach euren Serienfavoriten der Comic-Con. Eure Antwort ist eindeutig ausgefallen, ihr freut euch am meisten auf Sherlock!
-->