Ich sehe ja gerade Sons of Anarchy. Ich bin noch nicht allzu weit (Netflix hat ja bis dato nur die ersten vier Staffeln), aber es gefällt mir sehr gut: Verwickelte Story, die besten Antihelden seit Dexter, dramatische Momente, starke Frauenrollen und jede Menge Abs.
Aber vor allem hat SoA diverse gute Schauspielerinnen und Schauspieler. Habt ihr sie alle wiedererkannt? Ich hatte jedenfalls jede Menge Spaß beim Gesichterraten (danke, imdb). Das ist das Schöne an den vielen neuen Serien, auch bereits ausgemusterte Leute können nochmal zeigen, was sie können.
Da ist natürlich zuerst Gemma Teller Morrow (Catherine Louise "Katey" Sagal).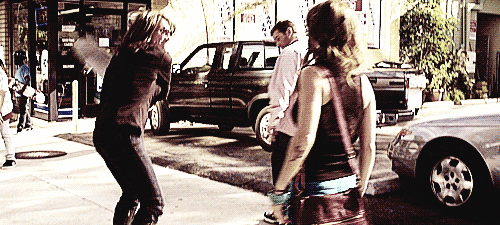 Den älteren unter uns ist sie noc bekannt als Al Bundys Frau aus Married … with Children (dt.: Eine schrecklich nette Familie). Al Bundy alias Ed O'Neill selbst ist ja auch nochmal ganz groß rausgekommen als Jay Pritchett in Modern Family. Wer hätte das gedacht?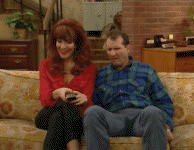 Die Dame, die das Skateboard auf die 12 bekommt ist übrigens Taryn Manning bekannt als Tiffany "Pennsatucky" Doggett aus Orange ist the new Black. In SoA spielt sie Cherry alias Rita, die Freundin des Prospects.
Bei Tara 'Doc' Knowles (Maggie Siff), der Freundin von Jax, musste ich etwas länger nachdenken. Erkannt? Rachel Menken aus Mad Men, die Kaufhaus-Erbin.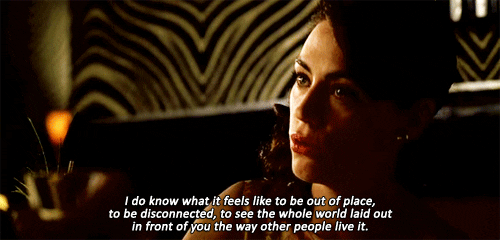 Der Spruch hätte auch aus SoA sein können.
Und dann ist da noch der halbe Cast von Deadwood, der wunderbaren Westernserie. Aber das hat Mitch Bloom hier sehr schön aufgelistet.
Schließlich, keine Ex-Schauspieler, aber auch sehr sehenswert:
Stephen King beseitigt als Cleaner Bachman (in S03.S03, 'Caregiver') ein Schlamassel, das Gemma und Tara angerichtet haben. Der Autor kommt sogar mit seinem eigenen Bike. Hat ihm offenbar gut gefallen wie er hier selber schreibt.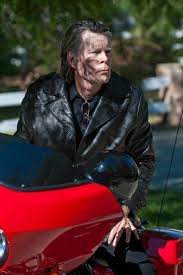 Henry Rollins spielt am Anfang der Serie den fiesen Nazi AJ Weston, rechte Hand und Ausputzer von Zobelle (Adam Arkin aus diversen Serien bekannt).
Dabei ist der ehemalige Sänger der Punk Band Black Flag (natürlich nicht Blag Flag, danke an Uli) (siehe das Tattoo im Nacken) ein sehr netter und ganz und gar nicht rechts eingestellter Mann. Auch, wenn er im wahren Leben nicht so aussieht.