Die Karriere des Kyle MacLachlan ist untrennbar mit Regisseur David Lynch verbunden. "Dune", "Blue Velvet", "Twin Peaks" – seine ersten Rollen waren beinahe immer in Lynch-Produktionen zu finden. Zwischen dem Ende von Staffel 2 von "Twin Peaks" und der Rückkehr 25 Jahre später liegen einige spannende Serienrollen – auf die wir heute in unserer Rubrik "In weiteren Rollen" einmal genauer schauen wollen.
Steckbrief: Kyle MacLachlan
Geboren: 22.02.1959 in Yakima, Washington (USA)
Filmografie: IMDb-Seite
Deutsche Synchronstimme: Torsten Sense in Twin Peaks, Pierre Peters-Arnolds in "Desperate Housewives", "How I met your mother" und "Blue Velvet", Thomas Nero Wolff in "Marvel's Agents of S.H.I.E.L.D.")
Kyle MacLachlan als Agent Cooper in Twin Peaks
1990 hatte Kyle MacLachlan seine erste Berührung mit Serien – und das war gleich ein großer Erfolg: Er spielte den Special Agent Dale Cooper in "Twin Peaks", unter anderem an der Seite von Ray Wise. 30 Folgen lang in 2 Staffeln, dann im Feature Film und dann noch einmal 25 Jahre später in der Fortsetzung. Die Rolle war im Prinzip für ihn genauso geschrieben worden. Seit der Serie wird MacLachlan natürlich immer mit dieser Rolle in Verbindung gebracht. Sein eigener Umgang mit dem Charakter sorgte aber wohl dafür, dass er nicht auf diese Rolle des FBI-Agenten festgelegt worden ist. In verschiedenen Sketchen und Satire-Beiträgen nahm er sich auch schonmal selbst auf den Arm und zeigte durchaus Comedy-Qualitäten – zum Beispiel in einer eigenen Folge von "Saturday Night Live". Auch später blieb er dem Comedy- oder Dramedy-Fach treu.
Dann die große Überraschung: Nicht nur, dass "Twin Peaks" zurückkehrte, und damit auch Kyle MacLachlan selbst; er übernahm auch gleich drei Rollen in der Rückkehr der Serie: Die von Cooper selbst (leider nur ganz zu Anfang und ganz am Ende), dann als sein böser Doppelgänger und zudem als verwirrte Kopie Dougie Jones. Auch hier konnte er wieder sein komödiantisches Talent ausspielen. Dougie kam mitunter sehr komisch rüber, wobei MacLachlan von seiner Theatererfahrung und seiner Vorliebe für Lautmalerei und Stand-up-Comedy profitierte. Mir gefiel die Rolle allerdings nicht so wirklich – deswegen schnell weiter zu den weiteren Serien.
Desperate Housewives: Arzt ohne Arztserie
Bei vielen weiteren Serien tauchte er als Arzt auf – merkwürdiger Zufall. Ab 2000 war er in einer wiederkehrenden Rolle als Dr. Trey MacDougal in "Sex and the City" zu sehen. Ab 2006 gehörte er dann fest zum Ensemble der Serie "Desperate Housewives". Er spielte dort den Zahnarzt Orson Hodge, der – wie alle in der Serie – verschiedene Geheimnisse verbarg. Am Ende von Staffel 2 stieg er ein und blieb zunächst bis 2010. Zum Serienfinale 2012 kehrte er noch einmal in die Wisteria Lane zurück. Und damit kommen wir noch einmal zu seiner Comedy-Vorliebe: In den Staffeln 6, 8 und 9 war er wiederkehrend als "The Captain" in "How I met your mother" zu sehen. Eine große Freude bereitet ihm seit 2011 die Rolle des Bürgermeisters in der Sketch-Comedy Portlandia – ein witziges Format, das ich bislang leider nur teilweise gesehen habe. Steht aber auf meiner To-do-Liste.
Eintritt ins Marvel-Universum
Eine tragende Rolle hatte er dann ab 2014 in "Marvel's Agents of S.H.I.E.L.D." als Calvin Zabo aka – natürlich – "The Doctor". Kurz gesagt, versuchte er mit medizinischen Mitteln, sich so stark zu machen wie es die Inhumans sind. Er hat mir in der Serie ungemein gut gefallen – das wertete die Staffel seinerzeit wirklich auf und gehörte mit zu den besten Leistungen in der Serie. Am Ende der Serie wird der Vater von Quake dann einer Art Gehirnwäsche unterzogen und als einfacher Arzt (klaro!) in die Welt entlassen – Rückkehr nicht ausgeschlossen, hoffe ich.
Noch ein bisschen Privates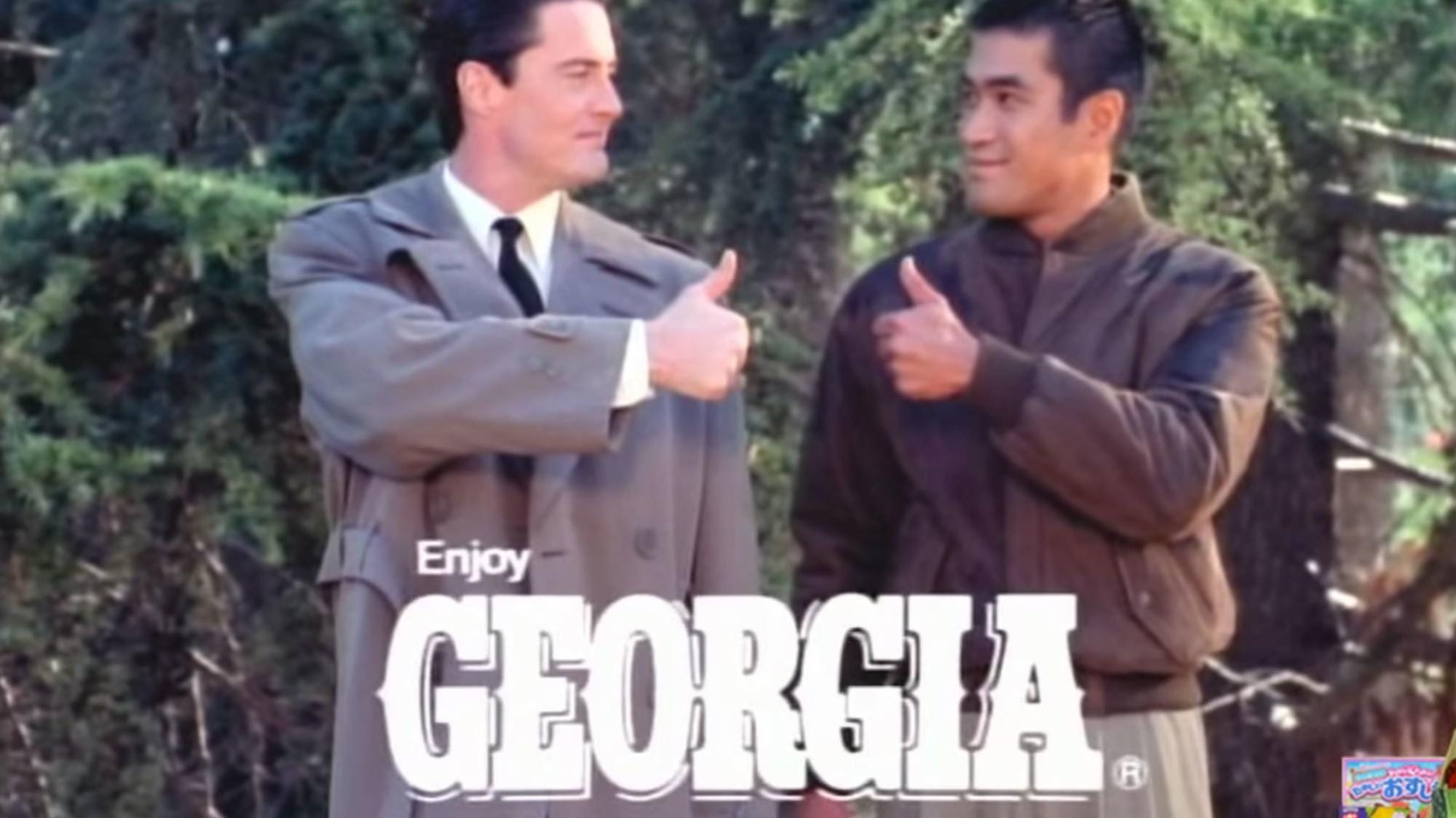 Kyle MacLachlan ist – wie sein Charakter Dale Cooper – absoluter Kaffeefan. Er prägte den Ausspruch "Damn fine coffee" und ist auf seinem Facebook-Profil desöfteren zu sehen, wie er einfach nur eine Tasse Kaffee genießt. Witzig ist auch eine Werbung aus Japan, in der er für den Georgia Coffee Reklame macht – die Clips gibt's hier. Oder Wein, denn er ist auch ein Weinliebhaber mit eigenem Anbaugebiet.

Er war in seinem Leben mit verschiedenen Frauen zusammen, die irgendwie immer auch mit seiner Arbeit zusammenhingen: Laura Dern in den 80ern (mit ihr spielte er in Blue Velvet, und – pikant – 2017 in "Twin Peaks"), Lara Flynn Boyle Anfang der 90er (mit ihr spielte er in "Twin Peaks"), Ende der 90er mit Linda Evangelista (sie traf er bei einem Fotoshooting). Seit 1999 ist er mit seiner heutigen Frau Desirée Gruber zusammen, mit der er einen Sohn hat. Die Familie lebt – je nach aktuellem Drehprojekt – abwechselnd in Los Angeles oder New York; auch nicht schlecht, oder?

An Kyle MacLachlan schätze ich ja wirklich seine enorme Wandlungsfähigkeit. Immer, wenn ich ihn in einer neuen Serie entdeckte, dachte ich zuerst "Ernsthaft?" Aber in allen Serien, ganz gleich ob "Desperate Housewives" oder "Marvel's Agents of S.H.I.E.L.D.", überzeugte er mit großer schauspielerischer Leistung und großer Wandlungsfähigkeit. Ich hoffe, wir bekommen in Zukunft noch mehr davon zu sehen. Aktuell abgedreht ist die CBS-Sitcom "Carol's Second Act" sowie "Atlantic Crossing", eine Historienserie, in der er President Franklin D. Roosevelt spielt.

-->