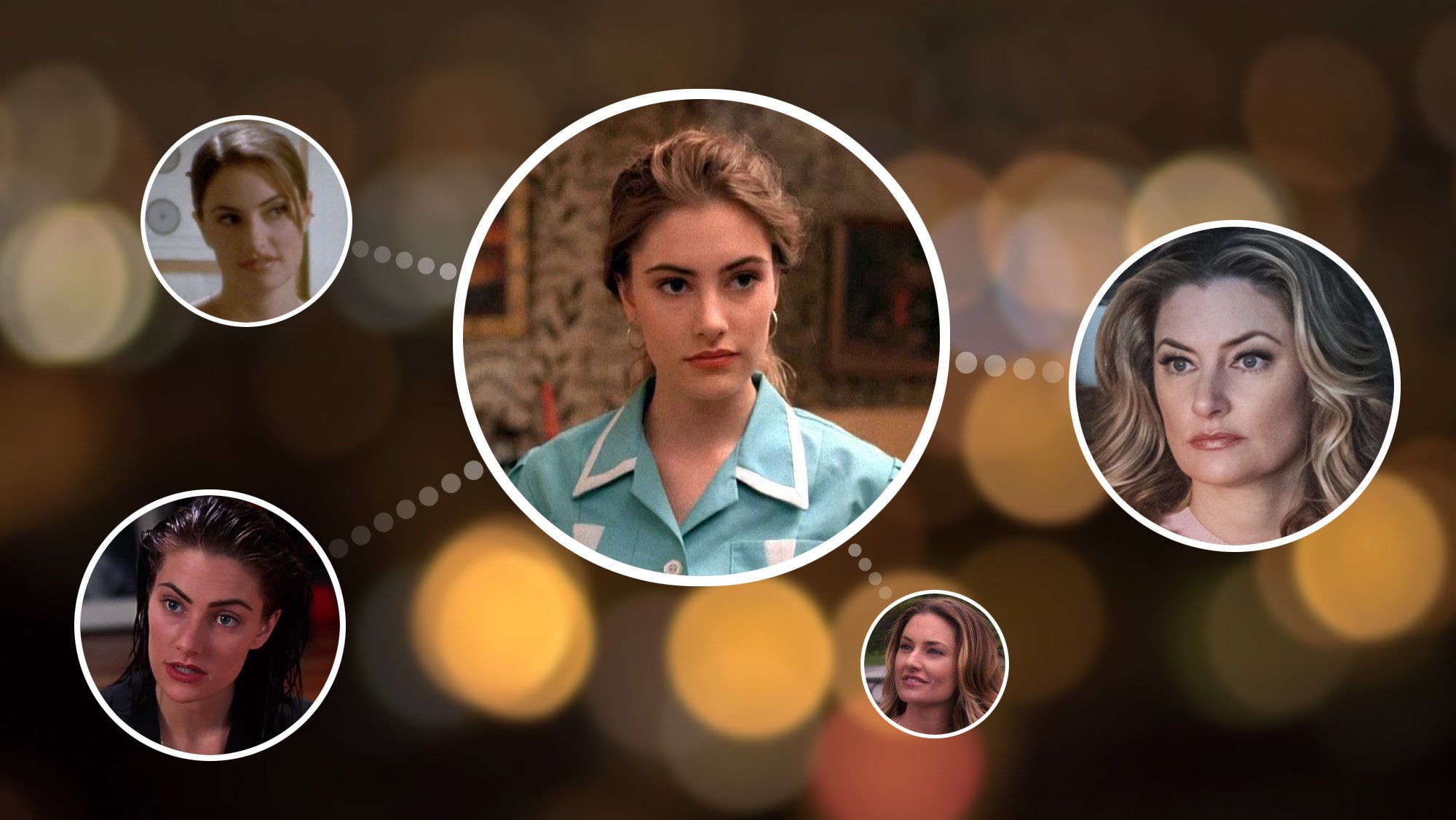 OK, starten wir gleich mit dem Vornamen – ja, Mädchen als Vorname ist ungewöhnlich, vor allem, wenn es sich um eine US-Amerikanerin handelt. Im Fall von Mädchen Amick liegt das daran, dass ihre deutschstämmige Mutter Judy auf keinen Fall einen typischen amerikanischen Vornamen haben wollte für ihr Mädchen. Das war schon die ganze Geschichte. Viel mehr zu erzählen über Mädchen Amick gibt es aber, wenn man auf ihre bisherige Karriere als Schauspielerin blickt. Seit mittlerweile 30 Jahren steht sie erfolgreich vor der Kamera – obwohl sie selbst erst 48 Jahre alt ist. Das hängt wohl auch damit zusammen, dass sie gleich ihre erste größere Rolle in einer DER Fernsehserien überhaupt bekam – in "Twin Peaks".
Der Erfolg war Bürde und Sprungbrett zugleich. So blieben ihr zwar ganz große Kinoproduktionen verwehrt, dafür taucht sie aber in den meisten weiteren wichtigen Produktionen der Seriengeschichte auf – von "Californication" und "Mad Men" über "Dawson's Creek" und "Emergency Room" bis "Gilmore Girls" und "Drop Dead Diva". Zuletzt war sie in der schönen Netflix-Serie "LOVE" und aktuell in "Riverdale" zu sehen. Und es waren auch ein paar Serien dabei, die sie abgesagt hat – und worüber sie sich heute vermutlich noch ärgert – die Hauptrolle in "Sex and the City" zum Beispiel. Über ihre bisherige Karriere spricht sie hier:
Shelly Johnson in Twin Peaks
Es war ihre erste große Rolle 1990 (nach zwei kleinen Nebenrollen in "Star Trek: The Next Generation" und "Baywatch") und machte sie einem internationalen Publikum bekannt: Als bezaubernde Bedienung im "Double R Diner" versuchte sie dem teils brutalen Eheleben zu entkommen. Die eigentlich unscheinbare Shelly führte in "Twin Peaks" allerdings ein Doppelleben – nicht so dramatisch wie Laura Palmer, aber immerhin betrog sie ihren Mann Leo mit dem Highschool-Schüler Bobby Briggs. Im Laufe der Serie wickelte sie FBI Special Agent Gordon Cole um den Finger, gespielt von – David Lynch, der sie für "Twin Peaks" und die Serienwelt entdeckte. Auch im "Twin Peaks"-Film 1992 und in der Fortsetzung 25 Jahre später war sie mit von der Partie.
Sleepwalkers und Dream Lover
Durch "Twin Peaks" wurde die Filmbranche auf Mädchen Amick aufmerksam. Sie spielte die Hauptrolle in dem Stephen King-Film "Sleepwalkers" 1992 und auch in Nicholas Kazans "Dream Lover" 1993 an der Seite von James Spader, der später mit "Boston Legal" und "The Blacklist" durchstartete. Beide Filme waren nicht sonderlich erfolgreich, so dass sich die Filmkarriere erst einmal wieder beruhigte.
Californication – in den Fängen von Hank Moody
Mit David Duchovny stand sie bei "Californication" vor der Kamera. Als Janie Jones geriet sie fast zwangsläufig in die Fänge von Hank Moody. Mit David Duchovny hatte Mädchen Amick übrigens ihre ersten Auditions, noch bevor David Duchovny durch die "X-Files" bekannt wurde. In "Twin Peaks" gehören übrigens beide zum Cast, haben aber keine gemeinsamen Szenen. Parallel zu "Californication" drehte sie einige Folgen für "Gossip Girl".
Der aktuelle Erfolg in Riverdale
Nachdem es ein paar Jahre ruhiger um Mädchen Amick geworden war, startete sie 2017 mit der Hauptrolle in "Riverdale" wieder durch. Sie verkörpert dort Alice Cooper. Der Serie wird immer so ein bisschen mit ihrer ersten Erfolgsserie "Twin Peaks" verglichen. Ich kann da keine Gemeinsamkeiten entdecken, komme aber auch nicht wirklich mit der Serie zurecht, so dass ich recht frühzeitig aufgehört habe, da reinzuschauen.

Zum Abschluss gibt es nochmal Mädchen Amick höchstselbst – wie sie für Entertainment Weekly auf ihre Rollen schaut, und das eine oder andere Mal auch nicht wirklich hinsehen kann. Ja, ein paar schräge Sachen waren schon dabei:

-->