"The Walking Dead" und "Fear the Walking Dead" bilden das The Walking Dead-Universum, ergänzt um ein paar Webserien. Obwohl "Fear the Walking Dead" zeitlich vor der Mutterserie angesiedelt ist, geht die Serie nicht als klassisches Prequel durch, da es nicht etwa die Vorgeschichte von TWD erzählt, sondern eine ganz eigene Handlung. Nur die Ausgangslage – der Ausbruch der Epidemie – ist gleich. Doch zu welchen Zeiten spielen die beiden Serien? Wieviel Zeit vergeht während der einzelnen Staffeln? Und zu welcher Realzeit spielen die Serien? Das haben wir für Euch zusammengefasst in dieser Timeline-Infografik (ZUM VERGRÖSSERN KLICKEN).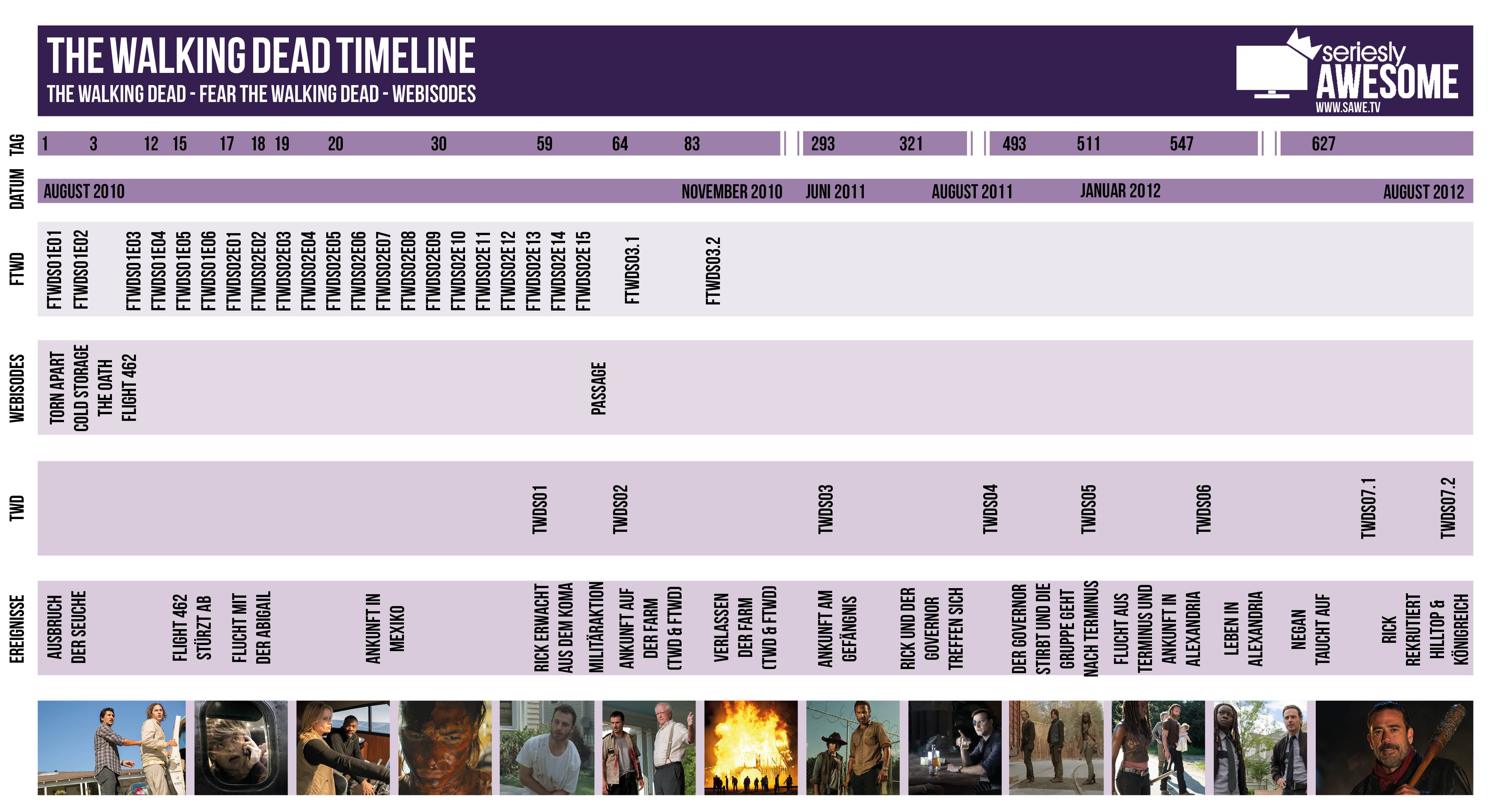 Zunächst einmal kann man festhalten, dass FTWD im Prinzip mit dem Ausbruch beginnt. Und die ersten Folgen gehen handlungstechnisch sehr langsam voran. Erst zur dritten Folge gibt es einen leichten Zeitsprung. In der Mitte der 2. Staffel befinden uns handlungstechnisch ungefähr am 27. Tag seit Ausbruch der Epidemie. Zu diesem Zeitpunkt ist TWD noch nicht einmal angefangen.
Rick erwacht zu Beginn der Serie etwa am 59. Tag seit dem Ausbruch aus dem Koma. Die erste Staffel weist dann telweise ein noch langsameres Tempo auf, einzelne Tage werden über mehr als eine Folge gestreckt. In Staffel 2 wird's etwas schneller, aber erst im Wechsel zur 3. Staffel erfahren wir einen Zeitsprung – um immerhin knapp 200 Tage. Dann geht's wieder kleinschrittig weiter, ehe wir zum Ende der Staffel nochmal einen Zeitsprung erleben. Die Staffeln 4 und 5 sind dann wieder langsam erzählt, nur beim Alltagsleben in Alexandria spulen die Showrunner in Staffel 6 dann nochmal vor. Mit dem Auftritt von Negan befinden wir uns knapp 2 Jahre nach Ausbruch der Epidemie.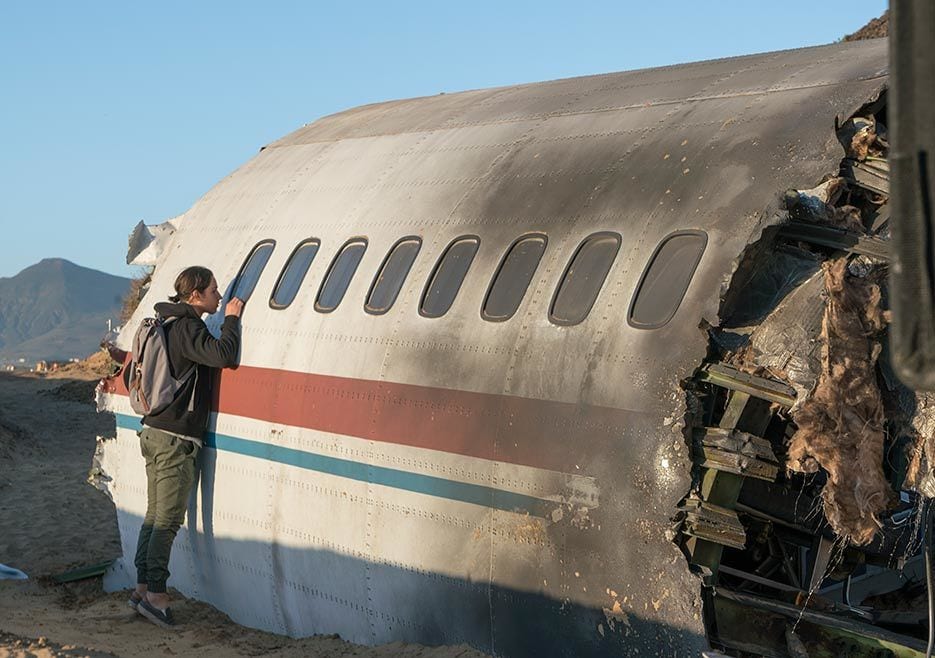 Die verschiedenen Webserien – "Torn Apart", "Cold Storage", "The Oath" und "Flight 462", spielen alle in den ersten Tagen nach dem Ausbruch der Epidemie, weit vor dem Start von TWD. Die Reihenfolge ist im Prinzip beliebig, da die Handlungen von den Hauptserien losgelöst sind, mal abgesehen von "Flight 462" – das Flugzeug ist in FTWD zu sehen, und einer der Passagiere ist in Season 2 von FTWD zu sehen.
Jetzt kann man sich noch fragen, zu welcher Realzeit die Serien eigentlich spielen. Es gibt einige Hinweise in den Serien, speziell in FTWD (über Veranstaltungsplakate, Zeitungen usw. in der Serie), dass der Startpunkt im August 2010 liegen muss. Wenn man das hochrechnet, müssten wir am Ende von Staffel 6 von TWD etwa im Sommer 2012 unterwegs sein.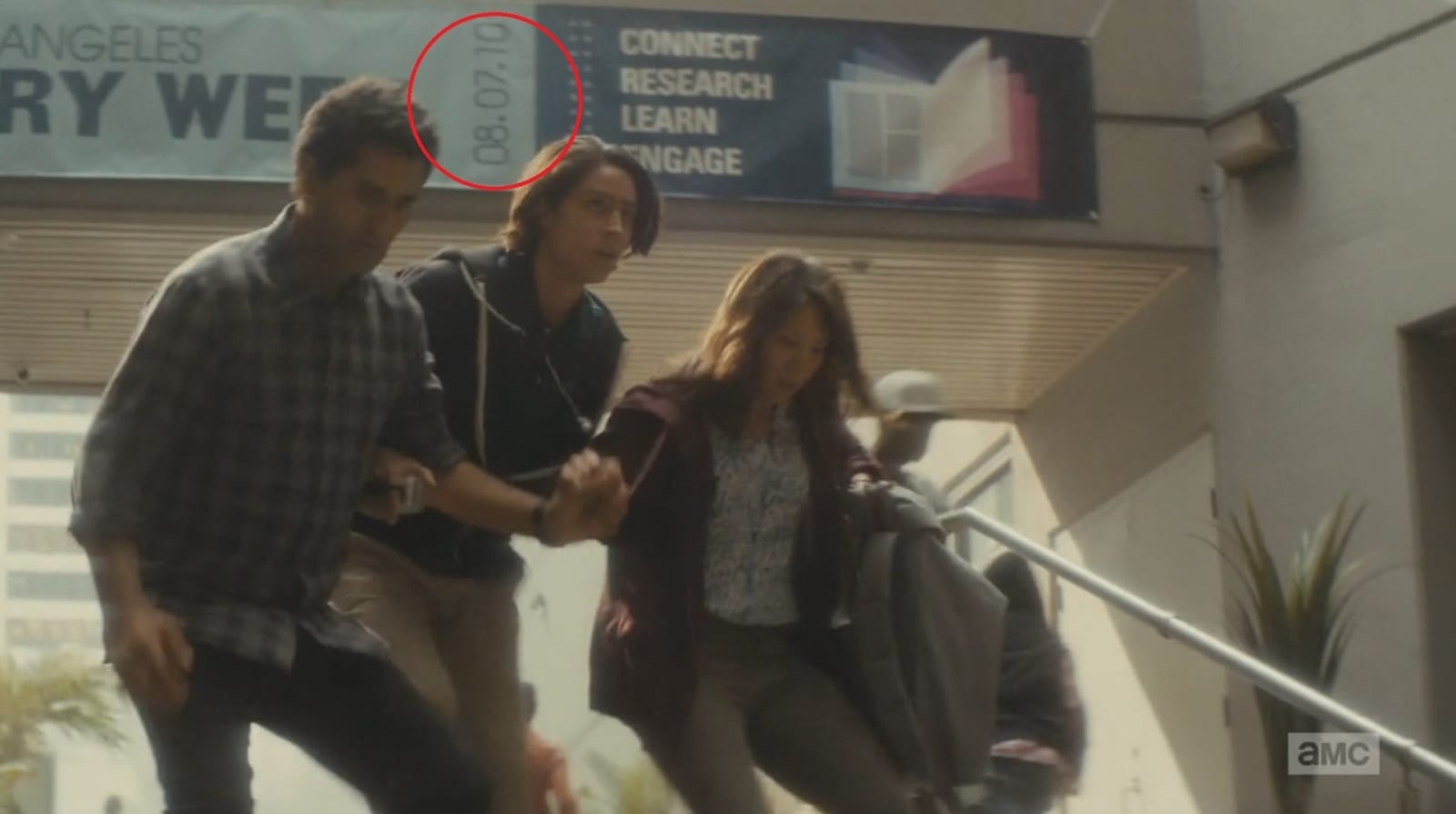 Stellt sich noch die Frage, an welchem Punkt sich die beiden Hauptserien treffen könnten. Dazu müsste FTWD einige Zeitsprünge vollführen. Der erste erfolgte schon zu Mitte der 2. Staffel – nach Auskunft der Produzenten befindet sich FTWD jetzt ungefähr am Punkt, an dem Rick aus dem Koma erwacht und TWD startet. Einem Crossover steht also nichts mehr im Wege.

-->