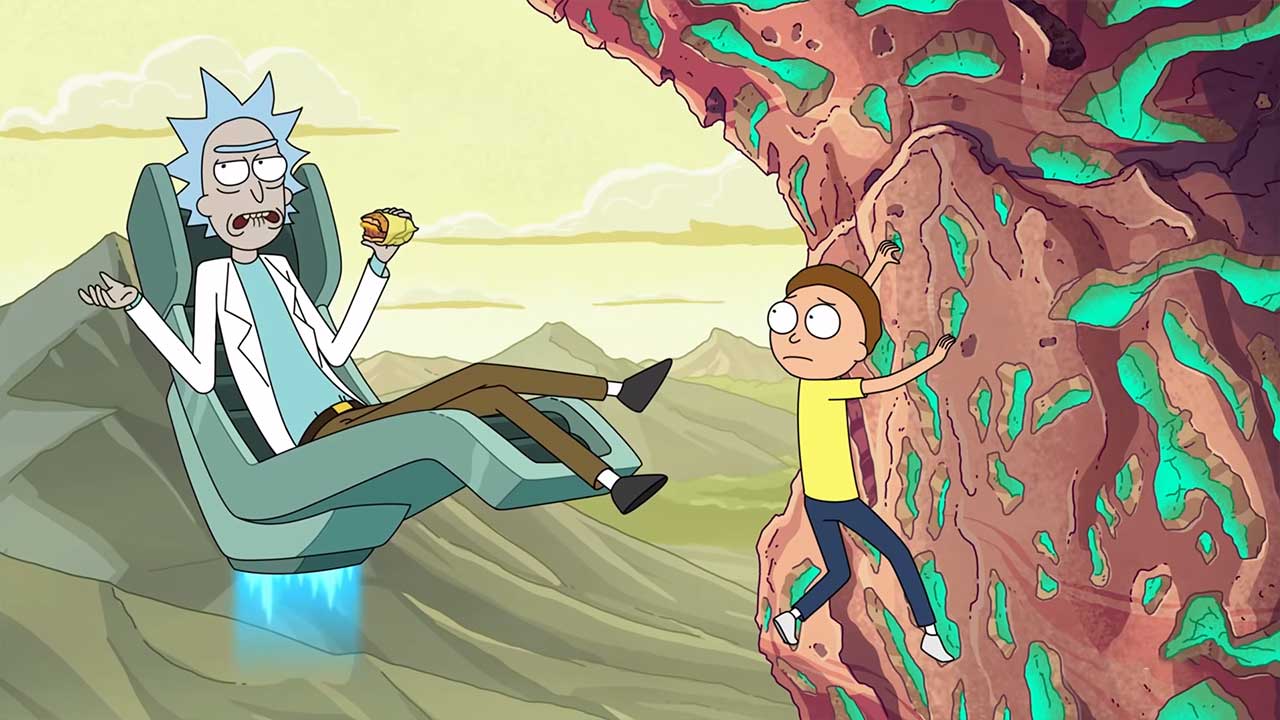 ENDLICH! Über zwei Jahre sind seit dem Finale der 3. Staffel am 1. Oktober 2017 mittlerweile vergangen und wir Fans dürsten nach neuem Stoff. Adult Swim hat nach viel Tam-Tam und bisher lediglich einer ersten Preview-Szene aus der kommenden vierten Staffel "Rick and Morty" nun endlich (vor wenigen Stunden) auch einen ersten richtigen offiziellen Trailer zur Fortsetzung veröffentlicht. Knapp anderthalb Minuten Vorgeschmack zur epischen Musik der französischen Dance-Kombo Justice, allgemein in sehr schnittigem Tempo gehalten. Das schaut mal wieder erfreulich durchgeknallt aus. Oder in anderen, passenden Worten: Ooo-wee!
"Cancel your plans for November 10th at 11:30pm."
Erstmal wird es also lediglich fünf neue Episoden geben ("Half the season you deserve…"), über die Feiertage setzt also eine Midseason-Pause ein. Insgesamt wird die Staffel 10 Episoden beinhalten, obwohl Showrunner und Mit-Serienschöpfer Dan Harmon ursprünglich gerne 14 Folgen untergebracht hätte. Aber wurscht – Hauptsache, es gibt endlich neue Folgen und derer 70 insgesamt sind ja eh gesichert. Also sichert euch eine Portion Szechuan Sauce, binged nochmal fix die ersten drei Staffeln und macht euch bereit für den 10. November!
Für die deutsche Version müssen wir uns leider noch etwas gedulden. Die wird aller Voraussicht nach erst eine Weile nach Ablauf der vierten Staffel in den USA auf Netflix erscheinen. Bis dahin werden wir euch hier im Blog mit den Reviews zu den Einzel-Episoden erfreuen. Und ihr solltet euch unbedingt das Video "You Need A Very High IQ To Understand Rick And Morty" anschauen. Oder andere Inhalte in unserem "Rick and Morty"-Archiv. Hach, ich freu mich schon so! Hoffentlich können die überhohen Erwartungen erneut erfüllt werden. Aber aufgrund der langen Wartezeit bin ich optimistisch, dass man die Zeit genutzt hat, um die Folgen ordentlich aufzupolieren. Wird schon werden. Ach ja, und "Wubba lubba dub dub"!
UPDATE: Hier hat jemand auch bereits den Trailer durch-analysiert und für uns etliche Easter-Eggs aufgeführt und erläutert.