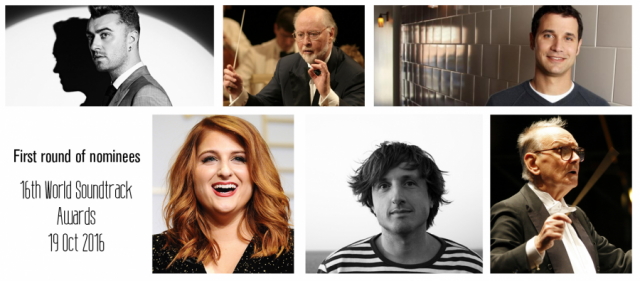 Am 19. und 20. Oktober stehen die World Soundtrack Awards auf dem Programm: Dann trifft sich die Soundtrack-Branche im beschaulichen Gent in Belgien. Wir von sAWE.tv werden natürlich auch vor Ort sein und für Euch berichten. Eine Ankündigung mit den wichtigsten Programmpunkten hatten wir Euch schonmal in einem Special präsentiert. Jetzt stehen die Nominierungen für die Awards fest – eine Liste, die ich gut unterschreiben kann.
In Sachen Serie sind folgende Komponisten nominiert:
Jeff Beal: 'House of Cards'
Sean Callery: 'Bones', 'Elementary', 'Homeland', 'Jessica Jones', 'Minority Report
Ramin Djawadi: 'Game of Thrones', 'Person of Interest', 'The Strain', 'Westworld'
Bear McCreary: 'Agents of S.H.I.E.L.D.', 'Black Sails', 'Battlestar Galactica', 'Da Vinci's Demons', 'Outlander', 'The Walking Dead'
Mac Quayle: 'American Crime Story', 'American Horror Story', 'Mr. Robot'
Wie gesagt – super Liste. Finde eigentlich alle ziemlich gut, von daher dürfte es bei der Auszeichnung keine Enttäuschung geben. Anders als bei den Emmys hat man hier wirklich die meines Erachtens derzeit fünf besten Serien-Komponisten nominiert.
Als Filmkomponisten sind nominiert:
Carter Burwell: 'Anomalisa', 'Hail Caesar!', 'Legend', 'The Family Fang', 'The Finest Hours', 'Carol'
Daniel Pemberton: 'Mal de pierres', 'Steve Jobs', 'The Man from U.N.C.L.E.'
Ennio Morricone: 'En mai fais ce qu'il te plaît', 'La Corrispondenza', 'The Hateful Eight'
John Williams: 'Star Wars: Episode VII: The Force Awakens', 'The BFG'
Thomas Newman: 'Bridge of Spies', 'Finding Dory', 'Spectre'
Auch gute Auswahl, wobei mir hier Oscar-Preisträger Michael Giacchino fehlt.
Als bester Originalsong sind nominiert:
Better When I'm Dancin' from 'The Peanuts Movie' Music & Lyrics by Meghan Trainor & Thaddeus Dixon Performed by Meghan Trainor
Hypnosis from 'Kahlil Gibran's The Prophet' Music & lyrics by Damien Rice Performed by Damien Rice
None of them Are You from 'Anomalisa' Music & lyrics by Carter Burwell & Charlie Kaufman Performed by Tom Noonan
True Love Avenue from: 'Jenny's Wedding' Music & lyrics by Brian Byrne & Kasey Jones Performed by Kristina Train
Writing's On The Wall from 'Spectre' Music & lyrics by Sam Smith & James Napier Performed by Sam Smith