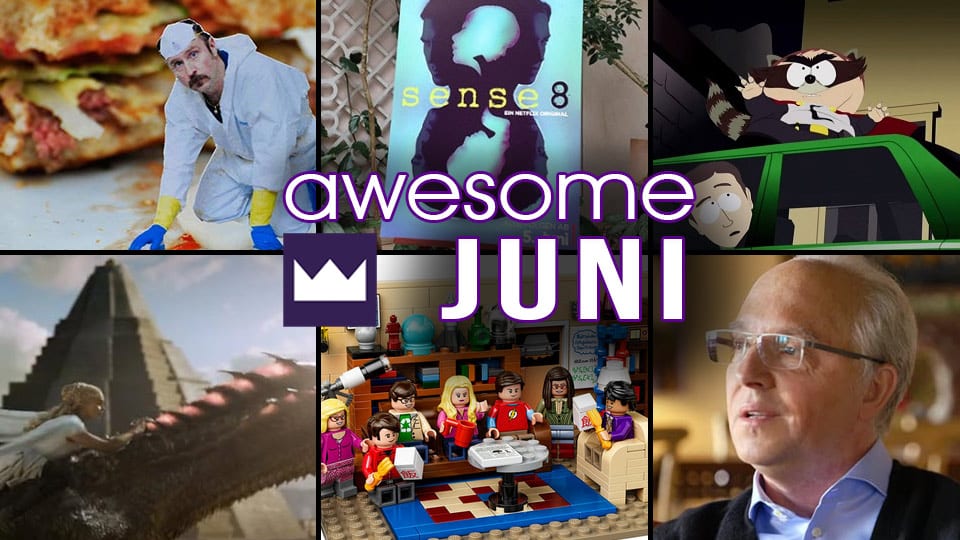 Game of Thrones, Game of Thrones und nochmal Game of Thrones: Ganze drei Episodenreviews haben es in die Top 10 des Monats geschafft, ein neuer Rekord! Aber auch für alle, die mit der Fantasy Serie nichts anfangen können, hat es viele interessante Artikel gegeben. Besonders die Franz Beckenbauer Fake-Doku von Olli Dittrich ist empfehlenswert, sofern ihr die noch nicht gesehen habt.
Das absolute Highlight in diesem Rückblick sind aber erneut die persönlichen Berichte unserer Cast, zu finden unter der Top 10.
Top Artikel im Juni
Der persönliche Serienmonat der serieslyAWESOME Cast:
Maiks Monat
Das Wichtigste Vorab: Ich habe bei Bob's Burgers aufgeschlossen! Jetzt habe ich zwar nichts mehr für meine nächsten Bahnfahrten, aber es hat sich gelohnt. Selbst die Freundin mag es mittlerweile. Zum Tagesgeschäft: Es gab viel Vielversprechendes und einige Enttäuschungen im Juni. Natürlich das Game of Thrones-Finale, das (nehmen wir mal die letzten drei Folgen) dann doch noch einigermaßen zufrieden stellen konnte. Ebenso war der Abschluss zu iZombie sehr unterhaltsam und auch Orphan Black hat noch die Kurve bekommen. Sehr gut unterhalten hat mich Silicon Valley, das aber unbedingt mal mehr Folgen erhalten muss. MUSS! Enttäuschend war dagegen bislang der heiß ersehnte Auftakt zu True Detective und auch Suits… Naja. Suits eben.
Gespannt war ich sehr auf Between, das irgendwo between good and bad anzusiedeln ist, ähnlich gemischt sind meine Gefühle ob der viel zu langatmig insznierten Epos-Serie Sense8. Ne, das war kein Knüller. Gerade bin ich etwas überrascht, dass der erste Sommerloch-Monat doch noch sie viele signifikante Serien-Momente für mich bereit gehalten hat, war wohl doch ein ganz okayer Monat…
Danielas Juni
Ich sag's nicht gern, aber im Juni habe ich arbeitsbedingt so gut wir gar nicht ferngesehen. Eine Staffel Sons of Anarchy (die 3.), aber as war es dann auch schon. Die Serie gefällt mir aber immer besser. Gut, ein bisschen klischeehaft und frauenfeindlich vielleicht, aber 1a Unterhaltung. Ich hoffe, das ich nächsten Monat wieder mehr zu berichten habe.
Kiens Monat
Der Juni war für mich ein Monat voller Vorfreude. Sense8 gefiel mir trotz eines zähen Starts sehr gut, hatte ja anfangs leichte Zweifel. Dann startete ja Falling Skies mit Staffel 5 und Scream mit seinem Piloten, der großzügig von MTV offen für alle bereitgestellt wird. Und: Die Folgen kommen wöchentlich! Hallelujah! Maik, höre ich ein Amen?
Zwischenzeitlich habe ich dann endlich richtig mit OITNB angefangen und bin kürzlich mit der S02 durch. Wärmstens hatte mir dann Jonas noch Im Angesicht des Verbrechens empfohlen. Schöne Serie mit Top-Besetzung – Max Riemelt, Ronald Zehrfeld und die russischen Bad boys: alle knorke! Klare Weiterempfehlung.
Michaels Juni
Ich habe The Blacklist und Stalker diesen Monat abgeschlossen. Mit The Blacklist hatte ich so meine Probleme, aber das Staffelfinale war halbwegs versöhnlich. Stalker hat sich dann ja nicht nur staffelmäßig verabschiedet, sondern auch gleich komplett als Serie. Einerseits schade, weil ich die Verbindung aus Einzelfällen und direkter Betroffenheit der Akteure ganz gut fand, wahrscheinlich hätte es sich aber auch im Laufe einer zweiten Staffel todgelaufen.
Weiter geht's endlich mit Marvel Agents of S.H.I.E.L.D. Bei der ersten Folgen habe ich mich durchaus gut unterhalten gefühlt – mal schauen, wie es weitergeht. Bei Justified hänge ich leider etwas hinterher, finde die finale Staffel aktuell aber sehr gut. Bin schon auf das Finale gespannt.
Jonas Juni
Im Juni hab ich definitiv zu wenige Serien geschaut. Sense8 nur die ersten Folgen, bei Orange Is The New Black Staffel 3 fehlt mir auch noch die Hälfte – nicht besonders vorbildlich als Awesomer. Aber wenigstens mit Wayward Pines bin ich aktuell (übrigens eine sehr geniale Serie) und auch Game of Thrones habe mir aufgezwungen. Nach wie vor bin ich aber unschlüssig, ob ich die Game of Thrones Staffel nun mäßig oder tatsächlich sogar schlecht finde, ich werde in mich gehen und in den nächsten Tagen dazu etwas schreiben.

-->