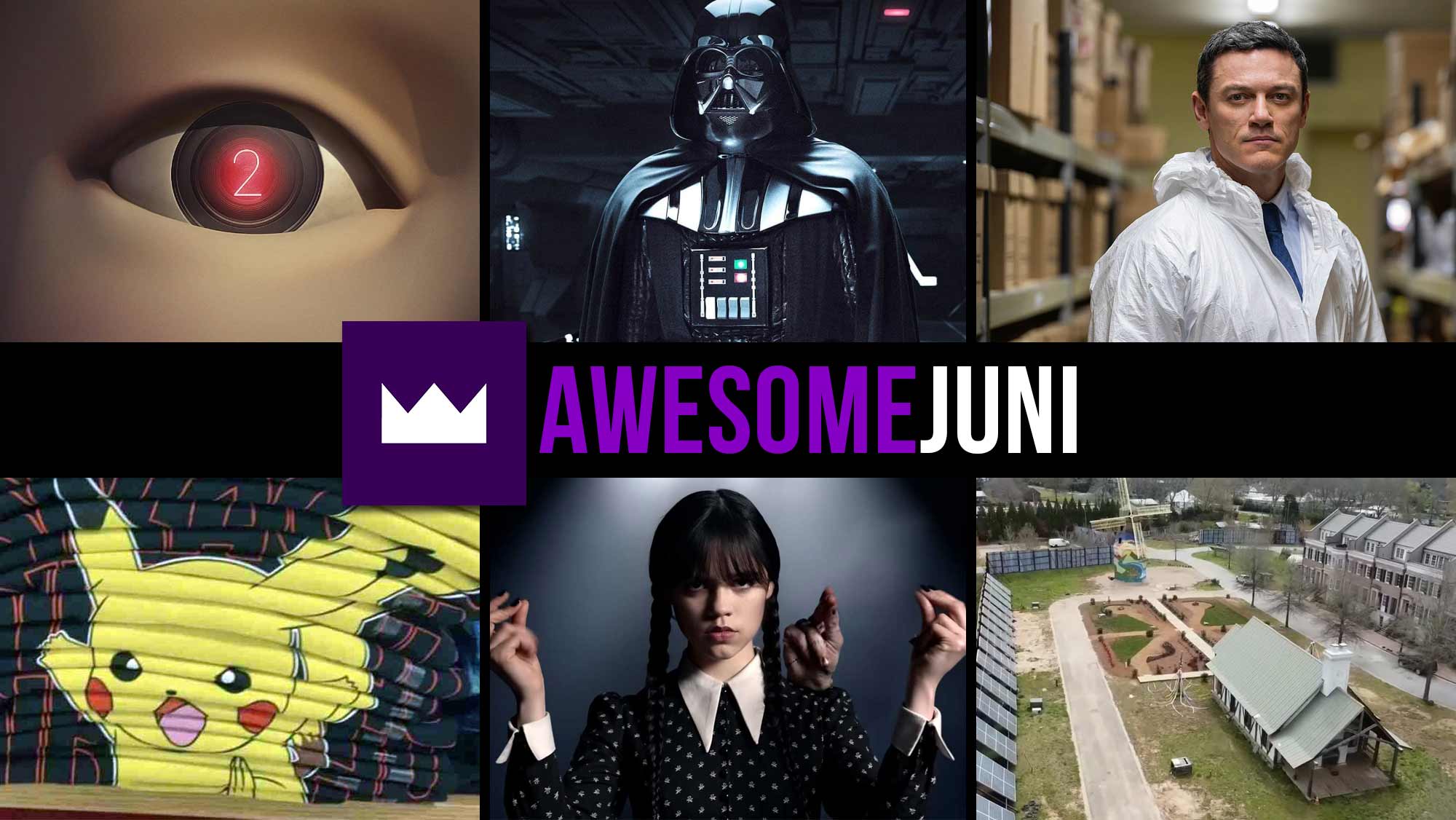 Und schon ist die erste Hälfte des Jahres 2022 vorbei! Wahnsinn, oder? So ein Halbjahreswechsel geht aber auch immer mit einem Monatswechsel einher, weshalb wir wieder unseren seriesly Monatsrückblick mit Blog-internen wie -externen Statistiken zu Serien- und TV-Inhalten sowie den persönlichen Rückblicken einzelner Team-Mitglieder für euch! Da war nämlich eine Menge dabei und trotz der Hitze vom Sommerloch weit und breit nichts zu sehen.
Direkt zu Monatsrückblicken springen
Top Serien-Blog-Artikel des Monats
Top Serien auf WerStreamt.es des Monat
TV-Einschaltquoten des Monats
Harte Fakten. Hier die von der GfK gemessenen Daten für das klassische, lineare Fernsehen und die acht reichweitenstärksten TV-Sender Deutschlands (Quelle: DWDL).
Monatsmarktanteile Fernsehsender
MA ab 3
+/-
Vormonat
+/-
Juni 21
MA 14-49
+/-
Vormonat
+/-
Juni 21
Das Erste
11,0
-0,5
-3,6
6,6
-1,0
-6,3
ZDF
14,2
+0,8
-2,7
6,8
+0,4
-6,1
RTL
7,5
-0,8
+0,9
10,5
-0,3
+1,8
Sat.1
5,1
-0,4
+0,3
6,7
±0
+1,0
ProSieben
3,2
-0,2
-0,1
7,8
-0,6
+0,5
Vox
4,5
-0,5
+0,3
6,7
-0,4
+0,9
RTLzwei
2,9
+0,2
+0,6
4,7
+0,3
+0,7
Kabel Eins
3,3
+0,3
+0,4
4,6
±0
+1,0
Meistgesehene Sendungen je Sender im Monat
| | | |
| --- | --- | --- |
| | Gesamtpublikum | Zielgruppe 14-49 |
| Das Erste | Tatort: Das kalte Haus | Tatort: Das kalte Haus |
| ZDF | Nations League: Deutschland – Italien | heute-journal (Halbzeit-Pause Deutschland – England) |
| RTL | RTL Fußball: Ungarn – Deutschland | RTL Fußball: Ungarn – Deutschland |
| Sat.1 | San Andreas | Pirates of the Caribbean: Salazars Rache |
| ProSieben | Captain Marvel | Suicide Squad |
| Vox | Goodbye Deutschland! Die Auswanderer | Goodbye Deutschland! Die Auswanderer |
| RTLzwei | Olympus has fallen – Die Welt in Gefahr | Bella Italia – Camping auf Deutsch |
| Kabel Eins | Jäger des verlorenen Schatzes | Indiana Jones und der letzte Kreuzzug |
seriesly MONATSRÜCKBLICKE
Abschließend gibt es noch die subjektiven Monats-Rückblicke aus unserem Autor:innenteam. Jede:r führt persönliche Highlights auf und schenkt euch einen Einblick in die eigene Watchlist.
Fabios Monat
Die anhaltende Hitzewelle hat zumindest bei mir zu einer deutlichen Bewegungsreduzierung geführt, sodass ich einige Abende mit einem auf Hochtouren rotierendem Ventilator vor dem Fernseher verbracht habe. Wie gut, dass es zahlreiche gute Serien gerade gibt, die zu unterhalten wissen. Ich komm kaum noch hinterher, weshalb ich mich auch kurz fasse, denn das "The Umbrella Academy"-Finale wartet auf mich.
Habe ich gesehen
Maiks Monat
Die Hitze hat mir und meinem Kreislauf zwar auch ordentlich zu schaffen gemacht, vor allem war da aber leider mein Debüt, was eine Covid-Erkrankung anbelangt. Einzig positiver Nebeneffekt der Isolation: Viel Zeit, um Serien aufzuholen (und im Nachgang auch Reviews hier darüber zu schreiben). Zu mehr war ich eine ganze Zeit lang eh nicht fähig… Die Krankheit kann ich niemandem weiter empfehlen und irgendwann ist man es auch leid, im Bett oder auf dem Sofa zu liegen und die X. Folge zu schauen, aber immerhin gibt es heutzutage genug Futter, um so einen Zeitraum zu überbrücken. Gab ja auch ein paar richtige Highlights diesen Monat, neben "The Boys" und "Obi-Wan Kenobi" hatte ich mich vor allem auf den Start der neuen "Westworld"-Staffel gefreut. Nur den Auftakt zur 2. Staffel "Only Murders in the Building" muss ich im Juli noch unbedingt nachholen! Ach ja, und einen interessanten Rewatch hatte ich auch noch…
Habe ich gesehen
Michaels Monat
Mein Serienmonat stand natürlich im Zeichen von Obi-Wan Kenobi – ich habe zu jeder Folge ein Review verfasst, und insbesondere Folge 5 wurde sowohl hier als auch in unserer Facebook-Gruppe zu Disney+ kontrovers diskutiert. Insgesamt hat's mit nicht so abgeholt wie zum Beispiel "The Mandalorian". Ansonsten habe ich auf Sky "The Righteous Gemstones" entdeckt und hatte großen Spaß dabei. Definitiv eine Serienempfehlung, werde ich auch noch entsprechend nachreichen. An den durchlaufenden Standards habe ich "The Good Doctor" Staffel 5 abgeschlossen, außerdem bin ich mit "Stranger Things" Staffel 4 angefangen und mühe mich da so durch – nicht, dass es schlecht wäre, aber diese langen Folgen sind irgendwie nichts für mich.
Habe ich gesehen
Kiras Monat
Der Juni und Juli stehen bei mir ganz im Zeichen des Reisens – eine kleine Auszeit von allem. Doch neben der Erkundung neuer Städte und Länder gab es auch ein paar Tage in den heimischen vier Wänden, in denen dann doch die eine oder andere Serie über den Bildschirm flimmerte. Waren tatsächlich gar nicht so wenige… Aber was ist denn auch schon ein Leben ohne Serien?
Habe ich gesehen
-->