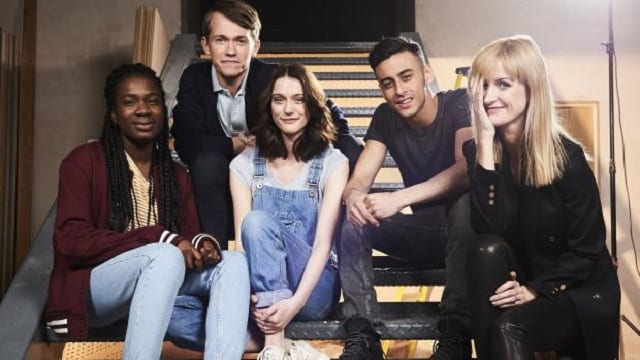 Vor ungefähr einem Jahr wurde durch die BBC bekannt gegeben, dass es mal wieder einen Spin-Off Versuch zur "Doctor Who" Reihe geben soll. Neben "Torchwood" und "The Sarah Jane Adventures" bekommen wir dieses Jahr ein neues Spin-Off mit dem bezaubernden Titel "Class" zu Gesicht. Und dieses "in 2017" kann man terminlich sogar schon recht klar einordnen: in diesem Oktober geht's los.
Worum geht's?
Was man nach einem Jahr immer noch nicht so richtig beantworten kann, ist die Frage, worum es in diesem Spin-Off überhaupt gehen soll. Da sagt die BBC seit 12 Monaten genau dies:
"Incredible dangers are breaking through the walls of time and space, and with darkness coming, London is unprotected. With all the action, heart and adrenalin of the best YA fiction (Buffy, Hunger Games), this is Coal Hill School and Doctor Who like you've never seen it before."
Okay, das ist mal wirklich erhellend. Oder? Ok, die Whovians unter Euch dürften schon etwas mit der Coal Hill School anfangen können – diese Schule kommt in der Serie immer mal wieder an prominenter Stelle vor – ansonsten scheint das Spin-Off noch recht Doctor Who frei zu sein, zumindest in seiner Prämisse. Die Synopsis liest sich für mich eher wie der Beginn eines neuen Harry Potter Buches. Oder?
Cast
Was man dagegen weiß, ist, dass wir zunächst acht 45 minütige Folgen bei BBC One serviert bekommen. Und den Cast kennen wir auch schon, wobei bis auf Katherine Kelly (Mr Selfridge, The Guilty, Happy Valley, The Night Manager) kenne ich da niemanden. Ich vermute, Euch wird es ähnlich gehen.
Meet the Cast of Class in 360° | EXCLUSIVE
Die Frage, die ja wie ein Dalek im Raume schwebt, ist, wird es zu einem Auftritt von Peter Capaldi als amtierenden Doctor Who im Spin-Off kommen? Hier weiß man natürlich auch noch nichts konkretes, aber es wurde eine TARDIS bei den Dreharbeiten zu "Class" gesichtet. Ich würde das mal ein ermutigendes "Ja interpretieren. Eine TARDIS ohne Doctor – wie soll das denn funktionieren? Oder gibt es nicht nur eine TARDIS?
"Like all sixth formers, these four Coal Hill School students have hidden secrets and desires. They are facing their own worst fears, navigating a life of friends, parents, school work, sex, sorrow – and possibly the end of existence."
Moffat?
Der Autor der Serie hört zwar nicht auf den Namen Steven Moffat, aber Moffat ist als Executive Producer mit an Bord. Das werden nun einige Moffat-Hater uncool finden aber wie gesagt, der Autor der Serie ist ein Mann namens Patrick Ness, für den "Class" auch die erste Fernsehserie darstellen wird. Wie eben für die meisten seiner Schauspieler.
Noch etwas?
Und ob! Die BBC hat heute ein erstes Bild zur Serie veröffentlicht. Wow! How cool is that? Wir sehen dort Katherine Kelly, die eine Lehrerin spielen wird, und Sophie Hopkins mit einer Waffe in der Hand. Einer sehr futuristischen Waffe. Und auf das, worauf Hopkins zielt, scheint beiden recht viel Angst zu machen.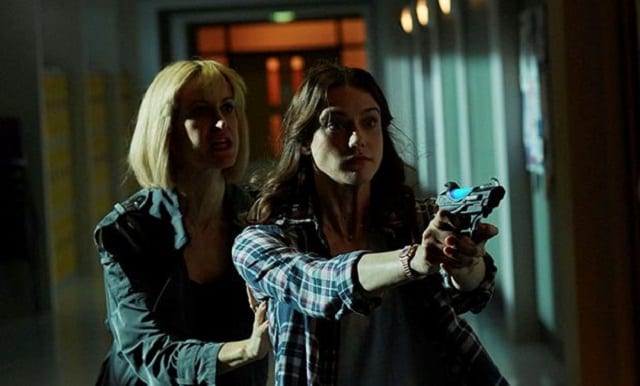 Werdet Ihr euch den Spin-Off gönnen? Also für mich als Not-Whovian ist das mal wieder eine kleine Chance ein wenig in das Doctor Who Universum einzutauchen ohne den "Ballast" der bisherigen Staffeln tragen zu müssen. Ich habe mir daher vorgenommen, den Auftakt im Oktober definitiv anzuschauen.

Bilder: BBC

-->