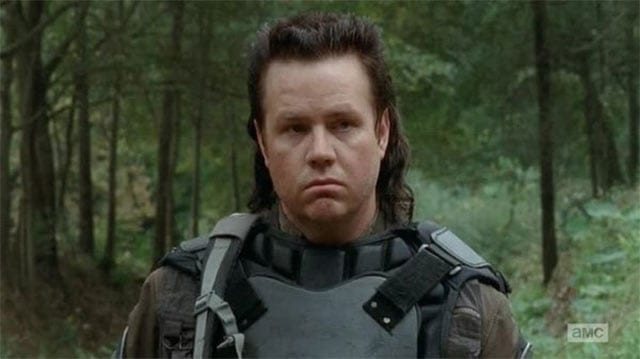 So langsam geht es in Richtung Staffelfinale. Nach der hervorragenden letzten Episode hat diese vorletzte Folge der Staffel noch einmal mehrere Handlungsstränge/Personengruppe behandelt. Dabei scheint nicht wenig überraschend alles zusammen zu laufen.
"You can not say for certain, it isn't what killed of the dinosaurs." (Eugene)
Nachdem wir immer wieder kleine Hinweise gezeigt bekommen haben, dass Charaktere an Orten vorbei laufen, die bereits von anderen Gruppen besucht worden waren, sehen sie nun sogar aktiv welche und wissen so, dass andere Überlebende des Gefängnis-Desasters in der Gegend zu sein scheinen: Glenn entdeckt die erste Nachricht von Maggie, Sasha und Bob. Alle sind sie weiterhin auf der Suche nach dem hoffnungsvollen Terminus – doch aus unterschiedlichen Gründen. Dabei fällt mehr und mehr auf, wie genial die Truppe um Heilsbringer Eugene gecastet worden ist (wenn man die Comicvorlage zur Hand nimmt).
Michonne erweist sich weiterhin als wichtig für Carls Kindsein (oder auch er für ihr Muttersein?), Rick kann schon wieder Spaßverderber sein. Daryl muss in seiner neuen Gruppe klar kommen und Meggie und Co. finden tatsächlich zusammen. Und Terminus. Und auch wenn der Ort noch bei Weitem nicht das (auf den ersten Blick) zu sein scheint, was sich alle erhofft haben (oder was etwas später in den Comics als anderer Ort kommt), scheint es zumindest nicht verlassen zu sein. Auch wenn die Situation arg komisch anmutet, zumal man recht einfach herein kommt, wie es scheint. Bleibt abzuwarten, ob das wirklich der gesuchte Ort zum Ausruhen und Verweilen ist.
Meine Meinung:
Merklich eine Brückenfolge. Ja, die Wiedervereinigung von Glenn und Maggie hatte natürlich was und auch das Geplänkel um Daryl, aber irgendwie war das zu viel Klein-Klein und merklich eine Episode, um ein wenig Zug in Richtung finaler Destination zu schaffen. Alle Wege führen nach Terminus? Das wird das Finale zeigen.