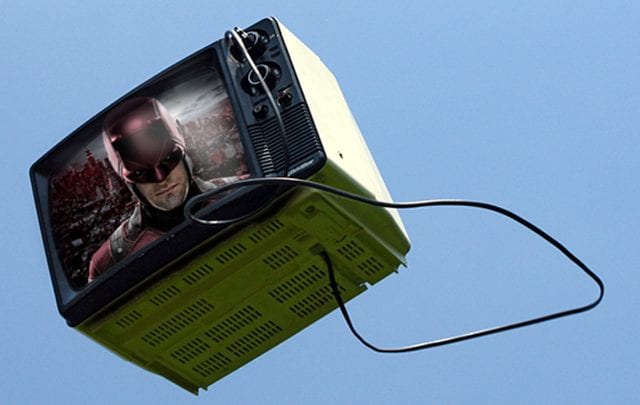 Dieses Wochenende war sAWE-Redaktionstreffen in Hamburg – wir sind zwar nicht wirklich zum Serienschauen gekommen, haben dafür aber ganz viele neue Sachen ausgeheckt, die wir Euch in den nächsten Tagen und Wochen präsentieren werden. Wir freuen uns schon! :-)
So, jetzt aber gleich rein in die neue Woche. Ich hab's dieses Mal wieder nicht Tag für Tag sortiert, weil an einigen Tagen wirklich nichts Spannendes auf dem Programm steht. Ich gebe Euch stattdessen eine Übersicht, bei welchen der großen Anbieter diese Woche was Gutes zu erwarten ist, also bei Sky, Amazon, Netflix & Co. sowie im klassischen TV.
Sky
Bei Sky steht natürlich House of Cards im Mittelpunkt. Hier geht Frank Underwoods Wahlkampf am kommenden Freitag, 18. März, ab 21 Uhr in die nächste Runde. Hab' schonmal reingeschaut – eine ziemlich starke Folge des Netflix-Originals, das bei Sky läuft. Moment, warum jetzt auf Sky? Darum! Hab's gerade gesehen: Die neuen Folgen kann man auch immer schon direkt auf Amazon kaufen – war das bei den letzten Staffeln auch schon so?
The Mysteries of Laura Season 2 Promo (HD)
Ich muss weiter dafür werben: Auf Sat.1 Emotions läuft weiterhin Mysteries of Laura in der deutschen TV-Premiere. Ich mag die Serie weiterhin, obwohl sie bislang deutlich schwächer daher kommt als in Staffel 1. Am Dienstag, 15. März, ab 20.15 Uhr geht's weiter.
Weiterhin zu empfehlen ist natürlich die Serie Vinyl, die auf Sky Deutschlandpremiere feiert, wenn auch noch in der Originalfassung.
Amazon
Auf Amazon Prime ist Mad Dogs freigeschaltet worden. Basierend auf der gleichnamigen erfolgreichen britischen Serie dreht sich alles um das Wiedersehen einer Gruppe erfolgloser Mittvierziger. Während sie den Vorruhestand eines alten Freundes in seiner Villa in Belize feiern, kommen Neid und Geheimnisse zum Vorschein. Allmählich wird die Reise zu einem Mix aus Lügen, Täuschung und Mord. Wir haben auf unserem sAWE-Treffen schonmal reingeschaut – könnte etwas werden.
Ansonsten habe ich wie gesagt gesehen, dass man auf Amazon direkt auch schon die neuen House of Cards-Folgen bekommen kann – gegen Geld pro Folge allerdings. Das gilt auch für Better Call Saul, womit wir bei Netflix wären.
Netflix
Dort ist Better Call Saul im Abo enthalten, jede Woche gibt's eine neue Folge – die Jonas wöchentlich mit Reviews begleitet. Wenn ich ihn richtig verstehe, ist es wieder sehr lohnenswert. Ich muss irgendwann auch nochmal mit der Serie anfangen. Muss ich dafür vorher eigentlich Breaking Bad gesehen haben?
Ansonsten läuft ja noch Love auf Netflix. Da stecke ich gerade mittendrin, in Folge 3 oder 4 oder so. Sehr behäbig bis hier hin, Kien meint aber, ich solle durchhalten und der Serie eine Chance geben – wird gemacht!
Von meinem Versuch, Jessica Jones durchzuschauen, hatte ich ja beim letzten Mal schon berichtet. ich stecke immer noch fest – gleiches Problem wie bei Love. Aber ich gebe mir Mühe.
Für Fans des Marvel Cinematic Universe ist diese Woche natürlich eine ganz besondere Woche: Die 2. Staffel von Daredevil startet am Freitag, 18. März, auf Netflix. Auch hier fehlt mir noch die erste Staffel – unser Gastautor Peter hat aber schon versprochen, Euch wie bei Jessica Jones ein Staffel-Review zu liefern.
Im TV
Heute gibt's das Finale von Akte X auf ProSieben, ab 21.10 Uhr, leider mit der sehr schlechten deutschen Synchronisation. Mir fällt's echt so schwer, das zu schauen, mit der geänderten Stimme von David Duchovny. Eine Stunde vorher feiert die 11. Folge der neunten Staffel von The Big Bang Theory ihre Premiere – ebenfalls bei ProSieben.

Dienstag gibt's zur Primetime die neueste Folge von The Simpsons, hier sind wir in Staffel 26. Ab 22:10 Uhr gibt's das Midseason-Finale von The Blacklist auf RTL – ich hatte die Folgen schon bei RTL Crime geschaut, hier kommt mein Review. Auf ProSieben gibt's parallel um 22.55 Uhr die Deutschlandpremiere der zweiten Folge von Supergirl.

The Vampire Diaries - Season 7 - Official Trailer [HD]

Donnerstag startet um 20.15 Uhr die mittlerweile siebte Staffel von Vampire Diaries auf Sixx. Ich habe das glaube ich seit sechs Staffeln nicht mehr verfolgt – guckt das noch wer?

Tja, und Sonntag gibt's dann natürlich die Lindenstraße, die ich hier immer wieder anpreise. 18.50 Uhr geht's weiter, wie fast immer.

Das war's. Fehlt was? Dann gleich Info in die Kommentare.

-->