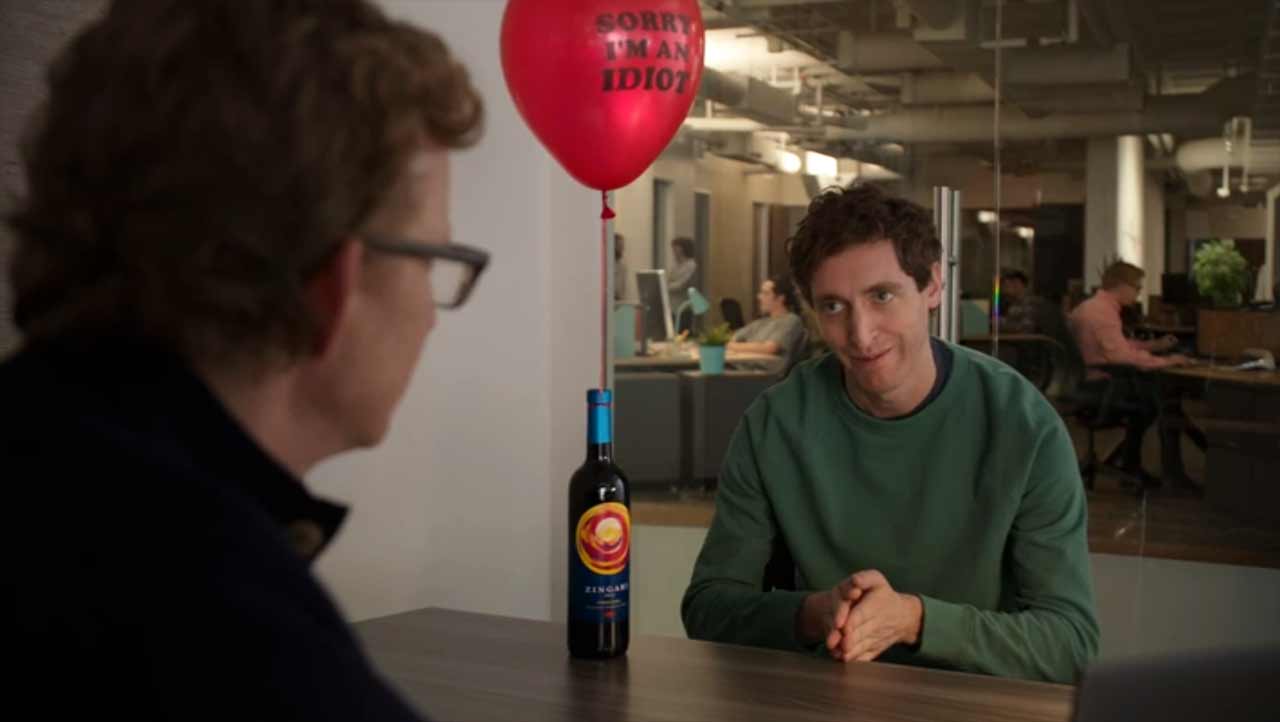 Der Glaube in HBO und "Silicon Valley" ist groß und unsere Gebete wurden erhört, denn diese Woche gab es eine sehr feine Folge zu sehen. Das beginnt bereits beim ultra-sensiblen High Tech-Treffen im Außenbereich eines Seniorenstiftes und den konkreter werdenden Entwicklungen um das "neue Internet". Das soll fortan "PiperNet" heißen, die achte gesammelten Avengers lieber nicht "OctoPipers". Ein erstes Beta-Feature scheint per P2P-Netzwerk zu funktionieren – und selbst der Maulwurf von vergangener Woche wurde gefunden, was selbst Gilfoyle ein "Grinsen" abverlangt.
"You know, who else is psyched? I give you a hint: they have four thumbs and they are these two guys!" (Jared)
Dabei ist die Geschwindigkeit des Auf-die-Schliche-Kommens erfreulich realistisch geraten, die Umstände (Durchsuchen der Angestellten-Mails) könnten aber noch zum Bumerang werden. Ich hoffe jedenfalls, dass man Jeff gar noch zum Doppelagenten rekrutiert und ihn nicht nur stumm dasitzen lässt wie bisher.
"Whatever you are doing – stop it now!" (Laurie)
Der beste Dreh erfolgt jedoch, als dem Zuschauer zunächst weißgemacht wird, der potenzielle neue Partner K-Hole könnte intolerant gegenüber Homosexuellen sein. Aber nein – Religion ist das Problem. Ein "Glaubens-Outing", das gekonnt auf der Schwelle zwischen Analogie und Realsatire wandelt. Heutzutage ist Religion ja durchaus ein kontroverses und nicht mehr ganz so ernst genommenes Thema (zum Glück, aber jedem das Seine/Ihre). Der einzige kleine Stolperstein bei dieser ansonsten feinen Geschichte ist, dass für diesen Überraschungseffekt die Logik fallen musste, dass anscheinend JEDER im Silicon Valley davon Bescheid weiß, der dort seit Jahren ansässige Richard jedoch nicht.
"My dad says my lifestyle makes him sick. He just wants his gay son back." (DeeDee)
Details gleichen das aber wieder aus. So wie die flehende Geste bei den Worten "Don't be a christian", die wie zum Beten zusammengefaltete Hände aussieht. Oder der schöne kleine Oberflächlichkeits-Heuchel-Hinweis, der binnen eines Zitates zeigt, wie schnell die Klientel dort doch zwischen den Modi "Hinter deinem Rücken" und "ins Gesicht sagen" wechseln können:
"What? No! Fuck that guy! Hey, man, how's it goin'?" (K-Hole)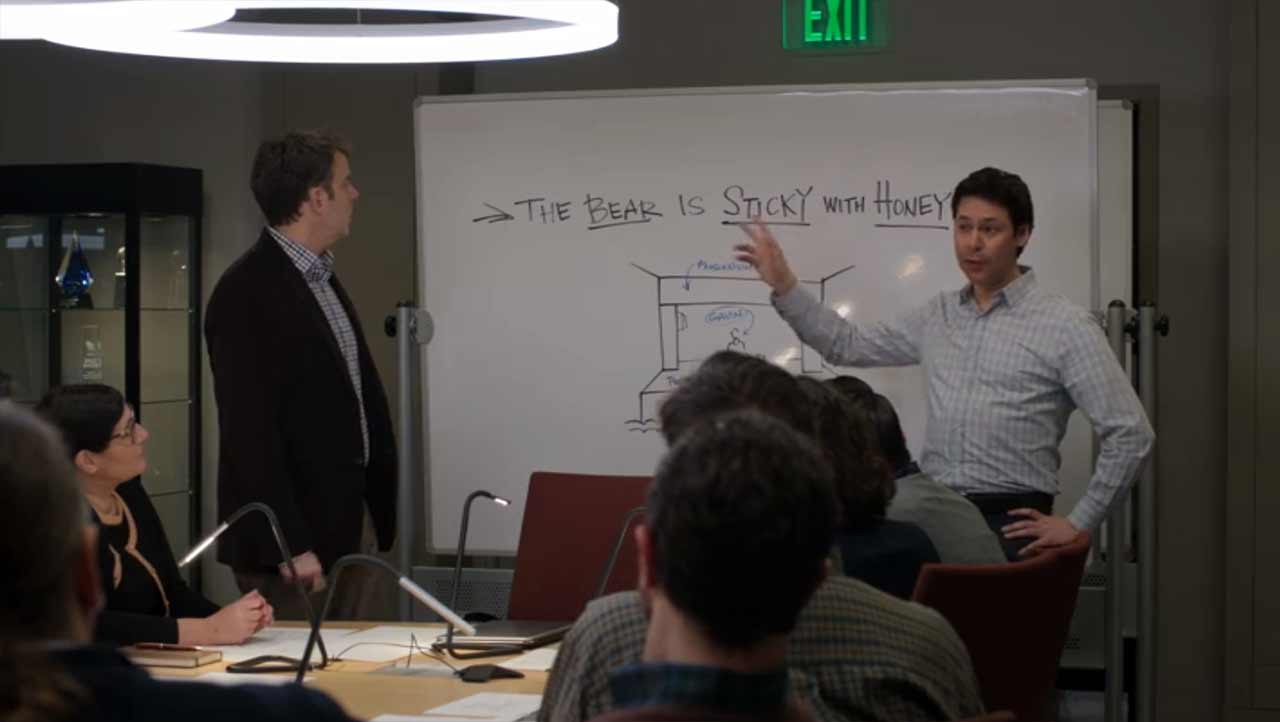 Eine leider viel zu kurze Dauer wird das Thema Religion gar auf den eigentlich sonst nichtigen Nebenstrang der Konkurrenz angewandt. Die Gavin Belson-Aussage "The bear is sticky with honey" wird auf gleich mehrere Goldwaagen gelegt und führt zur Interpretation "des Wortes von Gavin". Das fühlt sich dann ein bisschen wie im Deutsch-Unterricht an, in dem Dichtern Dinge angedichtet werden, die sie mit ihren Gedichten vermutlich nie gemeint hatten.
Klar in seinen Äußerungen ist Jian Yang, der dennoch für ordentlich Chaos sorgt (im Leben wie auf Mailboxes).
"Taking existing companies and calling them 'new', that's not sophisticated – that's theft." – "You make a new internet." (Richard & Jian Yang)
Es beginnt ein recht gelungenes Auf und Ab der Gefühle, denn einigermaßen glaubhaft wird gezeigt, dass Big Head (jaaaaa, er lebt noch!) mal wieder auf charismatische und rettende Art verkackt hat. Doch so schnell sich das Blatt dreht, wird es auch schon wieder erneut gewendet, denn Jian Yang macht den Abflug und in China ein "new new Internet". Die Erläuterung, wie er (vermeintlich) an den Code gekommen sein soll, wirkt zwar (noch) hanebüchen, aber das sollte Schwung in die Geschichte bringen.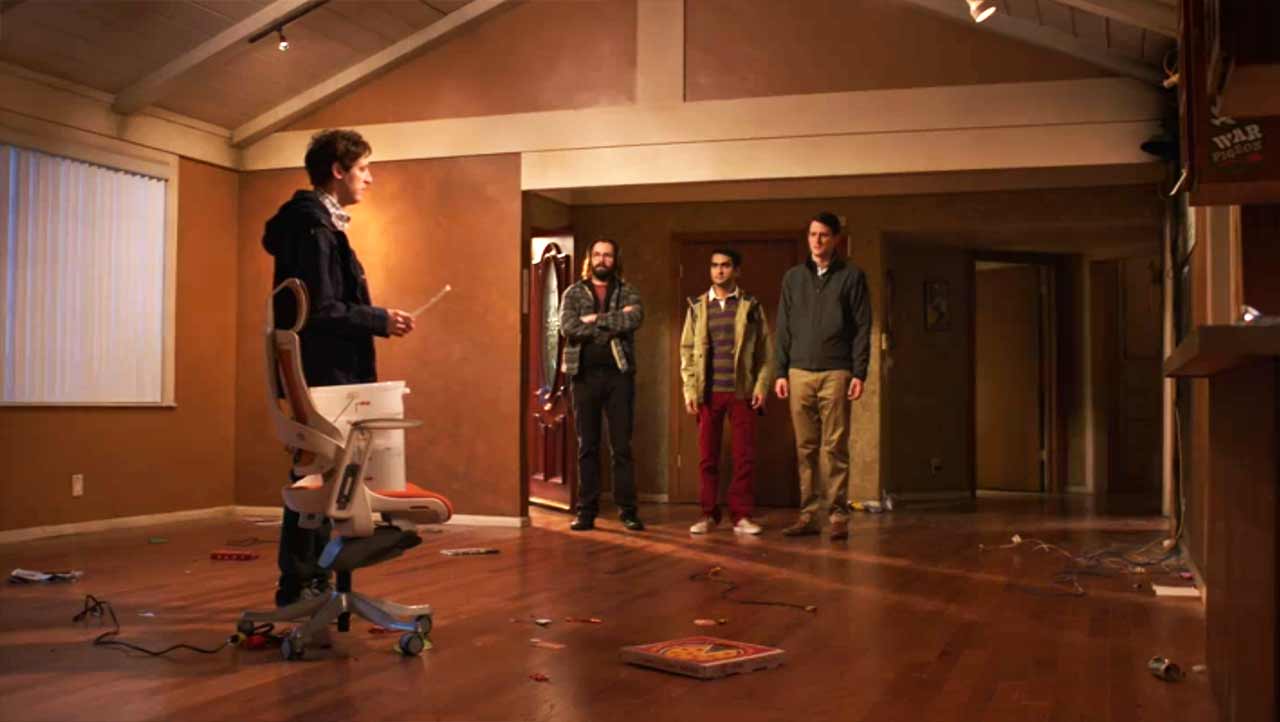 Das war eine tolle Folge und die meiner Meinung nach beste der bisherigen Staffel. Okay, vielleicht meine ich das auch nur, weil ich mich als bekennender Atheist am Religions-Bashing erfreut habe. Wer sich diesbezüglich an den Kopf gestoßen fühlt, sollte sich einfach sagen, dass es sich lediglich um eine ironische Analogie zur übertriebenen Parodisierung gehandelt hat. Aber auch wenn man die Botschaften inhaltlich nicht teilen kann, so kann man denke ich doch das gelungene Handwerk honorieren, wie die Serie mal wieder gesellschaftskritische Avancen in vielerlei Richtungen ausbaut. Religion, Oberflächlichkeit, chinesischer Copy-Markt, Vorgesetzten-Hörigkeit, und, und, und. Dazu sind die Dialoge mal wieder erstklassig geschrieben und die Dramaturgie konnte trotz der teils utopischen Geschwindigkeiten ("Okay, du bekommst heute Nachmittag ein Meeting und alle acht anderen können natürlich auch…") einigermaßen realistisch inszeniert wird. So gefällt mir das Original, da braucht es gar kein "New Silicon Valley" (wobei, das wäre doch DIE Idee für ein cooles chinesisches Spin-Off, oder nicht?!).
Bilder: HBO