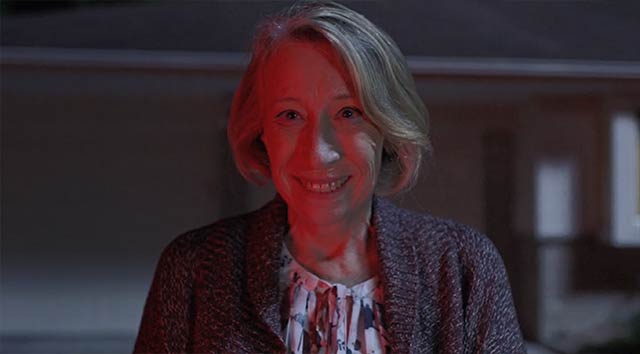 Der schwiegerelterliche Spießrutenlauf des Gefallen-Wollens. Hat vermutlich fast jeder so oder so ähnlich schon erlebt. Diesem "Parkour" will unser junges Paar mittels beeindruckender Parkour-Fähigkeiten entfliegen – aber keine Chance. Mutti zieht alle in ihren Bann! Auf der "Most wanted!"-Liste von Mom stehen – wer kennt das nicht? Als Stalker-Fan ist das eine durchaus gelungene Übertreibung (und erinnert nebenbei daran, dass das letzte Telefonat mit ihr doch schon viel zu lange her ist, kinderliche Pflichten und so…).
Die Fake-News werden jedoch mittlerweile etwas viel wie ich finde. Da kann gerne mal ein alternatives Medium als pseudo-öffentliche Eskalationsstufe herhalten.
"I lived among them for 18 years…" (Liz)
"There has to be something I can do?!" – "No, she's my wife – I'll kill her…" (Josh & Tom)
Den Perspektivwechsel am Ende fand ich dagegen super. Denn ja – auch Eltern sind nur Menschen und können in Fettnäpfchen treten. Diese jungen Leute aber auch immer mit ihren komischen Befindlichkeiten…
"I look forward to taking a photo of it before I eat it." (Tom)
Die Folge hat mir einen Deut besser als der Staffelauftakt gefallen. Die Handlung wirkte rund und deutlich stringenter und kompakter. Nur hat man Mike leider gar nicht gesehen. Dennoch sehr kurzweilig, wenn auch ohne DIE neuen abgefahrenen Vergleiche – ist also weiterhin noch etwas Luft nach Oben da.
Bilder: FX